Tom Tidwell is retiring as Chief of the US Forest Service. It is difficult to overstate the importance of the 191 million acres that the Forest Service manages to trout and salmon. Half of the blue-ribbon trout streams in the country flow across national forests. A vast majority of western native trout and salmon depend on national forests—especially wilderness and roadless areas—for their remaining habitats.
I first met Tom 18 years ago. He had come to DC to "punch his ticket" on the Legislative Affairs team of the Forest Service. This is how it used to work. You work your way up to a ranger in the field, spend time in DC and demonstrate that you're a good and capable person, leave and become a forest supervisor, keep rising, and then someday, you could become the Chief of the Forest Service. This is the Forest Service version of "any child in America can grow up to become President." And, for Tom, it worked.
Tom must have drawn the short-straw in the Leg Affairs office, because he was assigned to then Chief Dombeck as our liaison to Capitol Hill. At the time, we were in the midst of trying to protect 58 million acres of roadless lands; end the failed policy of supporting rural counties with 25 percent of the revenue from timber sales; better manage forest roads; better manage off road vehicle use on national forests; and protect old growth. It was a busy and controversial period for the Forest Service. Because I worked for Mike Dombeck, I am biased, but it was also the most conservation-driven era in at least the last 70 years of the agency's history.
Tom was a big, unsung, part of it all. We would trudge to Capitol Hill, and I would explain why we wanted to protect roadless areas; or "decouple" payments to counties from funding for rural schools and roads; or argue it was the height of conservatism to not build new forest roads in the face of an $8.5 billion road maintenance backlog. When all of the hostile questions would emerge from members of Congress or their staff, Tom would stand up and answer them all with the benefit of experience, knowledge, and aplomb. We managed to get most of that work done, too. Although, someone still needs to permanently protect public old-growth forests.
Tom left DC and became a forest supervisor then eventually a regional forester before becoming Chief of the Forest Service in 2009. And because of his leadership, the agency has fundamentally changed. The Forest Service used to have a reputation for being insular and inward-looking. Even decades after the timber-cutting era in the Forest Service had ended, leaders in the agency had a tendency to blame others for their challenges. Not anymore. Everything is different now.
Today, at every level of the agency, the Forest Service eats, breathes and sleeps partnerships. TU has done incredible work for native fish and local communities with the Forest Service from Vermont to Alaska. And like most culture-shifts, this one will be hard to undo. Tom is being replaced by Tony Tooke, formerly the regional forester for the southeast. Tony's support for partnerships helped spark a partnership between TU and the Forest Service in North Carolina to replace culverts and remove small dams to reconnect habitat for brook trout.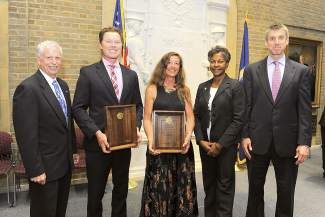 Along with the Boone and Crockett Club, this Thursday Trout Unlimited is hosting a celebration of Tom's 40 years of service to our nation at our Arlington office. Let me know if you'd like to come by and lift a glass to one of the people who best embody the ideals of public service. Don't tell Tom, but we are making him a Trout Unlimited life member, so he can finally go fishing.
—Chris Wood