By Matthias Bonzo
In 2019, TU worked with its partners to complete two road stream crossings in the Huron-Manistee National Forest in Michigan.
The crossings were on Boswell Creek, in Manistee County, and on Hinton Creek in Wexford County.
Boswell Creek is a tributary of Bear Creek and contains a healthy population of brook trout. The replaced culvert was significantly perched and was a complete barrier to fish migration upstream.
The undersized (42-inch) corrugated metal culvert was replaced by a polymer coat pipe arch culvert that measured 80 feet long by 112 inches wide and 75 inches tall.
The interior of the culvert was not left bare. A simulation of the natural channel was constructed in the culvert, with up to 2 feet of streambed sediment depth in the culvert. This ensured that stream will function normally within the culvert while ensuring connectivity and passage of flood waters.
Hinton Creek is a tributary of the Manistee River and flows into the Tippy Dam impoundment.
Hinton Creek is a coldwater stream that has a population of brook trout as well as impressive aquatic insect biomass. This replacement was number five out of eight in a series of projects aimed at reconnecting the entire sub-watershed.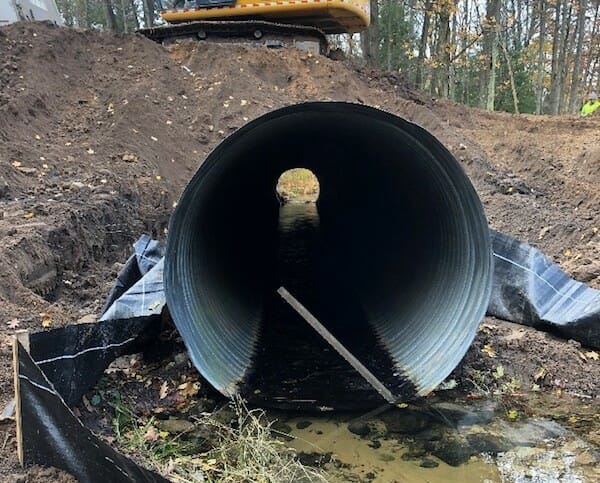 This project was the last restoration on the main channel and were happy to report that the whole main branch is fully connected.
There were some challenges with this project, including snow, ice and the discovery of unusable fill material (clay) for planned application under the road and culvert. That meant that new fill needed to be brought in to complete the project.
Despite those challenges the project went quite smoothly and the old, failing and undersized (72-inch) culvert was replaced with a two piece polymer coated pipe arch that measured 100 ft long by 137 inches wide and 83 inches tall.
The replacement of these two culverts reconnected nearly 10 miles of stream for the first time in many years, allowing for migration of fish and natural stream processes to occur.
TU is thankful for the partners and contractors we had this year. They included the US Forest Service, Michigan Department of Natural Resources, EGLE (Environment, Great Lakes and Energy), National Resources Conservation Service, Wexford and Manistee County Road Commissions and Team Elmer's. All did an excellent job.
Next year's projects include two more culverts on Hinton Creek and two on Bigelow Creek in Newaygo County.
Matthias Bonzo attended Cornerstone University for his undergraduate education. A project coordinator for Trout Unlimited in the Great Lakes region, he resides in Grant, Mich., and loves all things trout.