Sage investors know that maintaining a diversified portfolio is a key to smart investing.
Trout Unlimited is expanding on its application of that philosophy to the way it is investing in native brook trout restoration and protection to reduce risk and increase resilience in brook trout populations.
TU recently developed a Brook Trout Conservation Portfolio tool for the Great Lakes. TU has been using the portfolio approach — anchored in the demonstrated concept that in nature diversity promotes resilience — in the East since 2017.
The Conservation Portfolio tools use broad-scale spatial information to assess various characteristics of populations, habitat condition and vulnerability, and helps Trout Unlimited and partners assess and prioritize streams where restoration and protection actions will have the best impact.
"Having all of this information rolled into one tool helps us – and our partners – understand comprehensive needs so we can think strategically about where best to target our work to ensure a sustainable future for these fish," said Helen Neville, who heads Trout Unlimited's science staff.
Keith Curley, Trout Unlimited's vice president for eastern conservation, said brook trout are somewhat like major league starting pitchers.
"A great pitcher has a variety of pitches from which to choose," Curley said. "Brook trout are similarly versatile, with a variety of 'life histories,' from resident small stream populations to those residing in lakes and ponds, and from populations that migrate between large rivers and smaller tributaries to those that migrate from Lake Superior.
"We need to conserve the full range of brook trout populations for the species to thrive in the future. "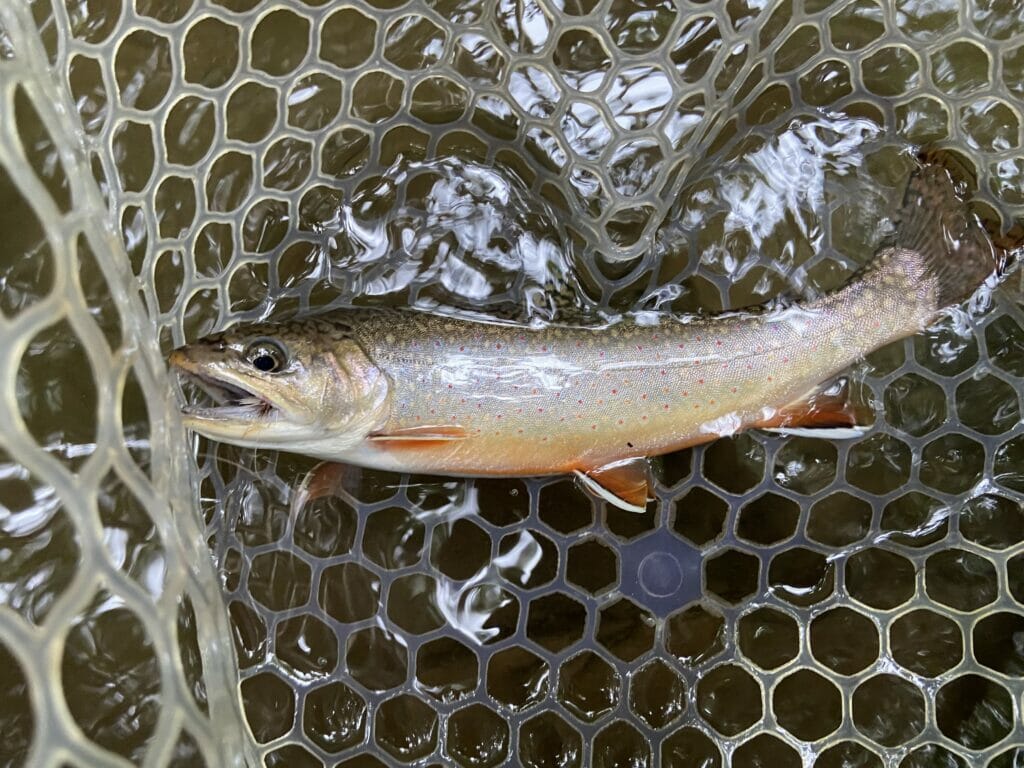 Traditional brook trout mapping has focused on simple presence and absence. Some mapping has taken additional steps to incorporate future projections for climate change. With the Portfolio, TU has taken brook trout mapping a step further, incorporating the full variety of brook trout populations into a conservation strategy for the species.
The Great Lakes conservation portfolio uses a multi-step process.
First, it uses data from 15 sources, including information from agencies, museums, and community scientists, to map the distribution of trout and barriers to define occupied habitat patches, the unit of evaluation in the portfolio. Those defined patches are then overlayed with information about the fish populations within them, habitat quality, and potential vulnerabilities.
The first layer of this characterizes the amount and complexity of available habitat, and biological information like brook trout abundance or life history diversity, as well as the presence of other non-native trout, which can be a conservation threat. The view of habitat quality and vulnerability captures things like land use (e.g., urban or agricultural influences), road density, degree of pollution, and predicted climate change impacts.
Interpreting all this information collectively can help determine the trout population status and inform general conservation strategies. For example, the Great Lakes Conservation Portfolio identifies nearly 9,000 separate habitat patches. Of those, 24% met the criteria for gaging a high likelihood of the future persistence of the population within, and just over 6% were characterized as "strongholds." Fifty six percent of habitat patches were determined to be impaired, and 87 percent were found to be vulnerable.
Conservation strategies to improve on this can include protecting or enhancing existing strongholds and creating new strongholds by enlarging and/or enhancing habitats, specifically through the removal of fish-blocking barriers. They may also involve protecting or expanding important life history strategies or improving habitat quality by restoring riparian vegetation and instream habitat. Ongoing information development can help address data gaps and guide future monitoring and research to make the tool even more robust moving forward.
"The Great Lakes and Eastern Conservation Portfolios will be particularly useful as TU expands upon a new initiative to formally identify Priority Waters where we can focus our resources and make the greatest contribution to the health, resiliency, and viability of our nation's trout and salmon fisheries," Curley added. "That will feature trout and salmon populations in large, intact stronghold habitats; populations with unique life histories; and populations where TU's work will ensure resilience in the face of climate change."
Development of the Conservation Portfolio tools was made possible by grants from the National Fish and Wildlife Foundation.
Aislinn Gauchay, Great Lakes program director for the organization, said NFWF is planning to utilize the tool to support landscape-scale conservation planning and implementation.
"I believe that the Conservation Portfolio will be an important component in conservation planning and prioritization of restoration activities to benefit brook trout throughout the Great Lakes," Gauchay said. "For NFWF and the diverse community of organizations and agencies working to improve Great Lakes brook trout populations, this tool represents an exciting new opportunity to access and visualize population and habitat data that will not only enhance what we know about the health and distribution of brook trout populations now, but will help to directly inform what we can do in the future to increase the abundance and viability of these important fish throughout the region."