We care about clean water, healthy fisheries and vibrant communities. We roll up our sleeves to volunteer, we sit on our boards, and we strategize as members and leaders of staff. We want you to join us.   
Thanks to initiatives such as TU's decades-old Women's Initiative – now Diversity and Inclusion Initiative – and those of our partners, new groups have engaged in coldwater conservation and the sport of fly fishing. The aim of this blog series is to highlight these friends, in hopes of making many new friends of broad stripes. In this series you'll meet people of diverse communities – our good ideas, what we have in common, and where we differ. Know someone we should feature? Nominate them here.  
Since it's not possible to sit down and have coffee or spend an afternoon on the river to show you what we're up to, a blog post will have to do. As you read, we hope you'll consider joining us. We need your ideas to help make a bigger impact.    
Together, we'll help protect the special places we love.    
Morgan's nomination called her a "bright young leader" pursuing a career in wildlife and fisheries management who is active in the chapter. Morgan serves as the president of the TU 5 Rivers college program at Frostburg State University. We're grateful to have her in the TU fold.
Introducing: Morgan Stum
@morganstum (Instagram)| morganstum5@gmail.com | Facebook: Morgan Stum and Morgan Stum Art Portfolio
Hometown: Landisburg, Pa. Current town: Frostburg, Md.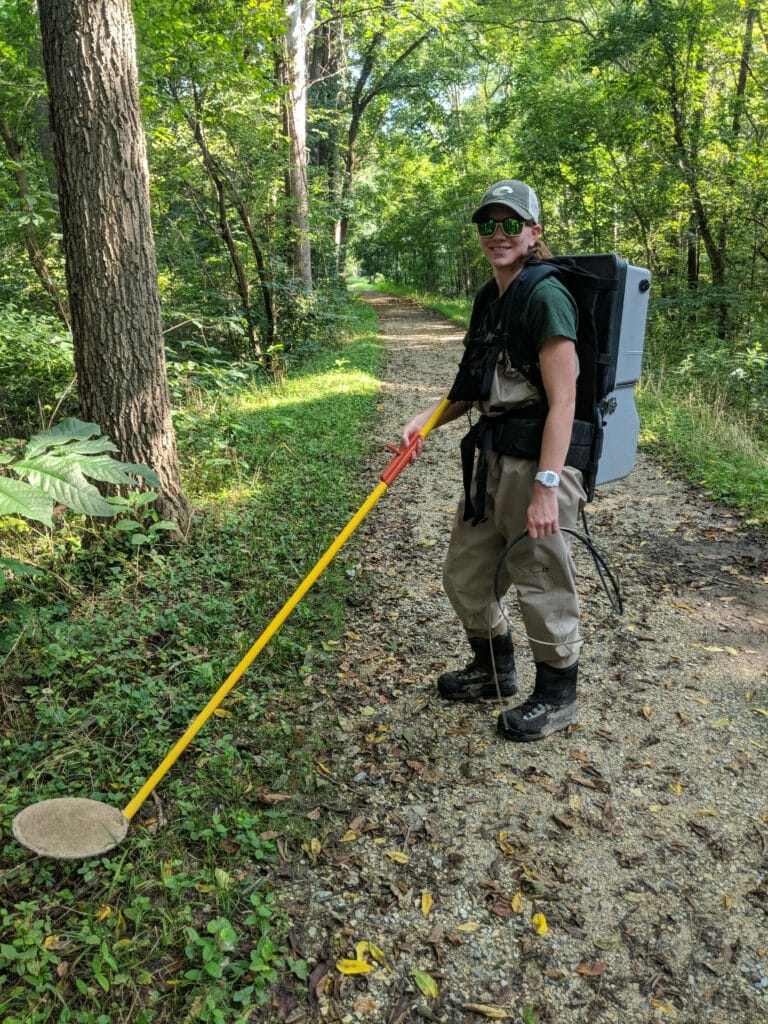 What's your history with conservation? I have been interested in the outdoors and protecting wildlife for as long as I can remember. I started getting involved with conservation in high school, taking environmental science classes and participating in events like Envirothon and trash clean ups. I am currently finishing a bachelor's degree in Wildlife and Fisheries management, which has provided me with many hands-on conservation opportunities including planting trees with the TU Embrace a Stream project, installing monofilament fishing line recycling bins at local fishing areas through a university-funded sustainability grant, and actively taking scientific data on stream restoration projects.
Briefly, what is your history with fishing?  I grew up fishing with my dad. My first fishing experience was catching chubs in the creek at the end of my driveway with a handline and some bread on a hook. My freshman year in college I got into fly-fishing when I joined the TU 5 Rivers college program at Frostburg State University (which I am now President of). While my experience in fly-fishing is definitely much shorter in years than many people my age, I dove headfirst into the sport and found a passion that I would not be who I am today without. Since learning to fly fish I have fished in many locations across the east coast such as steelheading in New York, catching Red Drum in Charleston, SC, and flats fishing in the Bahamas, but my main fly fishing experience is in Appalachian trout streams.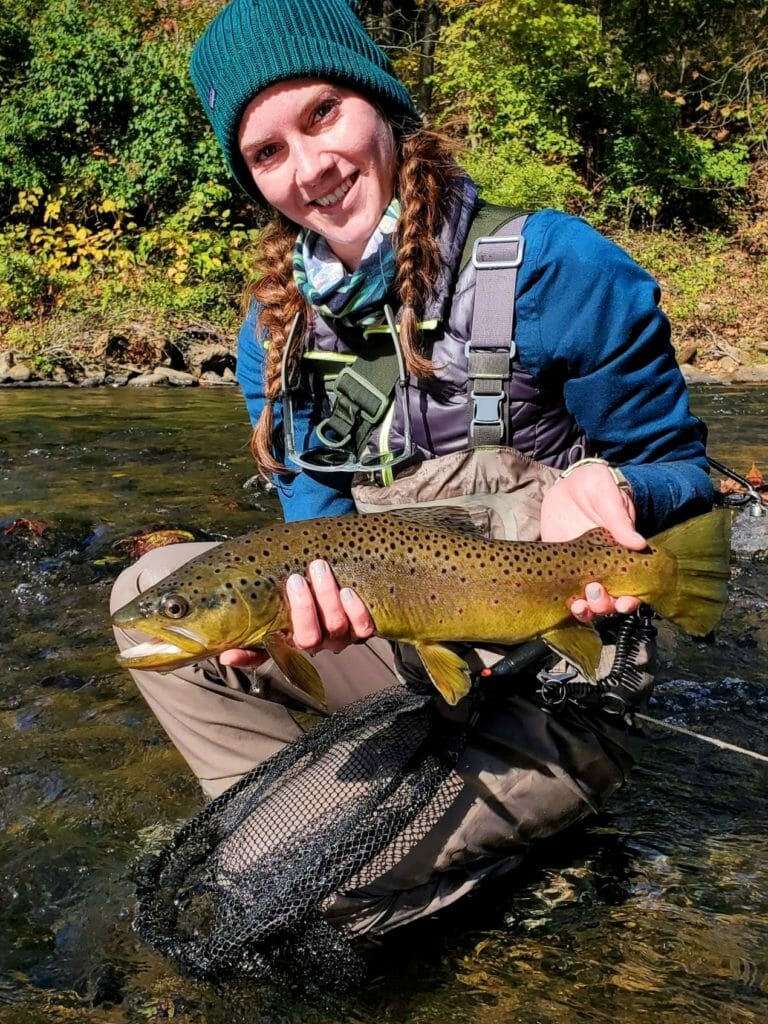 Describe one challenge you face and how do you overcome it. Balancing school with fishing and being the President of a student organization is challenging on an almost day to day basis; there is a lot of time management involved. School work comes first for me, sometimes to a fault, and fishing does not always happen as much as I would like it to. I often have to use judgement and prioritize when fishing trips will be more memorable and beneficial to my mental health than going above and beyond in a class that will not necessarily be reflected in my future career goals. I spend a lot of time and effort with the fishing club because I want to ensure the other members get an enjoyable experience from the club and it allows me to share my passion for fishing.  
If you find your passion, people who share it will gravitate towards you, and they will be the most meaningful and lasting friendships of your life.

Morgan Stum
What does 'giving back' mean to you? Giving back for me means helping people, or anything for that matter, who may not have the means to help themselves. It is giving a voice to the voiceless, and this includes the environment and wildlife. I believe change starts small, so any effort on my part combined with efforts of others can make a difference and give back to my local communities.
What are your secret skills? I am a fairly talented wildlife and fish artist and often do commissions for friends, family, or benefit auctions in my free time.
What was your first job? My first job was a Petcare Associate at PetSmart. I took care of the animals and fish, and mostly spent my paychecks on fish and aquarium supplies.
What advice would you give to your younger self? If I could give myself advice, it would be not to worry about fitting in with people or forcing friends. If you find your passion, people who share it will gravitate towards you, and they will be the most meaningful and lasting friendships of your life.
What do you want to see in the future of Trout Unlimited or in conservation? In the future of Trout Unlimited I hope to see more of a younger generation taking part in meetings and conservation projects, and that they can integrate well with the older generation. There is a lot to be learned from people of varying ages working together toward the same goal, and it will ensure the future of TU and coldwater conservation is in good hands.
What is an example of something awesome you've seen that helps make conservation or fishing more inclusive to new groups of people? I think the Trout in the Classroom program through TU is an awesome program that gets kids from all backgrounds excited about conservation. There is no discrimination, just genuine interest and learning. Also, the children can tell their parents about conservation, so the effect is two-fold.
Name a person you admire. Why do you admire them? I admire women in the field of conservation, like Rachel Carson. Not only did she have a professional scientific career, she pursued her personal goals of writing. She was not afraid to write about sensitive environmental issues at the time, and her books inspired a wave of environmentalism that still exists today.
Why Trout Unlimited? Trout Unlimited connects a sport with a conservationist, non-consumptive approach. Maintaining clean, cold water habitats and trout fishing go hand in hand, so it gives anglers something to care about. The protections and projects funded by TU also protect and enhance not just trout populations but entire ecosystems. TU is an organization with a multifaceted approach to help people of all ages, genders, races, etc., enjoy fishing and to be stewards of their fisheries.
If you want to join Morgan and grow the community and work of Trout Unlimited, we encourage you to become a member! For a discounted first-time membership, click here: https://gifts.tu.org/we-are-tu