By Jack Rodgers
This November, I had the good fortune to enjoy an incredible fly-fishing expedition with guide Alberto Rey.
A man of many talents, Alberto was born in Cuba. After the Cuban revolution, he was granted political asylum in Mexico in 1963. In 1965, he moved to Miami, Fla., and two years later Alberto and his family relocated to Barnesboro, Pa., near the headwaters of the West Branch of the Susquehanna River.
This year, Alberto won the 2021 Orvis Fly Fishing Guide of the Year award. But he is not just a fly-fishing guide. He is also a very talented painter, illustrator, author, filmmaker and educator. His work has been featured in more than 200 exhibitions and screenings around the world.
On a crisp fall Saturday morning I met Alberto outside his home in Fredonia, N.Y. While he was loading up his truck and getting organized for the day he told me to grab my gear and head into his barn. It was a bit warmer in the barn and a good spot to get set up and put on my waders. I soon realized that this was no ordinary barn.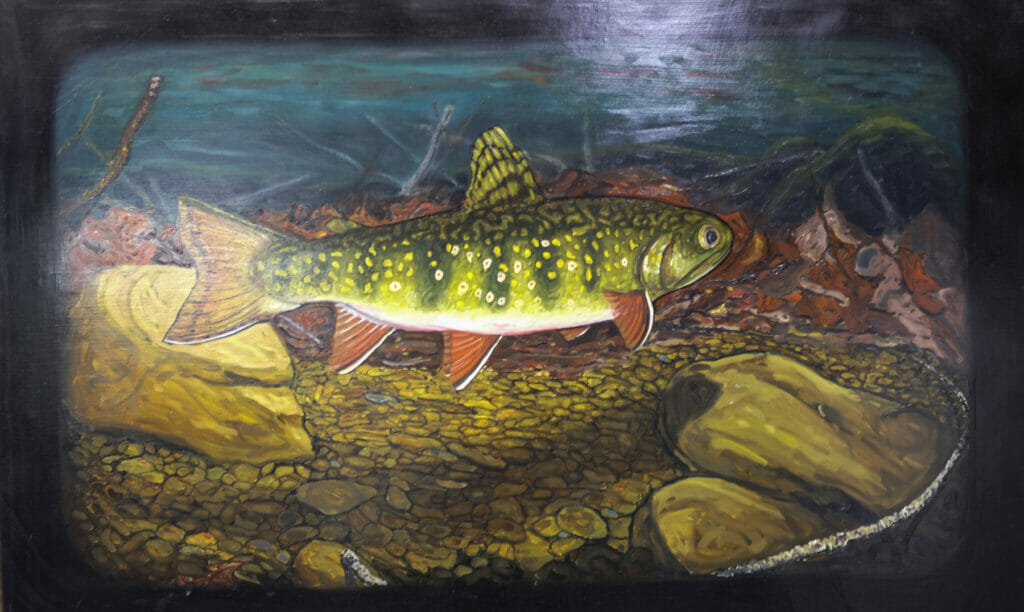 Alberto's barn is an art studio, and many of his remarkable paintings are on display. He took me on a tour. Before we headed out to go fishing Alberto also gave me three of his books: The Complexities of Water: Biological Regionalism: Bagmati River, Kathmandu Valley, Nepal, Lost Beauty: Icebergs, and Extinct Birds Project.
After the tour of his studio we headed out to target steelhead on the tributaries of Lake Erie. Arriving at the first stream, we grabbed two Orvis 6-weight fly rods and a net and headed down to the water. Alberto rigged one rod up with some salmon egg flies and the other rod with a small streamer.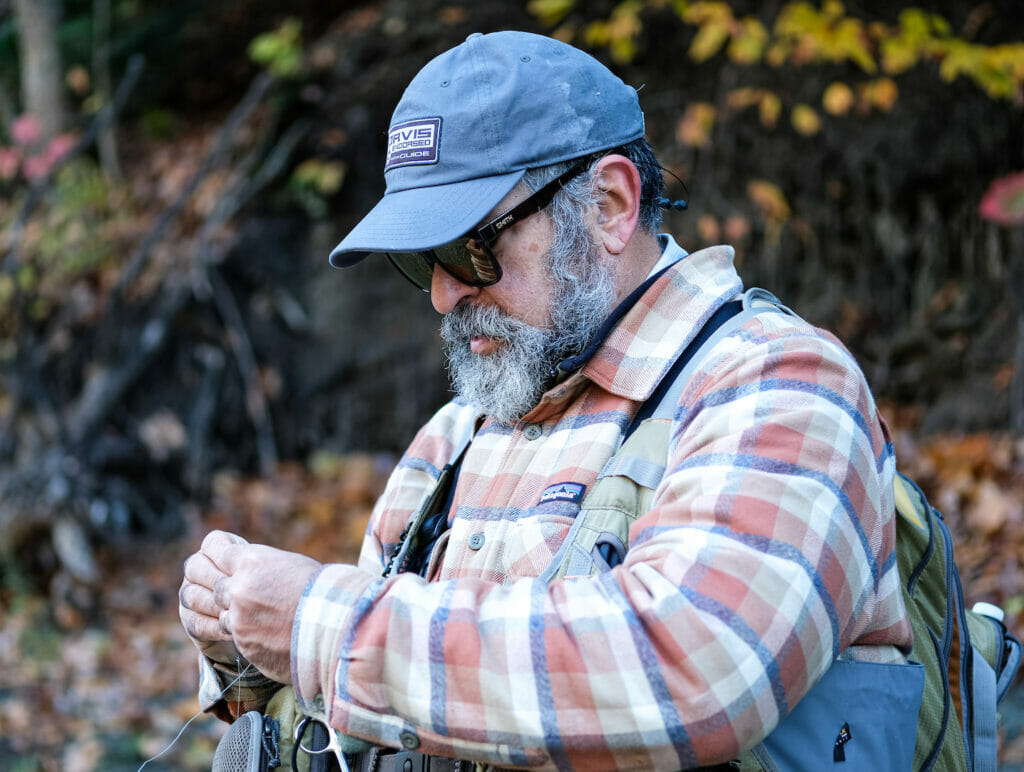 After sighting the first steelhead, Alberto let me know that these fish are not easy to catch. He told me that the first cast is the most important and that I would have about a 90% chance with the first presentation but that my chances would drop significantly after that. He was spot-on, and I quickly realized that landing one of these steelhead would be no easy task.
It was hard not to appreciate the astonishing fall foliage in Western New York this time of year. This was truly an amazing place to be fishing.
As the morning progressed, Alberto had me roll casting at steelhead that were hunkered down under shale ledges. I did not have much luck convincing any of these fish to go for my fly.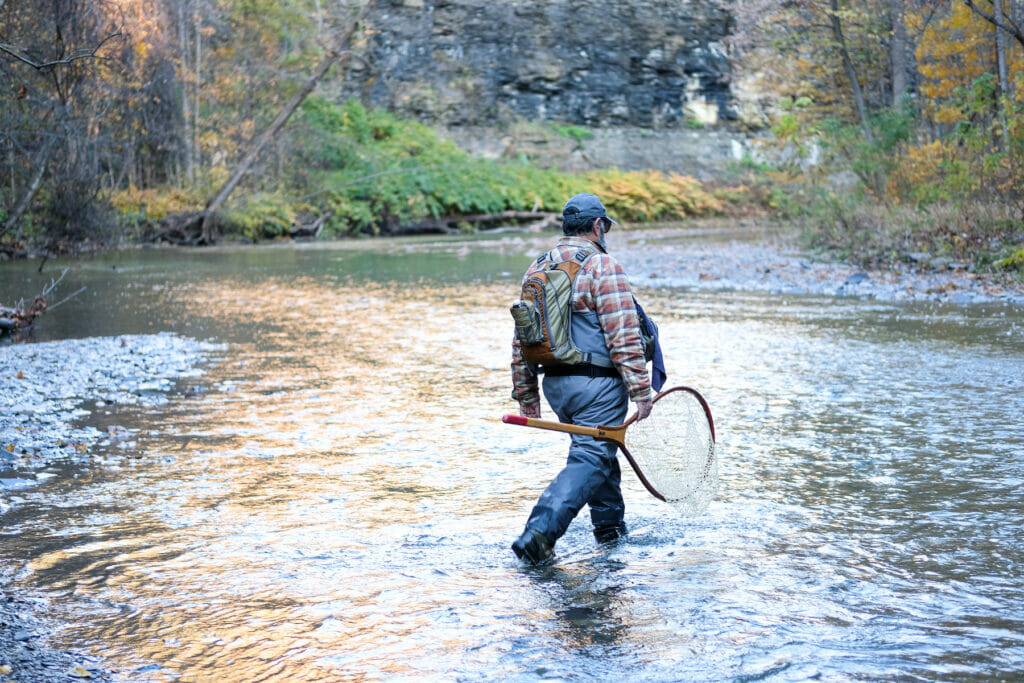 Alberto said the stream didn't have as many fish as it did the previous day so we headed to another stream nearby. Here, steelhead had moved in overnight and we quickly spotted quite a few.
Toward the end of the day, after working the stream over, a 28-inch fish gulped down my bright egg fly and I quickly set the hook. It was quite the fight on 6-pound tippet. After letting the fish run a few times we finally got the fish in the net. Just as Alberto netted the fish the line snapped. I was ecstatic, relieved and extremely fulfilled as I studied the colors and size of such an incredible fish. We quickly took some photos and carefully released the fish back into the cold, clear water.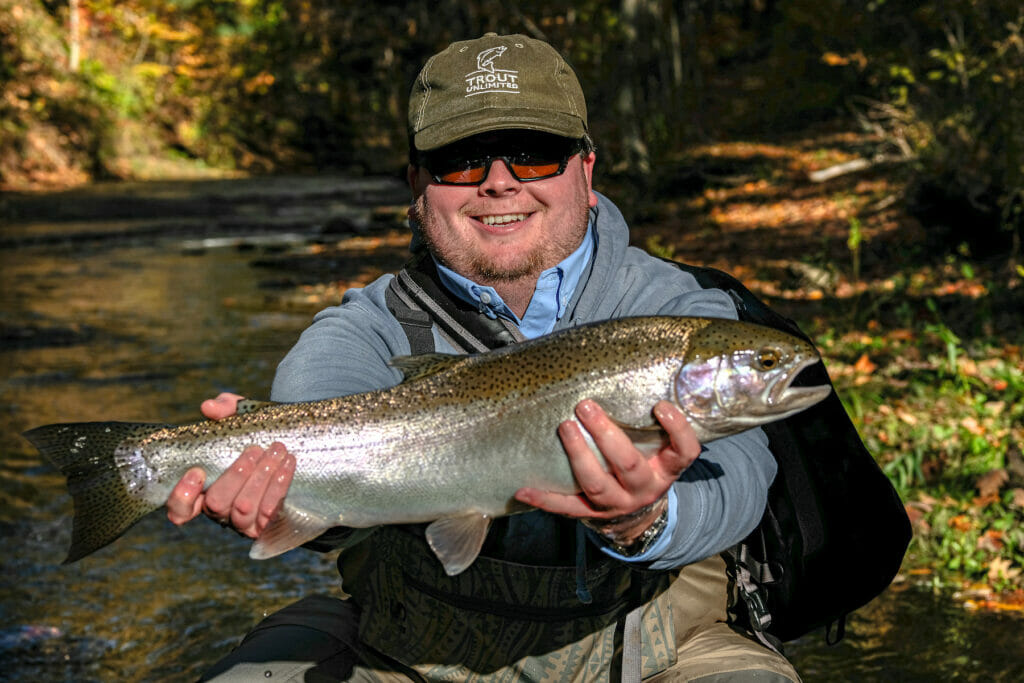 Arriving home, Alberto invited me in for dinner. His wife, Janeil, is an amazing chef and she prepared a delicious meal for us. After working up an appetite chasing fish for eight hours it was quite a treat to enjoy great food and a few beers with Alberto and Janeil.
The next morning, which was a bit warmer than the previous day, we started at the second stream we had fished the day before. Using what I had learned from Alberto I got a steelhead to go for my streamer on the very first cast of the day. Unfortunately, I did not set the hook quickly enough and the barbless hook slipped out of its mouth. But by the end of the morning I landed two more steelhead. We both watched in awe as the first steelhead lunged from under a shale ledge and ate the white streamer just as it hit the light of the sun.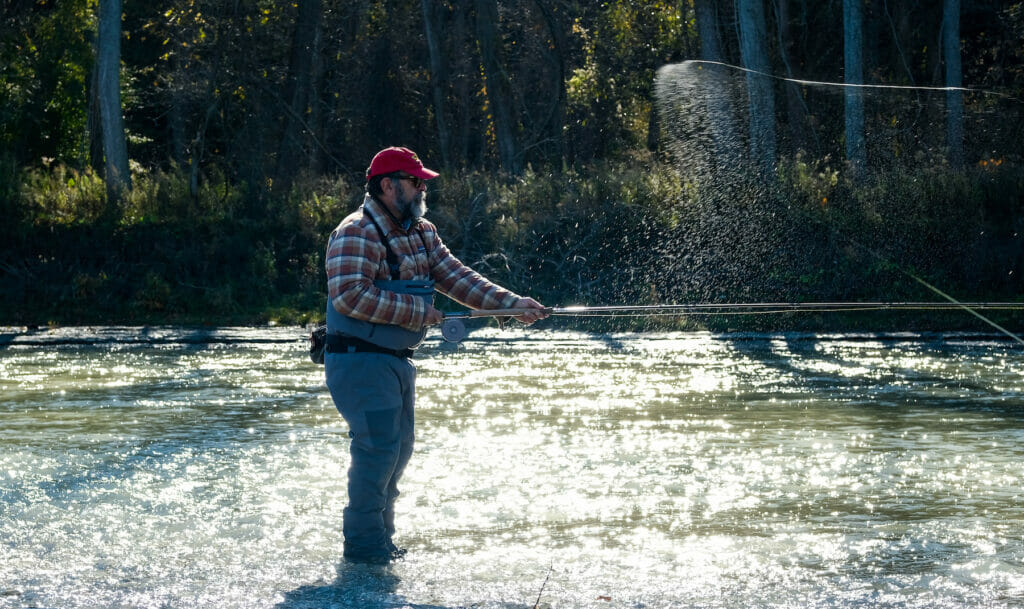 At the end of the day we visited some larger water, and Alberto taught me how to cast with a spey rod. This was something new for me, but all the roll casting we had done the past few days made picking up this new skill a breeze. Alberto is a great instructor and quickly had me nail down the basics of casting with a spey rod. I stepped back and admired Alberto casting his spey rod on the warm November afternoon.
Before I headed back home to Washington, D.C., Alberto invited me back into his home for another incredible meal with Janeil. While discussing how much fun we had over the past couple of days I let Alberto know that I would be back for some more great memories.
Janeil made sure I was well fed and packed me a sandwich and some delicous cookies for the road. Anyone seeking a great steelhead fishing adventure in the Great Lakes should not hesitate to fish with Alberto Rey. This was an experience that was so great that the memories will last a lifetime and I can't thank Alberto and Janeil enough for such a pleasant weekend.
Jack Rodgers is a membership services assistant with Trout Unlimited.