"Wait? What? You've never fished the Delaware River?"
If you live in the East and are an avid (borderline obsessed) trout angler, this is the kind of thing you will hear from peers if you admit that you've never wet a line in one of the East's most famous trout rivers.
I got it again a few months ago when a friend here in Virginia introduced me to her visiting son, who lives in New York City and recently decided he wanted to join what is apparently a new millennial fascination with fly fishing.
He was hoping I could provide some tips for fishing the upper Delaware. You see, he was shocked that after dropping some serious cash on all of the required gear, he didn't catch a single fish on his first trip over to Hancock. 
I could offer little specific advice.
"I've never been there," I said. "About all I can tell you is that it's not easy."
What I did know about it was that it is full of big, wild trout. Those fish can be finicky because when a river with incredible "blanket hatches" is just two hours from New York City and just a bit farther from Philadelphia, those fish see plenty of flies every season.
The upside of that pressure is that many of those anglers are vocal advocates, working with groups such as Trout Unlimited and Friends of the Upper Delaware River for management that is more trout-friendly, and for much-needed funding of restoration work in the Delaware basin.
Finally, in early October, I got to experience the river first-hand. I had to be in the area for a meeting with TU co-workers Rob Shane and Dave Kinney. We took a day off before the meeting to float the river near Hancock in a drift boat we rented from West Branch Angler. (Another advantage of fishing a popular river is that drift boats are available for rent.)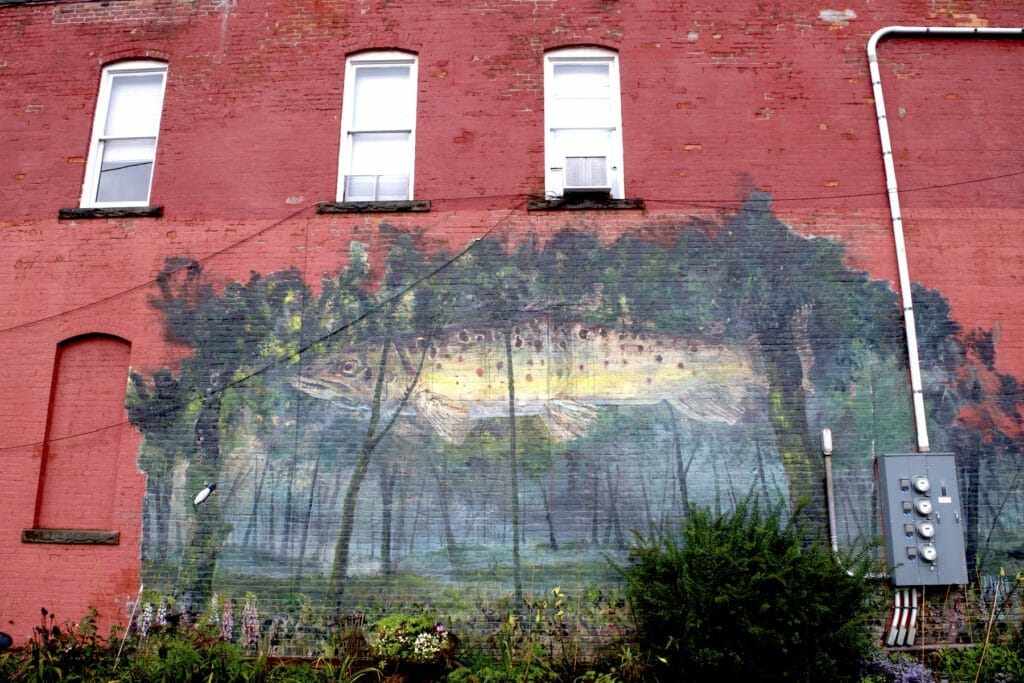 Hancock is an interesting place, a small town where logging was once the dominant industry. These days, fishing is an important part of the economy, as evidenced by the many local lodges that cater to anglers, and the drift boats that rest in what seems like every other yard or driveway.
Dave is TU's eastern policy director, and has fished the Delaware a number of times. Rob, TU's mid-Atlantic organizer, is a full-on fanatic.
Until recently, Rob lived in Eastern Pennsylvania, a couple hours south of Hancock, so it was relatively easy for him to make weekend trips to the river, fishing dries in the spring and early summer, mousing at night during the dog days of summer, and casting streamers in the early fall. In true trout bum fashion he's been known to forgo staying in motels, instead catching short naps streamside in his SUV — not necessarily to save money, but to maximize time on the water.
As any good host would and should do, Rob volunteered to start on the oars. Dave generously insisted I start in the front of the boat.
The 5-weight I had in hand is fine for Virginia tailwaters but Rob suggested I size up.
"Here you go," he said, handing me a 7-weight rigged with a big streamer on a sink-tip line. "Pound the banks but retrieve all the way to the boat. The fish can be anywhere."
Fifteen minutes later I was two strips into a retrieve when a fish darted from behind a boulder and annihilated the fly. The trout was stout, but no match for a 7-weight with a 20-pound Maxima tippet.
After a short fight Rob slid the net under the fish, a 20-inch tiger trout, my first brown/brookie hybrid. I was stoked, and even Rob seemed impressed.
"I've never seen a tiger come out of here," he said.
It was pouring rain and we had camera issues, so didn't get any pictures before releasing the fish.
Ten minutes later I rolled another nice fish but failed to connect.
"I thought this river was tough?" I joked.
Rob was cautiously optimistic.
"Maybe this will be one of those rare amazing days," he said.
Or maybe not.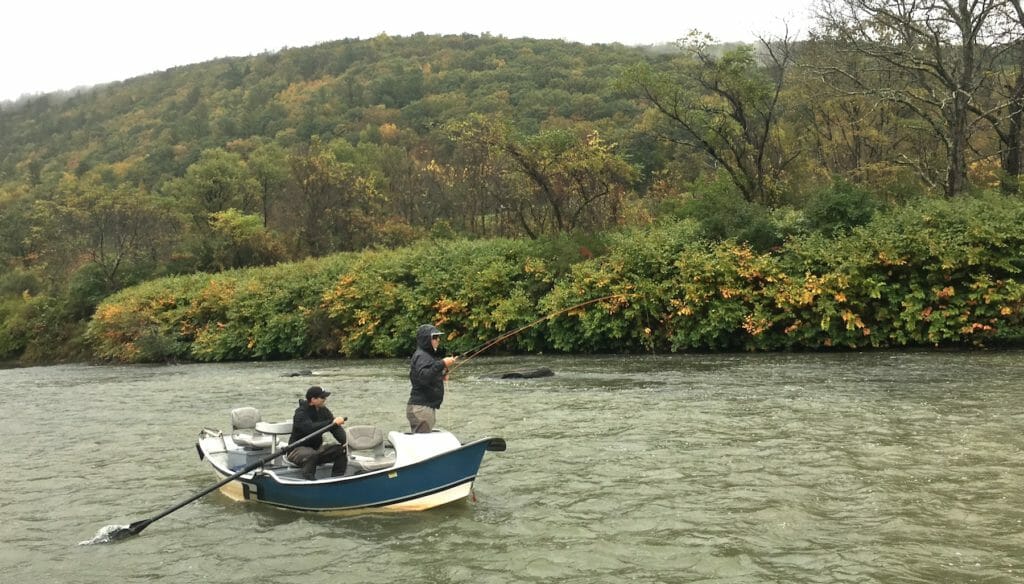 We took turns on the sticks and all got plenty of fishing time during the eight-hour float but managed just a handful more trout. A couple were in that Delaware average of 14-16 inches. A few were smaller.
There were a few additional chasers, including a couple of legitimately big fish that stopped our hearts and, when we didn't connect, made us say words that shouldn't appear here, so won't.
In short, it turned out to be what's probably a pretty typical day on the Delaware, one filled with hope that the next cast, the next boulder, the next riffle will produce the fish of a lifetime. Like with TU's conservation efforts, fishing the Upper Delaware River requires hard work. But the rewards are worth it.