About 18 months ago, I had three vertebrae fused in my lower back, a significant procedure that was done in hopes of stopping the brutal sciatic pain that would start just above my left hip and eventually stop at the tip of my big toe.
Generally speaking, the surgery was a success. I'm still not as strong as I was, nor am I as nimble. But I don't have round-the-clock pain, which was, for all intents and purposes, the point of the whole ordeal.
But, on the water and and on the trail, I'm diminished — there's no doubt about it. And, at the advice of my surgeon, I'm carrying less when I fish, and what I do carry, I try to carry proportionately — my beloved sling pack is now a thing of the past. Today, when I fish, I either wear a fishing vest (and likely look like my grandfather doing it), or, if I venture farther on the stream, I take a light backpack.
And the latter has presented some challenges. Finding a good backpack that is both durable and comfortable is challenging. Last December, on a visit to Patagonia, I struggled with the backpack I chose to carry every time we walked away from the truck and wandered up small, out-of-the-way streams in search of trophy trout. It didn't ride high enough, offer much in the way of convenience and, after a slip and tumble into one of the above-mentioned creeks, everything I brought with me was soaking wet. And, once it was wet, it was predictably heavy.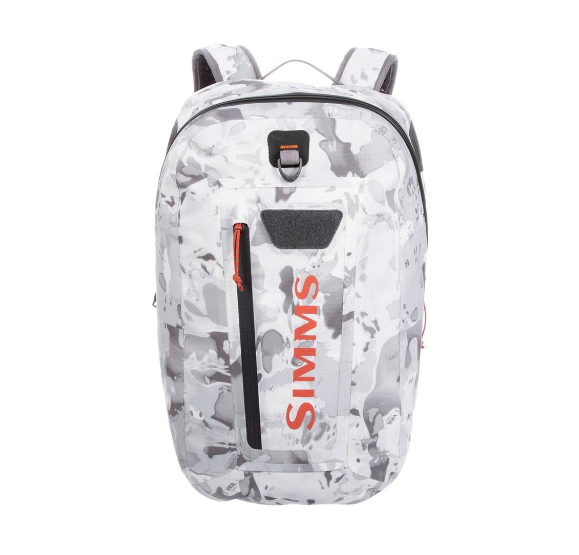 Enter the Simms Dry Creek Z fishing backpack. Hindsight is, indeed, 20/20 — I wish I'd had the foresight to grab this great pack before I hopped a plane for South America. I wouldn't have had to spread my gear out on the floor of my room in the posh San Huberto estancia on the banks of the fabled Malleo River in order to dry out.
As the name implies, the Dry Creek Z isn't just water resistant. It's waterproof. And, the pack itself, before you put anything in it, is virtually weightless. In fact, your first impression when you open the box might just be, "Is this it?"
But don't be fooled. The Dry Creek Z is bomb-proof, which is typical of Simms and its stellar reputation. But it's also functional. I tested the 35-liter version and found it both ideal for a daypack and a fishing pack. On a quick hike into a redband stream in central Idaho, the pack carried two bottles of water, two fly reels, a pair of wading sandals, my trusty fishing vest (rolled up nicely, of course), a DLSR camera and a can of bug spray. All fit, with room to spare, in the main compartment, which boasts the TruZip self-healing zipper, billed to be 100 percent waterproof — the pack itself claims it's completely submersible.
This zipper technology is pretty incredible, although I wait to see how long it lasts and how well it performs before I offer it a complete endorsement. I'll say this, though: I probably zipped and unzipped it a couple dozen times on my day trip, and I didn't have a single issue.
Tied to the sides of the pack using the cam-stramp lash points, I carried two fly rods — a 3-weight for dry flies and a 5-weight for streamers. In the secondary compartment, I placed three fly boxes. There's also a net holster in the back, and a Velcro fly patch.
I found the Dry Creek Z to be both comfortable and functional — I'd even consider it for something more general, like as carry-on baggage on an extended trip (assuming we'll all eventually feel safe traveling again one day). The main compartment has a smaller "envelope" compartment that would be ideal for a tablet or a small laptop, or just a couple of composition notebooks, a magazine or two, or the smaller necessities we all like to take with us when we travel.
It's also perfect as a "go bag," that holds that stash of must-have gear should you find yourself with a few hours to kill and the desire to hit the river without having to run around for an hour trying to round up all the equipment you'll need.
Given the tough nature of most Simms products, the $300 price tag doesn't really scare me away. The pack, potentially, could carry gear worth much more, and it could carry it for years to come.