A great option for backcountry anglers who might walk miles to get to the water
Backcountry trout fishing here in the West is so close I can smell it — the scent of sweet stream-side willows wafting through the open screen of a tent pitched under lodgepole pines might be my favorite olfactory trigger.
It means it's time step into icy mountain streams and cast to skittish wild trout that have waited months and months for a bite of protein worth rising for to float on by. It's almost creek season.
And for me, that means it's time to go wet wading.
Certainly, on the bigger, lower-elevation rivers, anglers can wet wade, too, but for me, the small mountain streams of the Rockies are prime places to dip an un-wadered toe — I like to feel the chill of snowmelt-cooled creek water. It just feels like you're more a part of the experience when you're standing in the very water you're fishing.
It used to be that I'd drag out an old pair of sandals, carefully drill some sheet-metal screws into the soles and I'd be good to go. These days, with a reconstructed back, a knee with a catch in it and an elk-hunting belly that seems to last well past elk season, better footwear while wading is important. Thinking back to the jolts and crashes my body has endured while wading mountain creeks, I have a much better understanding — and not a few scars — of why my aging body is in a constant state of rebellion these days. And, more often than not, a more thoughtful choice in footwear might have saved me the pain I endured after taking a tumble among the rocks.
Now, I'm much more deliberate. No, I'm not giving up on wading wet. In fact, I'm doubling down, by choosing footwear that makes more sense and gives me a fighting chance to make it through a day on the water without opening up a new wound or dislodging yet another vertebrae.
Enter the Simms Flyweight wading shoe.
For years, Simms has staked out a leadership position in wading footwear, from traditional boots to flats-wear to sandals. I'm of the mind, though, that the Flyweight line of wading boots/shoes is among the best available on the market, and there are lots of good reasons for it.
The Flyweight shoe is much more than just a wading shoe. Yes, its tightly woven mesh uppers are, indeed, virtually indestructible, and the latest in Vibram sole technology is grippy and durable. But where this shoe really shines is on the trail. It's an all-purpose hiker as well as a water-shedding wading shoe — the two-for-one bonus is real.
I took the Flyweight shoe to the southwest corner of Yellowstone earlier this month, and fished the lower reaches of the Bechler River. Given the prolific nature of the mosquitoes in the area, I didn't brave a terribly long hike, choosing instead for a mile-long test to lower Bechler Falls. The shoe performed as well as any normal hiking shoe should be expected to perform, and when I finally stepped into the river to cast to foot-long wild rainbows, the shoe's Vibram sole lived up to its billing and kept me from sliding on sharp-edged, volcanic rocks.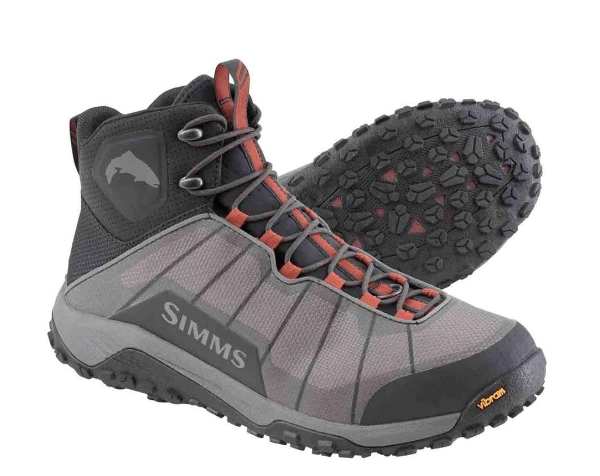 I own a pair of Simms Flyweight wet-wading boots, and I love them for their ankle support and the same basic technology that goes into the Flyweight shoe, but if I had to pick between the pair, and my destination involved a walk to get to the fishing, I'd go with the lighter-weight shoe in an instant. Honestly, it's as good of a hiking shoe as it is a wading shoe, and with as well as it sheds water … there's really no reason, unless you're hiking miles into the backcountry, to take along two pairs of footwear on a small-stream fishing excursion.
A lot of anglers will pair wading shoes withtraditional socks — wool sheds water better than cotton, so many choose wool. I honestly can't stand the feeling of soaking wet socks against my ankles, so I choose, instead, to pair light neoprene socks with my wet-wading footwear. The Flyweight shoes, I've noticed, tend to run just a bit big, so that works well for the extra bulk that comes with the neoprene (I also find that neoprene adds just a smidge of ankle support while wading, and that's always helpful).
The Flyweight shoes, along with neoprene socks, are tough and durable and should last years before the elements finally force them to break down. The synthetic mesh is virtually bomb-proof, and, while not as protective as leather, it also won't shrink and tighten up like other materials — it dries nicely in the sun and is ready for Round 2 when you are.
Of course, the technology that goes into the Vibram sole is unmatched — a felt-fee sole is important to me because I fish the streams of Yellowstone National Park quite a bit, and felt isn't allowed in the park due to its propensity to spread aquatic invasive species. The Flyweight soles grip slippery rocks quite nicely, and they're tough on the trail, too.
At first, I grimaced at the $170 price, until I realized the pair of Flyweight shoes would likely last several seasons — in fact, these shoes may be the last shoes I own for the short, summer-long wet-wading seasons ahead of me. If you're in the market for wet-wading footwear, and sandals don't fit the bill anymore, the Flyweight shoe might be exactly what you're after.