First a disclaimer. If I don't have to wear waders, I won't. Simple as that. I'd rather wet-wade.
But the weather doesn't always make standing in trout water up to your midsection a practical proposition. Fall, winter and spring in the northern Rockies demand some protection from the elements, and good waders provide that protection.
But waders are bulky. On sunny days, even in the winter, they can be hot. They're hard to get in and out of, particularly when nature calls. Good ones, ones that will last years without springing a leak, are pricey. And when the day is done, it's a near certainty that your entire lower half will smell a lot like a sweaty gym sock. Waders are, in my book, a necessary evil.
But necessary, nonetheless.
Enter Redington's new line of waders—the Escape. The Escape comes in three models, all of them well under the retail price you'd expect to pay for other premium waders. Both the Escape chest waders ($199 retail) and the Escape zip waders (this feature makes wearing waders bearable, in my opinion, even with the higher price—$269) come with three-layer upper sections, and four-layer protection from the waist down. The Escape wading pants (retail $169) offer four-layer-protection throughout).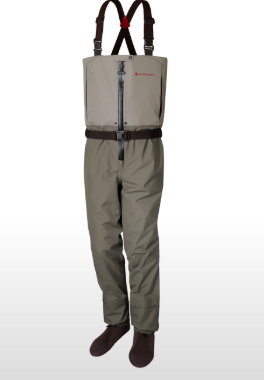 With extra layers of breathable material, they promise to be more durable than other waders that come in at this price point.
The Escape Zips and the Escape chest waders both feature fleece-lined pockets to help keep hands warm on chilly days, and the Escape wading pants feature "jeans-style" pockets. All models come with wading belts—the wading pants feature a hook-and-loop waist belt.
Also, the new Escape line of waders hits the market at the same time as the Redington's new premium wading boot, the Prowler Pro ($160 retail). Stay tuned for more on this product.