Photo by Becca Skinner, New York Times.
I read this piece the other day in the online edition of Sierra Magazine, and immediately identified with author Christopher Schaberg, a professor of Englis and Environmental Studies at Loyola University in New Orleans. The gist is this: the intense pressures being put on our environment by a decidedly anti-environment element within the current administration can leave many of us conservation-minded anglers frustrated. The fly-tying vise can help us find our center. Like Schaberg, I tie flies for the peace of it all. And lately, I've been tying a lot of damn flies, all the while contemplating the eventual state of the nation's environment when it will be left to my kids.
And I hope my kids (and your kids, too, for that matter) will be able to do something about it.
Thank God for the vise. Without it, I wouldn't know where to find my Zen. Eventually, it'll warm up, and I'll find it on the water, assuming its still there to enjoy. Alarmist? Perhaps. But, as the kids are saying these days, the struggle is real.
Here's what else is happening in the fishing world these days:
And, finally, your moment of fly fishing Zen: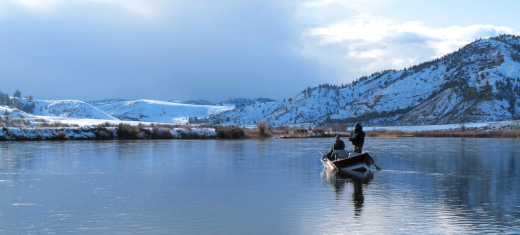 Fly fishing the Missouri River in winter. Photo courtesy Todd Tanner, Hatch Magazine.