By Jake Lemon
Perhaps no bug is more significant to anglers than the mayfly. We chase them, imitate them, even tattoo their visage on our skin. Now a new type of mayfly is emerging on rivers and streams in the US.
The Mayfly Sensor Station is an autonomous, low-cost water monitoring station that uploads water quality and quantity data in real-time to a publicly accessible online database. TU has adopted this technology, developed by Stroud Water Research Center, to enhance our ability to monitor and protect coldwater resources around the country. The growing effort has led to deployment of more than 20 of these stations in Michigan, Oregon, New York and elsewhere.
Scientists, anglers and recreationists around the country rely on USGS gaging stations for real-time streamflow and water quality data. These stations are often located near the mouths of larger rivers and may not indicate what is occurring on tributaries or headwater areas. Because the Mayfly stations are low-cost and can be maintained by trained volunteers, TU can support expanding real-time data coverage to smaller streams and rivers around the country.
"In New York, TU is using these stations in watersheds where restoration work is planned or underway to better understand local conditions," explained Tracy Brown, restoration manager for New York and Connecticut.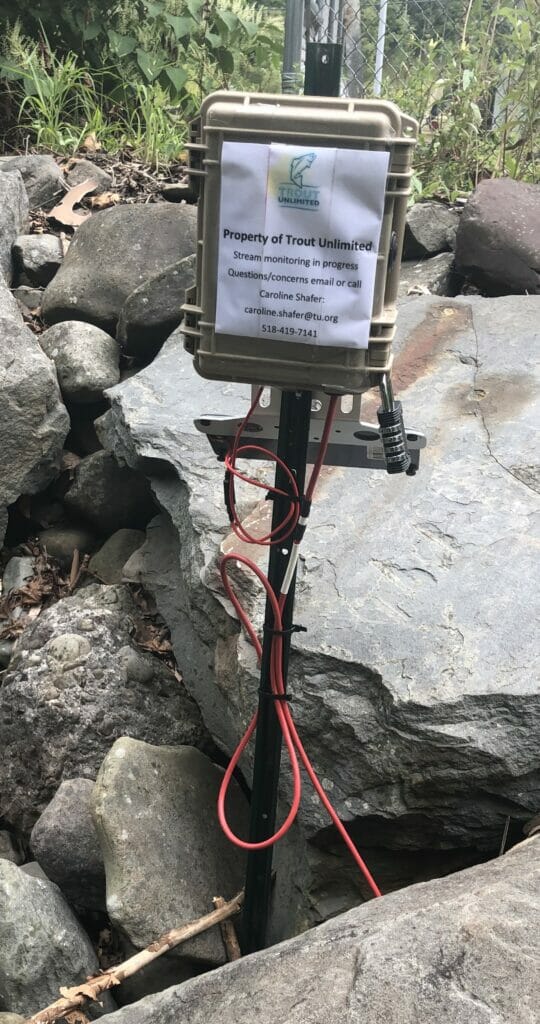 TU staffers have now deployed two stations monitoring stage, temperature and conductivity in the Upper Delaware on Sands Creek and Monguap Creek, with a third station to be deployed on the Battenkill.
These stations are the first step in a planned monitoring network in the region that will provide useful data informing protection, management and restoration efforts. Long-term records of water quality and quantity are critical to identification of emerging threats and tracking of changes in stream conditions. The saying goes that change is the only constant, and monitoring is how we track changes in the environment.
In addition to enabling long-term tracking of stream conditions, the expanded access to real-time data is a great tool for anglers to inform fishing plans and tactics.
In Michigan, guides are using real-time temperature data from the Mayfly Station to plan their trips, targeting warmwater fish when stream temperatures exceed 68 degrees. High stream temperatures and corresponding low oxygen levels stress trout and lead to higher mortality rates in catch-and-release fishing.
The stations are also useful for DIY-angling. Wondering if you should make the drive up for a night of fishing? Pull out your smartphone and check the flow and temperature to see current stream conditions.
Scientists, anglers and streamside landowners alike have a new tool for understanding their home rivers and streams, an understanding that will better equip them to protect the fish, and the bugs, that they hold dear. Good for anglers, good for fish.
Funding for the Mayfly Sensor Stations deployed in New York was provided by the Goyanes Family Foundation Inc.
To learn more about the Mayfly Sensor Station visit the TU Mayfly webpage or contact Jake Lemon.