Editor's Note: Five students from the TU Costa 5 Rivers Outreach Program have embarked on a once-in a-lifetime journey in pursuit of 18 native trout species, all on public lands. With support from the U.S. Forest Service, Costa Sunglasses, Simms Fishing Products, Fishpond and Post Fly Box, these students will tell the stories of our native trout, the places they live, and the local economies they fuel.
Public Land:
Carson National Forest and Rio Grande National Forest
One of five national forests in New Mexico, the Carson National Forest spans 1.5 million acres. Visitors to the Carson enjoy a number of activities on the forest, from fishing and hiking in the summer to skiing and snowmobiling in the winter. More than 400 miles of mountain streams cross the forest and numerous lakes dot the land. The Valle Vidal (valley of life) Trout Unlimited Project is the primary wetland and stream restoration project on the range. The U.S Forest Service and Coca-Cola have contributed to the important project to revitalize the wetlands and provide blue ribbon habitat for native Rio Grande cutthroat trout. Stay tuned for an upcoming blog on Valle Vidal.
— Austin Burroughs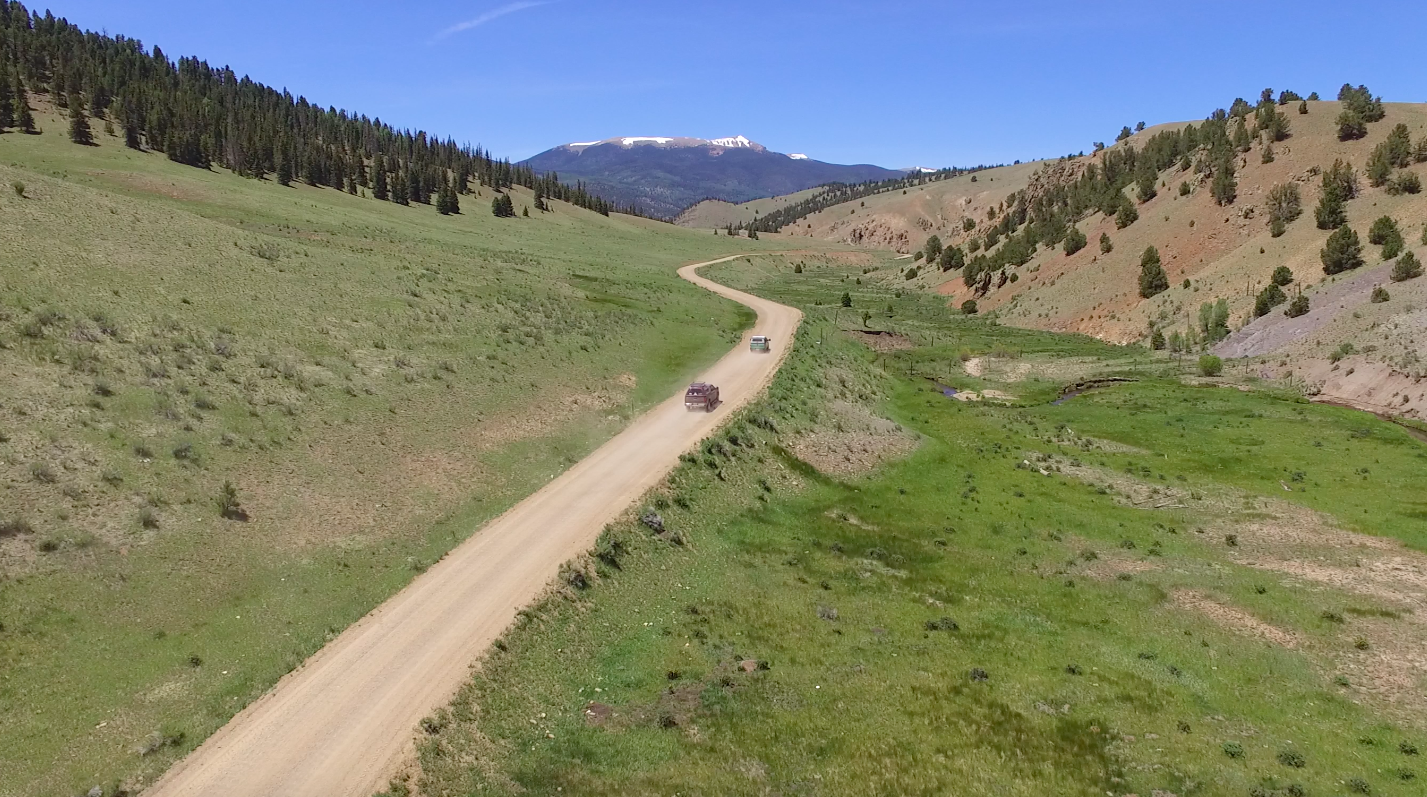 Driving through Valle Vidal.
The Rio Grande National Forest is located in south-central Colorado. The Rio Grande River begins an epic journey to the Gulf of Mexico within the western portion of the forest, where snowmelt helps fuel its initial momentum down from the Continental Divide. Additionally, there are four wilderness areas within the forest. There are multiple dispersed campsites along the headwaters of the South Fork of the Rio Grande River on Forest Service Road 360. In addition to abundant fishing opportunities, public land users in this area enjoy off-roading and hiking. The land is abundant with life with signs of bear, deer and elk.
— Jacob Lacy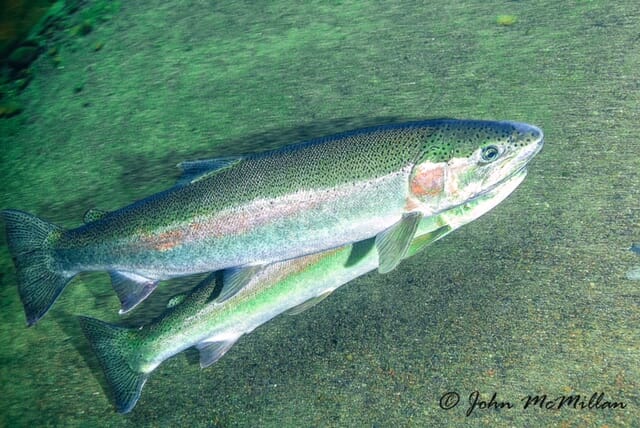 Heather with a nice Rio Grande cutthroat about to be released.
Native Trout: Rio Grande cutthroat
Cutthroat trout are the most diverse species of trout in North America, as they cover more waters in the Western Hemisphere than any other trout species. Rio Grande cutthroat trout are a strand representing the southern end of the cutthroat species. This species is located in mountainous headwaters and small streams. They are pursued in New Mexico and Colorado on the Rio Grande, Pecos, and Canadian Rivers, as well as in the Guadalupe and Davis Mountains of Texas.
Rio Grande cutthroat trout have a distinctive look and can be identified by an assortment of characteristics. Behind the dorsal fin there is a cluster of irregular shaped dots, and in front of the dorsal fin the dots are much more dispersed. Their coloring is light brown, highlighted with pink gills and fins.
Due to habitat loss, less than 10 percent of their preexisting habitat is occupied. Currently, the majority of the Rio Grande cutthroat populations have moved from the large rivers they once occupied, to small, high elevation tributaries. This species is now at a higher threat from environmental factors such as wild fires and drought, due to the small sections of streams they inhabit, and the lack of room for escape.
Roughly 75 percent of the Rio Grande cutthroat population remains genetically pure. Non-native species, such as rainbow, pose a hybridization threat to the remaining genetically pure cutthroat. In order to prevent a mixed gene pool, measures have been taken to guarantee isolation from nonnatives. Barriers have been created to secure a stable and exclusive location, but in doing so, these barriers have also prevented Rio Grande cutthroat from following their historical migratory patterns to and from larger rivers.
Electroshocking is often used to capture and relocate native species as a form of conservation. Michael Gatlin, with U.S. Forest Service, explained this also provides a chance collect tissue samples from the fish. This science is efficient, does not cause harm to the fish, and leads to unbiased sampling of all the species in the sample area.
— Heather Harkavy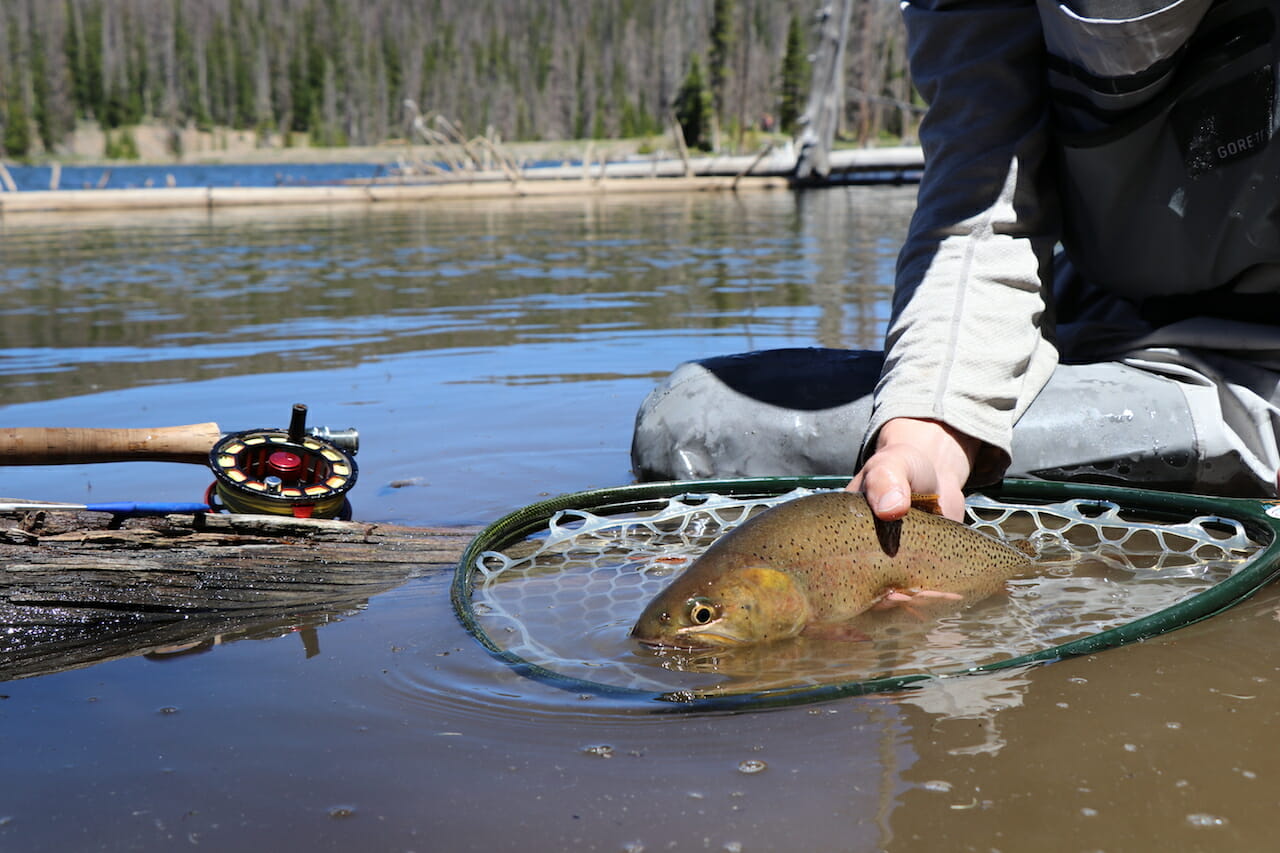 Jacob sends back a nice Rio Grande cutty.
Our Experience: High elevation stillwater
Arriving at camp after the sun goes down always provides a little extra incentive to wake up early the next morning to check out new surroundings. Our campsite at Rio Grande Del Norte National Monument was no exception. We crawled out of our tents the first morning and were greeted by a jaw-dropping view of the mighty Rio Grande River flowing through an impressive gorge. After a quick camp breakfast of Clif Bars and coffee, we shot up to the small town of Costilla, New Mexico, to meet up with TU staffer Toner Mitchell and USFS Fisheries Biologist Michael Gatlin for a tour of Valle Vidal. Stay tuned for another blog post highlighting our experience in Valle Vidal.
Per Toner's recommendation, we woke up the next morning to go fish Columbine Creek to try and check Rio Grande cutthroat off our list. We hiked roughly 3 miles up the trail searching for smaller water and some relief from the high flows that were ripping through the lower section of the creek. Unfortunately, we didn't have much fishable water to work with and the Rio Grande cutties eluded us. With high water surrounding us in New Mexico, the decision was made to shoot up to southern Colorado in search of Rio Grande cutthroat.
Following a 3-hour drive, we found ourselves in the heart of the Rio Grande National Forest and one of the coolest campsites I have ever experienced.
Nestled at 11,000 feet, our site was in the middle of a large meadow with the headwaters of the South Fork of the Rio Grande meandering behind us. With departure the following afternoon, we had a tight window to cross the Rio Grande cutthroat off our list. We decided to hike up to what we thought was a remote lake high above the valley where we set up camp. Turns out, this "remote lake" is Poage Lake, and is managed by Colorado Parks and Wildlife as a Rio Grande cutthroat trout fishery. Unaware that a forest access road led directly to the lake, we pushed through some of the toughest terrain I have ever experienced. We followed a creek up the steep mountainside that flowed out of Poage Lake and two hours later, we finally made it. Never have I fly fished still water for trout, so the learning curve was steep.
Sight casting to cruising cutthroat was the name of the game. However, after some difficulties spotting cruising cutthroat, I decided to hedge my bets on a midge dropper beneath a large hopper pattern. It didn't take long for my foam hopper to twitch in the calm water, indicating a trout had taken my midge pattern below. Seconds later, my first Rio Grande cutthroat was in the net and the pressure to catch this native species had subsided. By the skin of our teeth, we squeezed by and all caught our Rio Grande cutthroat, the most challenging native trout thus far.
— Brett Winchel