Editor's Note: Five students from the TU Costa 5 Rivers Outreach Program have embarked on a once-in-a-lifetime journey in pursuit of 16 native trout species, all on public lands. With support from the U.S. Forest Service, Costa Sunglasses, Simms Fishing Products, Fishpond and Post Fly Box, these students will tell the stories of our native trout, the places they live, and the local economies they fuel.
By Team Native Odyssey
Blog Post 1: Tennessee
Public Land:
Backbone Rock Campground, North Zone of the Cherokee National Forest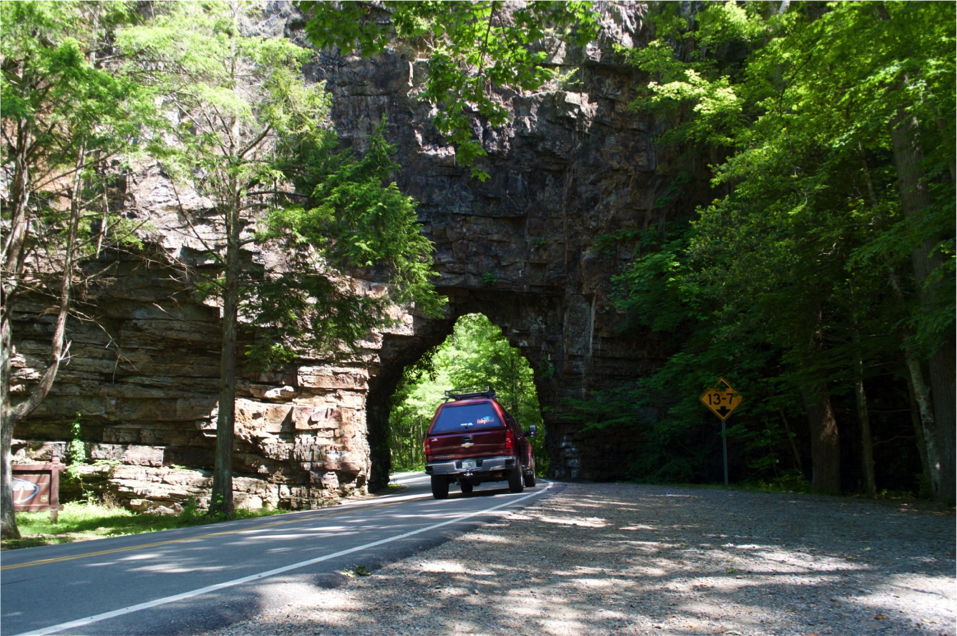 Located in northern Johnson County, Tennessee, Backbone Rock Campground is one of the most unique camping experiences East Tennessee has to offer. The name is derived from a spur ridge on Holston Mountain that tapers off at a bend in Beaverdam Creek, just upstream of the campground. Sitting adjacent to Beaverdam Creek, campers are treated with the serene sounds of a cold Appalachian stream running just yards behind the campground. Around the bend from the campsite visitors pass through the "Shortest Tunnel in the World" on their way upstream along Beaverdam Creek via Highway 133. Originally the tunnel was created in 1901 to provide rail access between Shady Valley, TN and Damascus, VA. Backbone Rock campground offers great access to the North Zone of the Cherokee National Forest for fly fishermen, hikers, campers, and families looking to explore the wilderness of East Tennessee.
— Brett Winchel
Native Trout:
Southern Appalachian Brook Trout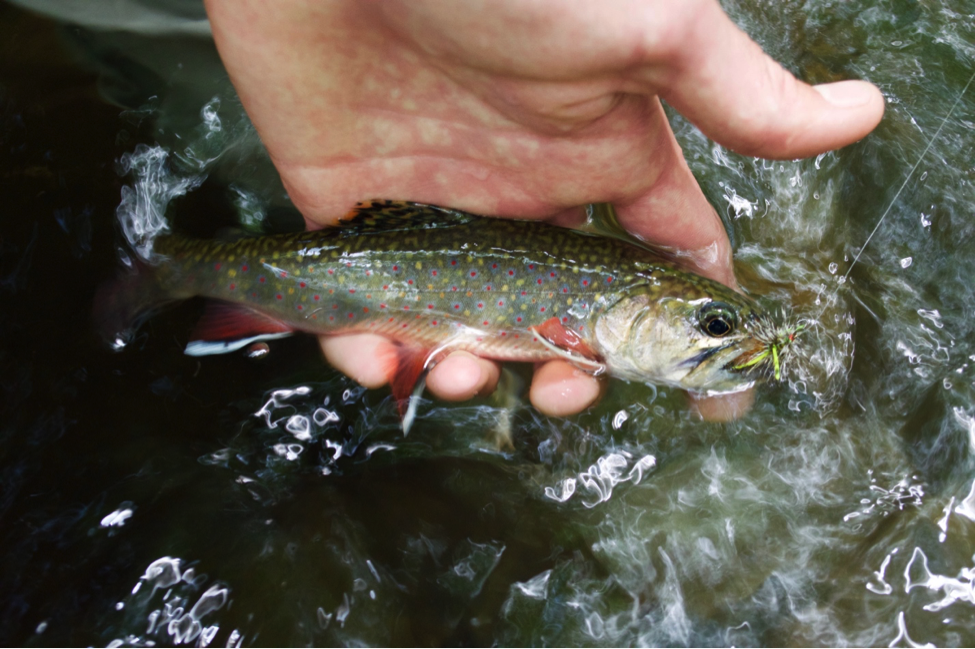 The Southeast boasts only one native trout species, the Southern Appalachian brook trout, also referred to as "specks" or "brookies." Historically, this species had a range of over 10 million acres, and today they inhabit 55% of that range. Genetic analysis concludes that Southern Appalachian brook trout are a unique strain of brook trout native only to this region. The Appalachian Mountains hold large numbers of high elevation streams, where cold clean water provides ideal habitat for brook trout. These streams are comprised of many boulders that create pockets and holes for the trout to hide in. However, Southern Appalachian brook trout face some threats from which they cannot hide.
Climate change is the most pressing threat to the remaining population of these fish. According to "State of the Trout," projections show that an annual rise in temperature of just 2.7 degrees Fahrenheit from current form will result in a 20% loss of remaining Southern Appalachian brook trout numbers. With the current political environment of our country, this statistic becomes a grave concern. While rising global temperatures are the primary threat to these fish, other dangers such as non-native species and habitat fragmentation persist as well. Non-native species like brown trout, rainbow trout, and northern hatchery brook trout influence the distribution of pure strain Southern Appalachian brook trout populations. These non-native fish prey on and push out the brookies from what little habitat they still thrive in.
Cherokee National Forest Fisheries Biologist, Marcia Carter, explained "Extensive logging and terrible management processes led to habitat loss and sediment erosion, which really decimated the native trout populations. This led to the introduction of rainbow and brown trout along with a hatchery strain of brook trout, which put us at the current 20-30% of what we used to be." Marcia also pointed us in the direction of a fishing location that demonstrated the positive steps being taken to help restore Southern Appalachian brook trout populations.
— Matt Crockett
Our Experience: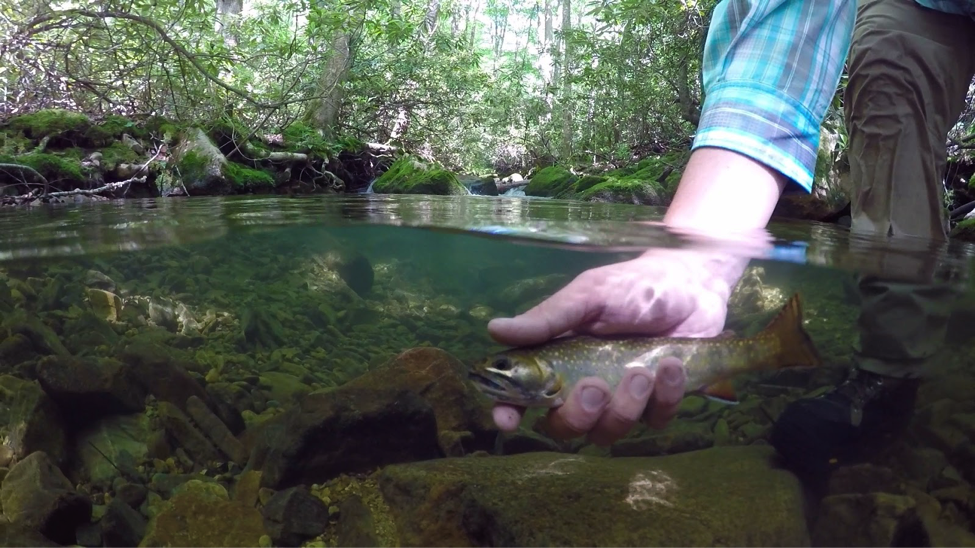 After pulling into 3 Rivers Angler in Knoxville to pick up Brett and Matt, and stocking up on last minute essentials, we headed east towards the Cherokee National Forest to conduct an interview with USFS fisheries biologist, Marcia Carter, and pitch camp for the night. Following our streamside interview, we headed off to scope out camp. We were immediately distracted by the amount of bugs hatching around our campsite, especially with the sounds of Beaverdam Creek flowing just on the other side of the tree line. Brett managed a few fish just behind the campground, but none were the elusive brook trout that we were after, so we returned to our campfire and laid down a plan for the next morning's adventure.
I've targeted trout up in the Southern Appalachians before, but I had not successfully landed my first brook trout. So it was up to the knowledge of the Tennessee compadres to help me figure out the key to these Appalachian brookies. A quick fuel up on some breakfast burritos and we were off to the first stream. The layout of these streams are as intricate as the thickets of rhododendron that surrounds them. From small runs to even smaller pools behind boulders, I was out of my element and definitely not making 50 foot casts to redfish anymore. With my leader barely even out of my last guide, we hiked and high-sticked from pool to pool. Matt picked up a nice brook trout after a few pools on a small dry.
After getting a few pictures, and returning him to his rocky hiding place, we approached what Brett called the "Brook Trout home we were looking for." They urged me to push my luck in this rhododendron tunnel that encompassed the pool. Brett told me "go on and get down and dirty." Making my way up to the launch zone, I knelt down and loaded up for a bow and arrow shot through the tunnel to the top of the pool. The dry fly hit just the right section, and as it drifted over a patch of sunshine, it enticed the most beautiful trout. It was covered in red spots with a gleaming blue halos around them. Matt and Brett then informed me that a brook trout of that size in a creek like that is a feat in itself, let alone for some Florida boys first one.
— Austin Burroughs
Q&A on the Way:
The following is a question and answer transcript from an interview we conducted with Cherokee National Forests Fisheries Biologist, Marcia Carter: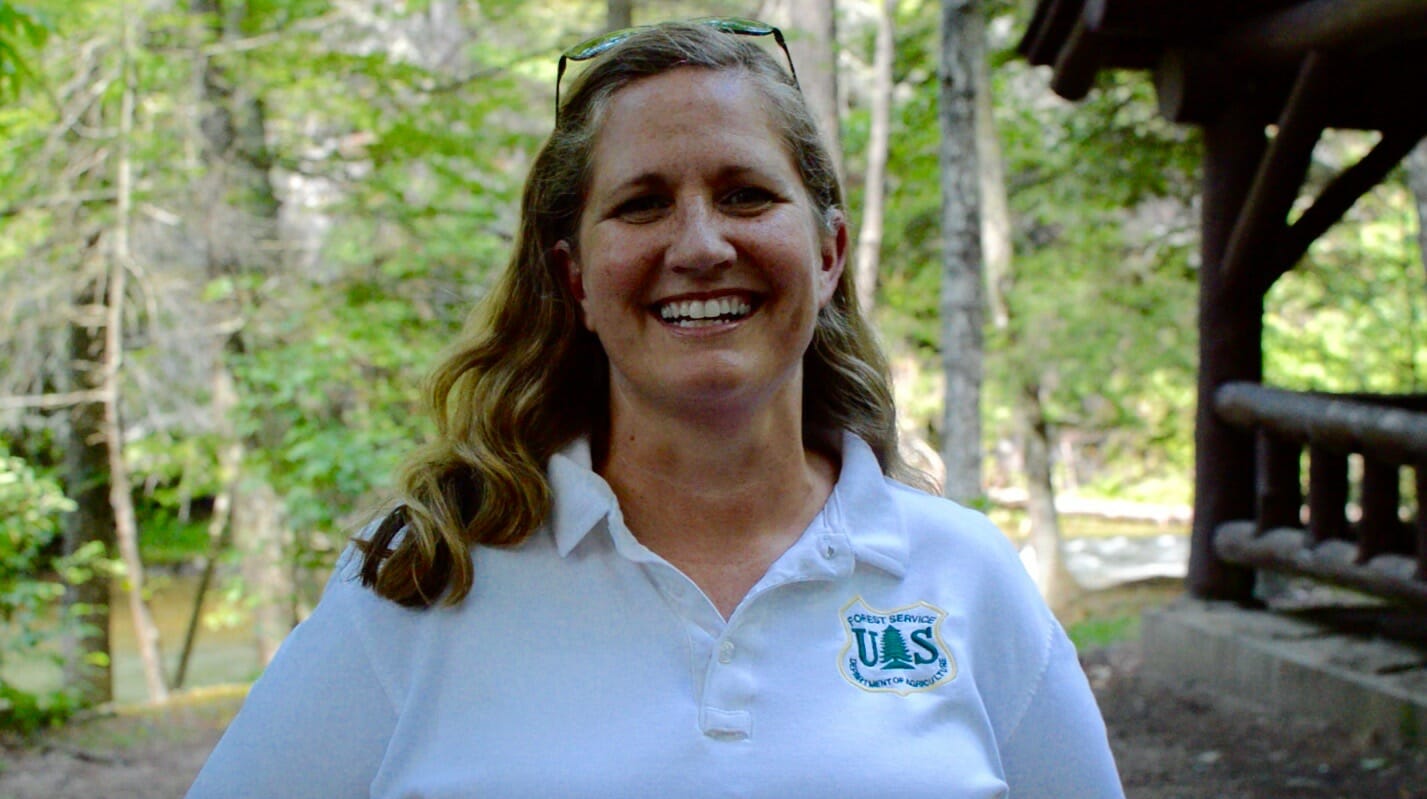 Cherokee National Forests Fisheries Biologist Marcia Carter
Q: Can you briefly describe your job title, a little about your job and what your day-to-day work is like?
A: I'm the Cherokee National Forests, fisheries biologist, for the north zone of the forest. My job is to manage the fisheries resources and the soil and water resources in the forest. My day-to-day is never the same, about half in the field and half in the office, varying from environmental assessments to surveys out on the streams.
Q: What was the catalyst that got you interested in working with and protecting native trout and public lands?
A: It was a lucky thing because I always wanted to work with animals and live in the mountains of Tennessee. I went to graduate school at the University of Tennessee in Knoxville, which led me to an assistantship in fisheries, which then took me to a job with the Cherokee National Forest while I was a student and I've been here ever since (27 years).
Q: Can you expand on the multiple uses that happen on the Cherokee National Forest land?
A: We are different from the National Park Service and other agencies, in that we are about conservation over preservation. On the national forest land, we have logging along with recreation (both hunting and fishing).
Q: Describe to us the story of the Southern Appalachian Brook Trout.
A: Brook Trout are the only native trout in Tennessee, and used to be found all over the mountain streams all throughout the late 1800's to early 1900's. Extensive logging and terrible management processes led to habitat loss and sediment erosion, which really decimated the native trout populations. This led to the introduction of rainbow and brown trout along with a hatchery strain of brook trout, which put us at the current 20-30% of what we used to be.
Q: What makes a brook trout stream a brook trout stream?
A: The things that make a good quality brook trout stream are high elevation, high gradient, lots of boulders creating deep pockets and hiding places, and not too much rhododendron covering the stream.
Q: What are some of the biggest threats to native brook trout?
A: I think the biggest threat is climate change, along with air pollution. In the higher altitudes you get a lot of air pollution, which causes acid deposition and acid rain, leading to a change the acidity of the streams, bringing the population down. Droughts and flooding are also major components driving trout populations. A flood at the wrong time could wash out the fry or eggs, or during a drought some pools will dry up not allowing fish passage.
Q: What role has public lands played in the conservation efforts for Southern Appalachian Brook Trout?
A: Most of the brook trout populations are on public lands, and in the past when they did all the logging with no government regulation, there was no regard for the wellbeing of the streams, and with the regulation and public access to over 600,000 acres of the forest (50 miles of brook trout streams), it helps to conserve and not let history repeat itself.
Q: What kind of progress has been made with current restoration efforts?
A: I think we have made a lot of progress over the years. The forest service and TWRA (Tennessee Wildlife Resources Agency) started doing brook trout restoration back in the 80's, and then I came along in 1990 working on and off with restoration projects. There are about 18 successful brook trout restoration projects along with various rainbow and brown trout removal projects. One of our best restoration projects is the Hampton Creek project working with the state and Trout Unlimited to build a fish barrier to keep rainbows downstream.
Q: What are the steps involved in some of the restoration projects previously mentioned?
A: We usually hike in with backpack electric shockers, and shock the fish, which just makes their muscles contract so that we can scoop them up. We then move the undesired species downstream below a barrier. The next step is getting brook trout from a near by stream or from a hatchery. To accompany those efforts, we do a lot of habitat restoration to ensure cold clean water and the right living conditions.
Q: What is one unique thing about Southern Appalachian Brook Trout?
A: A unique thing is that it is not really a trout, but in the char family.
Q: What is the future outlook for this species?
A: I think despite the threats, the future outlook is good. Most of the populations are protected on public lands, and our work to manage, protect, and expand them. We also have plans to do future brook trout restoration with several agencies and it being such an important species to the state, I think we will keep it going and keep expanding.
Q: What is something that the people at home can do to help protect this species?
A: Well they can support public lands and clean water, don't litter, and specifically in our forest we have a problem with a lot of illegal vehicle use, like off-roading or mudding and tearing up the roads. All of that leads to sediments running into the streams so obeying and observing the regulations and laws put in place for a reason is a big help."