The Tu Teens Club of Gallipolis, OH is in it's 5th year! It is the first of its kind in the mid-west region of Trout Unlimited. Shannon Mayes is a teacher at the Gallia Academy Middle School and founded the club in 2013. TU Teens is part of the Recreation On Campus for Kids (ROCKS) program at GAMS. The club is supported and affiliated with the TU Mademen Chapter #477. Shannon is pictured above with this year's club.
A New School Year with the TU Teens of Gallipolis
By Shannon Mayes
The fall marked a new year for TU Teens of Gallipolis. A new school year, and new students to join our TU Teens middle school organization. Our first meeting is at the beginning of October and the veteran students were full of fish stories to share with the others. From fly fishing with me in WV, VA, or TN to catching crappy with grandpa out in the farm pond, everyone had a story or two to share.
The new students were excited to start learning about fly fishing, some have had some experience with a fly rod, but most are brand new to fly fishing. We start slow and begin learning the parts of the rod and reel and how to put the rod/reel together and prepare it for use. We discuss knots, flies, and conservation in the first few months of meetings. Soon after, we began casting and working on our fly tying skills. The students really enjoy the day that they receive their TU Teens T-shirt and TU ball cap. Another highlight around the first of December was the memberships to Trout Unlimited. Each students received their own membership and the magazine, membership card, stickers, and calendar are delivered to their homes!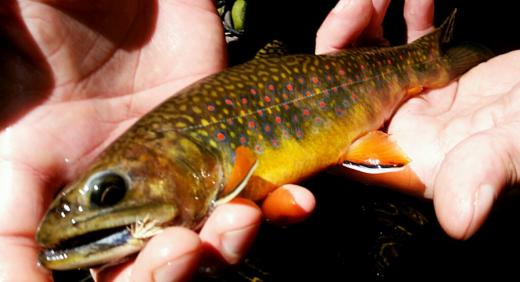 alt="" title="" />
A brookie in its fall colors caught by a teen during their club's camping trip to West Virginia.
This fall we took a couple of fishing trips, and in both cases the fishing was slow due to low water levels. The first trip was to West Virginia to a small mountain stream located near Canaan Valley. We all caught some native brook trout, but not a lot. The fishing was slow and the weather was warm and sunny. We camped and ate dinner around the fire, the fishing may have been slow, but everyone enjoyed the trip. WV is beautiful in the fall!
The other trip was to Apple Creek around Wooster, Ohio. I took eight students up to Northern Ohio to catch and release some rainbow trout. Again, we caught some fish, but the fishing was slow. Water levels were very low. Although the water was quite warm the air temperature was chilly. The second morning, the boys who had left their waders in the back of the truck found them to be stiff and covered in ice! Lessons learned of a fly fisherman!