By Cole Baldino
To the average angler, New Jersey may not seem like a top fishing destination, but if you live in the Nor
theast, it should be.
A plethora of coldwater streams drain from the New Jersey Highlands and into the Delaware River, and Trout Unlimited is working to make the fishing even better in the region.
Whether it is the Delaware's 42 miles of designated wild-and-scenic river —a river that regularly produces 20-inch plus wild brown trout — or a mountain stream flowing through the Delaware Water Gap National Recreation Area teaming with native brook trout, there is a stream for any angler.
TU's Upper Delaware River Home Rivers Initiative had a productive year in conservation in 2017. Looking forward to 2018, TU has lined up some impressive conservation approaches throughout the state.
TU recently completed Phase 1 of the Delaware River Watershed Initiative, which is part of the New Jersey Highlands Cluster. This resulted in a collaborative prioritization of sub-watersheds on which to focus strategic conservation approaches.
TU has taken New Jersey's state fish, the brook trout, and helped focus on it as a symbol of excellent water quality, assessing water quality improvements off the success and growth of these native populations.
Our strategic approach in the Delaware Basin focuses around six sub-watersheds of the Delaware; Flat Brook, Lopatcong Creek, Paulins Kill, Pequest River, Pohatcong Creek and the Musconetcong River.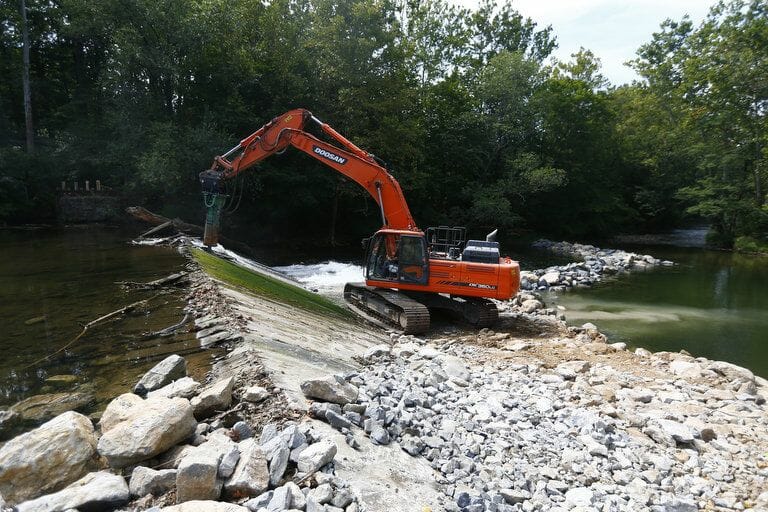 As part of our busy year of on-the-ground conservation, we watched the Musconetcong's Hughesville Dam (above) be removed and the habitat restored, witnessing the immediate benefits as the American shad migrated up the river for the first time in history.
In the Pohatcong we planted more than 2,000 native trees and shrubs to provide habitat and cooler water temps for wild trout.
We worked with our local chapters to provide stream cleanups (below) to our native and wild trout streams, as well as securing an Embrace-A-Stream grant for a large habitat restoration on public lands.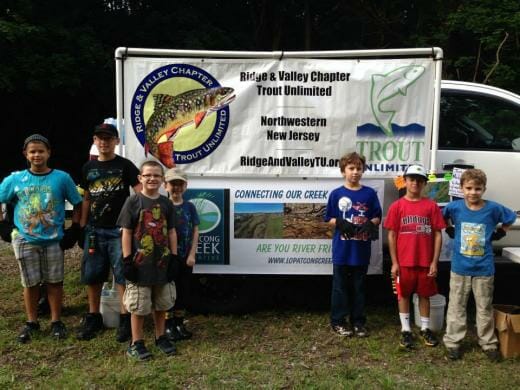 Our partnerships with agencies such as the Natural Resource Conservation Service (NRCS) grew even stronger as we entered into a joint project to improve habitat through the Federal Farm Bill.
In Phase 2, all of the leg work will amount to on-the-ground projects to restore, reintroduce, reconnect and protect native and wild trout, while at the same time improving water quality throughout the entire basin.
Looking ahead to 2018, we have more than 2 miles of habitat restoration planned, over 2,000 native trees and shrubs to be planted, land protection efforts lined up to increase public lands and angler access, and a partnership with the NJ Department of Environmental Protection (NJDEP) to conduct the first-ever brook trout reintroductions in the state.
All of the work will contribute to TU's efforts to conserve, restore and protect these coldwater resources to ensure that robust populations of native and wild trout thrive for future generations to come.
Cole Baldino is Trout Unlimited's New Jersey Delaware River Coordinator.