Volunteers planted 600 native trees and shrubs along Schoharie Creek near Jewett, NY. (Photo Laura Weyeneth, Greene County Soil and Water Conservation District)
By Tracy Brown
Trout Unlimited had a busy spring on the banks of streams in eight watersheds in New York, planting thousands of trees and shrubs to provide shade and other benefits.
The planting days were in partnership with the Arbor Day Foundation and New York State's Department of Environmental Conservation's "Trees for Tributaries" program.
From Earth Day (April 22) through early May, 262 volunteers planted 3,750 plants on 60.4 acres along streams in the Catskills, Adirondacks and the Hudson River.
Nine Trout Unlimited chapters participated. They were: Catskill Mountain; Ashokan-Pepacton; Beamoc; Adirondack; SUNY Cobleskill 5 Rivers; Clearwater; Dave Brandt; Columbia-Greene; New York City; Croton.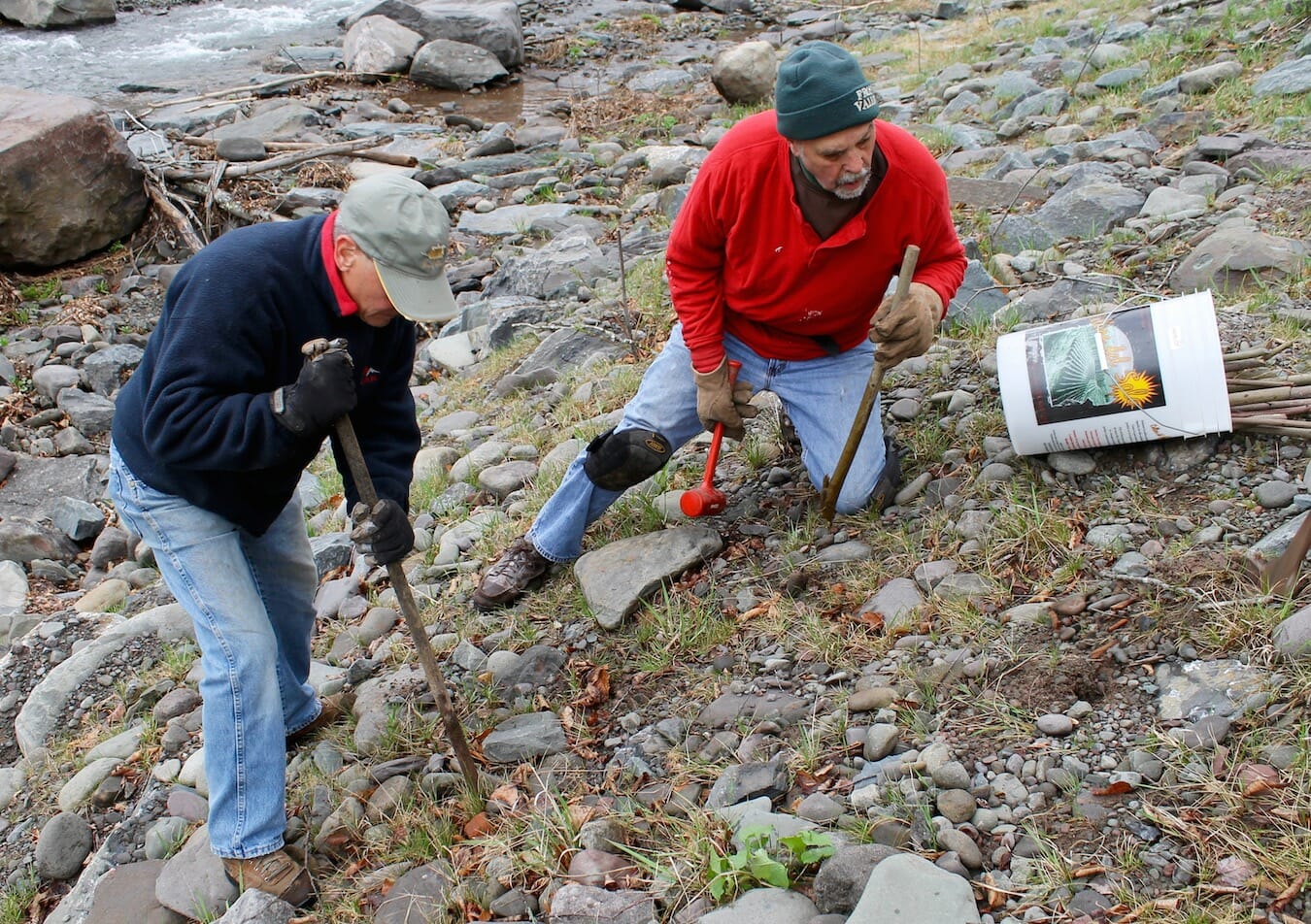 Trout Unlimited volunteers plant trees at Stony Clove Creek site near Phoenicia, NY. (Photo Leslie Zucker, Cornell Cooperative Extension of Ulster County)
TU's New York City Trout in the Classroom Program, in partnership with Croton Chapter, also participated.
Partners in the effort included:
•Ulster County Soil and Water Conservation District
•Delaware County Soil and Water Conservation District
•Catskill Streams Buffer Initiative of NYS DEP
•Central Catskills Chamber of Commerce
•Margaretville, NY School
•Town of Rockland
•Essex County Soil and Water Conservation District
•Schoharie Soil and Water Conservation District
•Greene County Soil and Water Conservation District
•Village of Warwick, NY
•Roxbury NY School
•Westchester County Parks
•Friends of the Upper Delaware River
•Various private landowners
Additional funding was provided by Millennium Stream Improvement Fund (MSIF). To learn more about MSIF please visit http://www.tu.org/tu-projects/catskill-stream-improvement.
Tracy Brown is the Northeastern restoration coordinator for Trout Unlimited.