The a few attendees — human and canine — supporting Ballot Measure 1 in front of Beach Lake. All photos by Brian Ohlen
By Eric Booton.
A year is frequently simplified into seasons, and in Southcentral Alaska we have witnessed the unique collision of three different seasons. While winter has been slow to start, fall was unseasonably warm and dry which extended fishing season for the average angler, with little objection from most, and the paralleling political season in Alaska has also been unseasonably contentious, with objection from most.
Trout Unlimited's Alaska Program is supporting Ballot Measure 1 because it strengthens Alaska's outdated and vague fish habitat protection laws with science and public participation so that Alaska can continue to grow and develop as a state without sacrificing critical fish habitat. It's a "win-win" for wild salmon and Alaska's economy. Social media is a valuable tool for our advocacy of this ballot measure, but it will never replace the value of face-to-face discussion and interaction.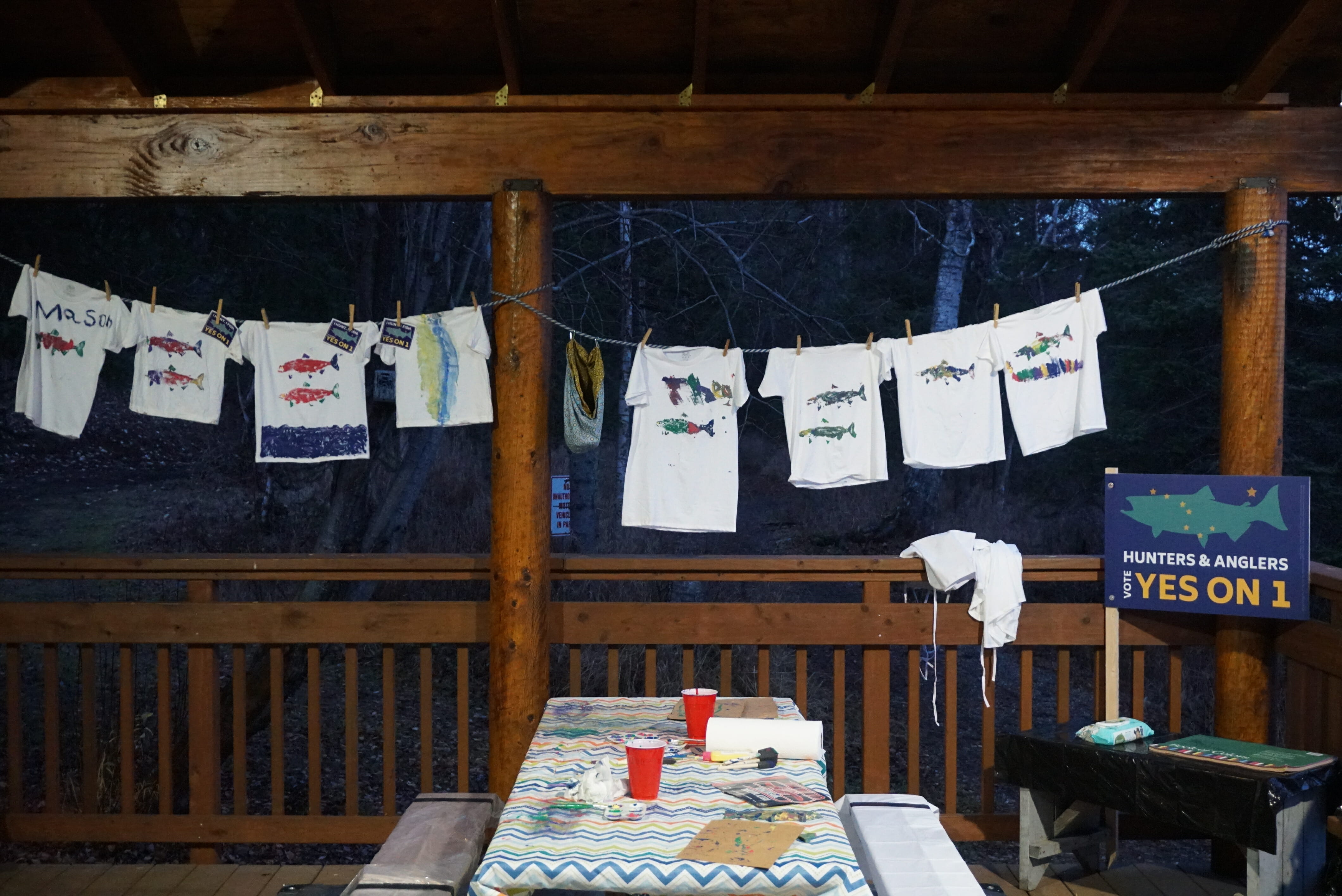 With the big vote for the Alaska General Election coming up quickly on Nov. 6 (pledge to vote 'yes' here), we hosted the Hunt Fish Eat Vote event on Oct. 27 at the Beach Lake Lodge for TU members and other supporters to connect face to face before casting their ballots. Beach Lake Lodge is nestled on the shores of Beach Lake in Chugiak and is a haven of sorts from the nearby population hubs. It was only moments after the event kicked off that the quaint lodge had succumbed to the pleasant aroma of wood smoke and homemade soups.
The Hunt Fish Eat Vote event was complete with salmon t-shirt printing and coloring for the kids, but the main attractions were competitions for the titles of 2018 Chili Champ and 2018 Chowder Champ, and the campfire conservation conversation. Campfire conservation included representatives from Trout Unlimited, Backcountry Hunters and Anglers, a Ballot Measure 1 sponsor, and a former Alaska state senator. Discussion revolved around hunters and anglers' shared missions to protect and conserve fish and game habitat, preserve access to public lands, stop the Pebble Mine, and pass Ballot Measure 1 on Nov. 6.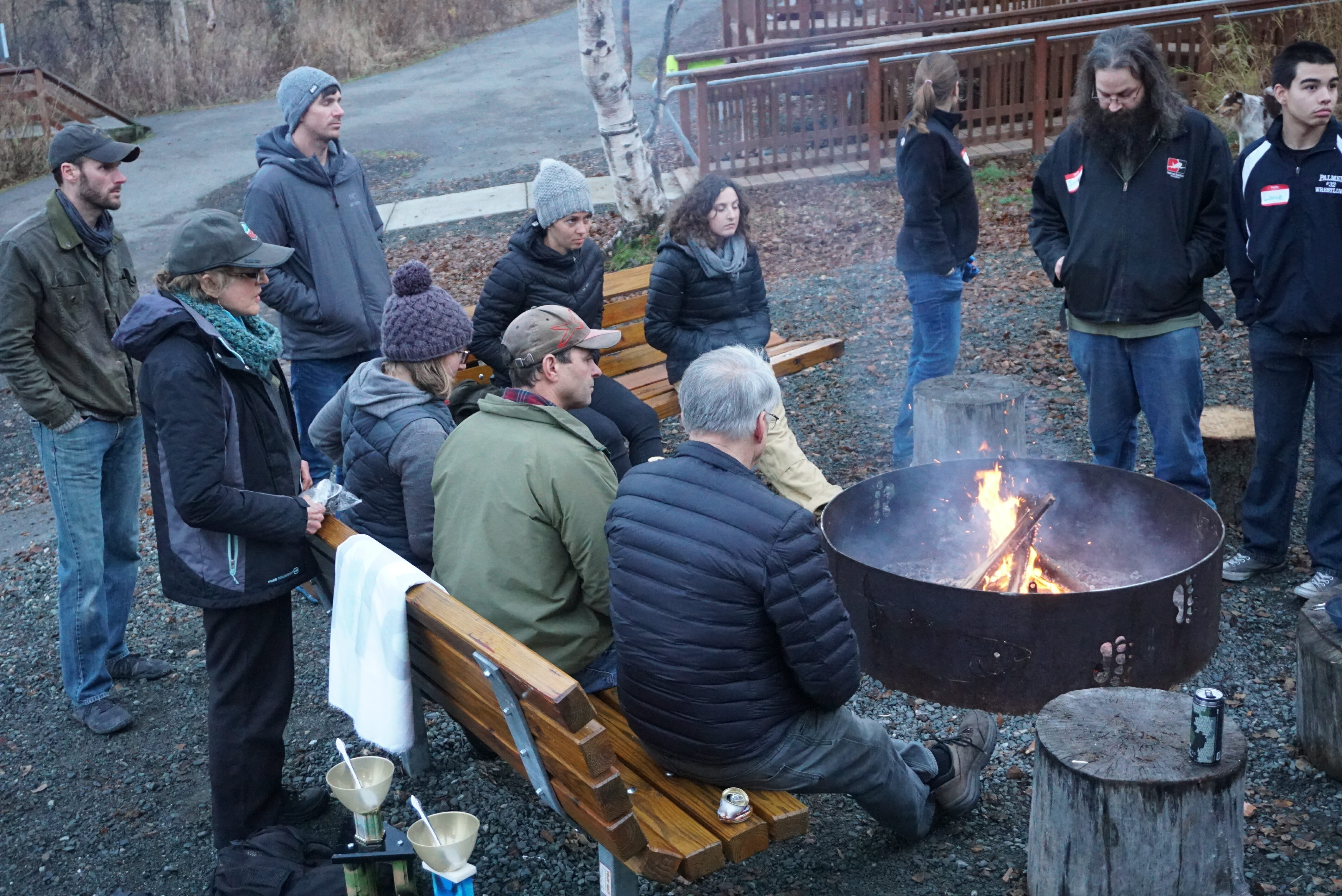 In the past week we have witnessed a concerted attack from those opposing to Ballot Measure 1 stating that it will decimate hunting and fishing access in an untruthful attempt to persuade voters into voting no. As hunters and anglers we know that our passions are wholly reliant on healthy habitat and it is in our best interest to see that habitat protected. We have also carefully reviewed the ballot measure, which clearly states that both individual and general permits can still be granted vehicle crossings as they are today.
Attendees enjoyed the campfire discussion and were pleased by the fact that the only misinformation present in this group was the acceptable (and expected, even) exaggeration that comes with sharing stories of hunting and fishing success around the campfire. A good time was had by all participants, and the team at Trout Unlimited Alaska is thinking about hosting a similar event next year to see who can claim the titles of "2019 Chili Champ" and "2019 Chowder Champ." I'm already plotting my recipe…
Thank you to our supporters at Fire Island Rustic Bakeshop and Anchorage Brewing Company for contributing some of the best bread and beer Alaska has to offer, and to our attendees delicious efforts in the kitchen and willingness to share.
P.S. Early voting is open. Polls close at 8 p.m. on Tues., Nov. 6. Don't forget to get out and vote.
Eric Booton is the Alaska Sportsman's Engagement Organizer. He lives in Anchorage.