"It's just ten minutes of dirt, and then we'll be able to fish all day!"
The photo above is particularly painful for me. This shot was taken on a TU media tour a decade ago, when I and a host of TU staffers hosted several reporters, photographers and TV personalities on trip into the Wyoming Range, before TU and our partners were successful in protecting this amazing place from future oil and gas drilling.
As you'll read in the coming edition of TROUT Magazine, this wasn't the only flat tire we experiences on that tour. Not even close. By the end of the tour, TU staffers Tom Reed, Warren Colyer and I had become pit-crew certified thanks to so many flats I can't think about it without getting melancholy.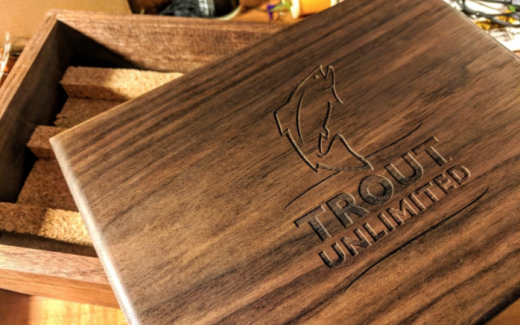 Last week, we ask you, our readers, members and supporters, to caption the photo, and we got some great entries.
But my favorite, probably because I've cursed many a backcountry fishing trip with about the same verbiage, was the one crafted by Jed Wilson, a TU member assigned to the Stonefly Society on the Wasatch Front in Utah. It read:
"It's just ten minutes of dirt, and we'll be able to fish all day!"
Congratulations, Jed! Please send your address to me at chunt@tu.org, and I'll ship that sweet wooden fly box out to you within a week or so.
— Chris Hunt