Write a funny caption for this photo, win an heirloom TU fly box.
Please check out the next issue of TROUT magazine, which should be arriving in your mailboxes any day now. We're proud, as always, of our mix of essays, from the likes of John Gierach and Chris Camuto. We have a neat photo essay on the "Native Odyssey," where TU sent college students across the country to catch as many native trout species in native waters as they could.
And there's also a great piece on the Wyoming Range, where TU played a key role in preserving 1.2 million acres of the country's best native trout habitat, nearly 10 years ago.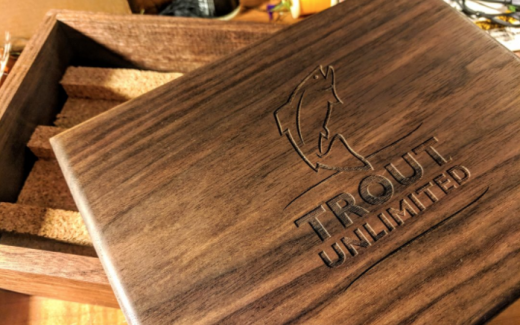 This is a photo from that piece that reminds us how we, as a group, blew 10 (or more) tires in the Wyoming Range on a three-day trip.
You write a caption to go with this (funnier than the one in the magazine) in the comment thread, and if we pick yours, you will win this awesome heirloom fly box (pictured above).
Good luck.
— Kirk Deeter