Opponents to a fish farmer's plan to significantly increase trout production at the Grayling Fish Hatchery believed the operation threatened the river's health below the flow-through facility. (Photo courtesy of Joe Hemming)
By Mark Taylor
A commercial fish hatchery on Michigan's famed Au Sable river will cease operations by the end of the year.
The Anglers of the Au Sable group announced on Sept. 27 a settlement with Harrietta Hills, the company operating the Grayling Fish Hatchery.
The case settled for $160,000.
"That was far less than further court fighting would have cost us," said Joe Hemming, president of Anglers of the Au Sable and the lead attorney on the case. "This settlement saves the river from thousands of pounds of fish waste, and resultant algae blooms and decreased dissolved oxygen. It reduces the risk of disease, escapement and invasive species.
"It protects the river."
Keith Curley, Trout Unlimited's vice president for eastern conservation, applauded Anglers of the Au Sable's efforts.
"TU commends Anglers of the Au Sable for their persistent hard work, which led to the protection of this vital fishery," Curley said. "We thank the Anglers of the Au Sable and all of the supporters whose contributions made this victory possible."
Under the agreement, Anglers of the Au Sable has formed a non-profit entity, Grayling Hatchery Inc., to operate the hatchery as a tourist attraction and historical landmark, which the group has contended was the intention of a 1995 deed between the state and Crawford County.
Additional details on the operation will be forthcoming, Hemming said.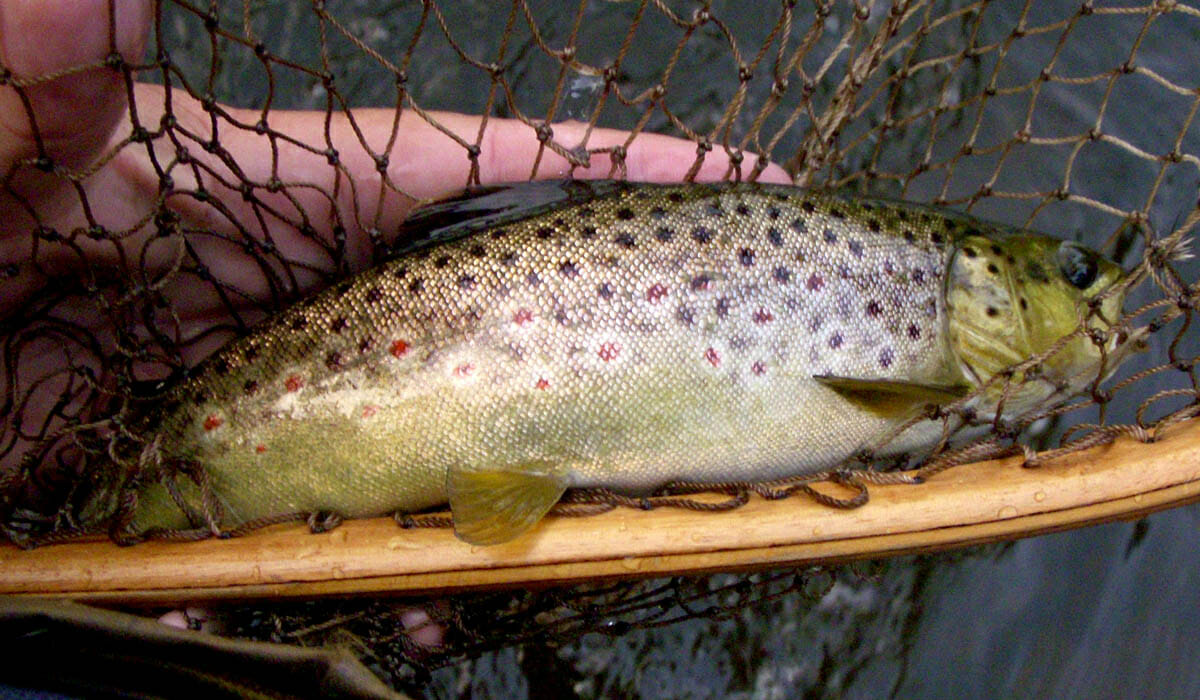 The Holy Water section of the Au Sable River is known for its robust population of wild trout and its prolific insect hatches. (Photo courtesy of Joe Hemming)
The hatchery is on the East Branch of the Au Sable, just upstream from the 9-mile section of the river known as the Holy Water, a stretch revered for its robust wild trout populations and prolific insect hatches.
It was built in the early 20th century as a rearing facility for grayling. When those operations ceased the hatchery was left unused for decades until the county took over its operation as a tourist facility.
The hatchery, a flow-through facility, produced less than 20,000 pounds of trout annually until Harrietta Hills applied for a permit to significantly increase production, up to 300,000 pounds annually.
Anglers of the Au Sable, Trout Unlimited and others strongly opposed the proposed expansion (Trout magazine, Summer 2018) leading to an extended and costly legal battle that has been underway for four years. The Sierra Club was a partner in the legal efforts.
In addition to ending its commercial hatchery operation by the end of the year, Harrietta Hills also agreed to not pursue any other commercial aquaculture activities in the Au Sable watershed.