By Jamie Vaughan
Students in the Sparta, Mich., community have been crusading to protect Nash Creek for years, planting trees, restoring prairies, and installing rain gardens and other native plant gardens to reduce polluted stormwater runoff on Sparta Schools' property.
Last year, they took their work into the community and took on the large project of restoring the banks of Nash Creek near the library.
Led by Appleview Elementary teacher Sue Blackall and supported by Groundswell, nearly 800 students from 3rd grade through high school visited the creek throughout the year to plant a "stream buffer."
The new stream buffer is not only beautiful, but comprised of deep-rooted native plants that can withstand extremes of moisture and concentrations of nutrients and other contaminants that are typical in stormwater runoff, the major source of water pollution in West Michigan.
The plants filter the polluted water, which then recharges the groundwater rather than entering Nash Creek at great quantities, which can lead to erosion. Native plants also provide habitat for ecologically important native birds and butterflies.
The Village of Sparta and Downtown Development Authority were so pleased with the success of the project that they wanted to expand the native stream buffer into the village's main park, Roger's Park.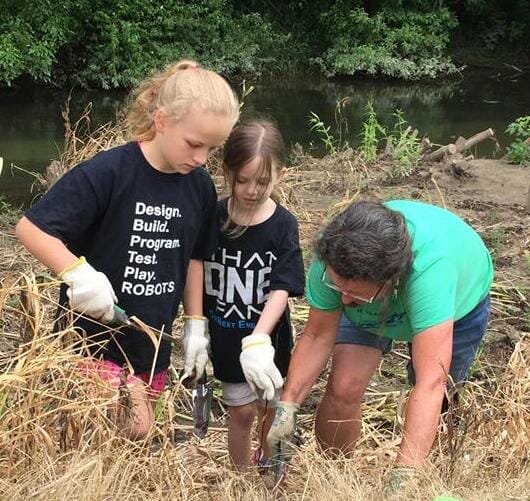 Elementary students returned to the creek this spring to prepare the site by removing nonnative vegetation to make room for the native plants.
This project is a prime example of the expansive impacts that the hard work of a community can have. Thanks to the dedication and support of the teachers, students, community partners, and generous funders, the effects of this project were multiplied and the project became a new destination and identity for Sparta to take pride in and enjoy.
This summer, community members came together to bring the project to fruition and planted native trees, shrubs and flowers along Nash Creek in Roger's Park to further improve water quality of the downstream stretch of stream.
Two groups – The Green Team and That ONE Team — worked with volunteers to get their hands dirty and do their part to protect the important tributary to the Rogue River. The Green Team is made up of high school students from throughout the Rogue River and Plaster Creek watershed, and is led by Trout Unlimited's Rogue River Home Rivers Initiatve and Plaster Creek Stewards. That ONE Team is a local robotics team that has a passion for water conservation.
This project is the result of great leadership, partnerships, passionate volunteers, and a supportive community.
The Rogue River Home Rivers Initiative Project is funded by the Frey Foundation, the Grand Rapids Community Foundation, the Wege Foundation, the Wolverine World Wide Foundation, and the Schrems West Michigan Trout Unlimited.
Jamie Vaughan is the Rogue River Home Rivers Initiative Coordinator for Trout Unlimited.