By Shannon Mayes
This Fall was quite busy for the TU Teens of Gallipolis. Our new members join in early October, and we now have 41 students participating in 6th, 7th, and 8th grades. This year, we are learning about conservation and basic casting skills. Students have started projects featuring different aspects of fly fishing including companies and groups like Casting for Recovery, Project Healing Waters, Orvis, and Trout Unlimited.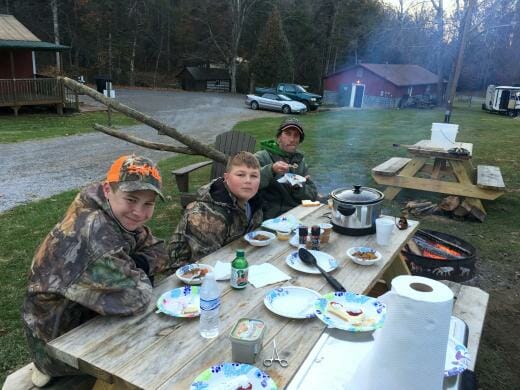 Students and advisers enjoy deer stew for their Thanksgiving dinner on a fishing trip to the Watauga River in Tennessee.
Several members of the group fished local streams and creeks before the water temperatures dropped to a point that would not allow for fishing. So, we headed south! Three students and I headed down to Tennessee during Thanksgiving break and caught some nice fish on the Watauga River. We are currently planning our annual Summer trip, so stay tuned for the details. It will be a lot of fun as usual!
Hope to see you on the water,
Shannon