An ambitious project on Mill Creek, a key tributary to the Russian River, aims to re-open access to 11 miles of prime habitat for Coho salmon and steelhead.
It seems counterintuitive to welcome the sight of large bulldozers hard at work in a salmon stream.
But on occasion the presence of 'dozers in a stream channel heralds habitat restoration rather than destruction.
Such was the case this week on Mill Creek, a key tributary to California's Russian River, where an ambitious project is now under way which will restore fish passage for Coho salmon and steelhead so 11.2 miles of prime spawning and rearing habitat.
The Russian River is a legendary steelhead stream and historically supported a robust run of Coho. Coho salmon are now one of the most imperiled fish species in California.
The Mill Creek Dam Fish Passage Project officially got under way last week. Crews quickly established a system to dewater the project portion of Mill Creek and to relocate fish residing in the project area. Yesterday, the excavators moved in.
"There is no other place in the Russian River system where we can achieve this scale of habitat enhancement with a single project," says Mary Ann King, manager of the Mill Creek project.
King is California Water Program Manager for Trout Unlimited.
The Mill Creek dam blocks access to 62% of the anadromous water in one of the most important coho streams in the region. In 2012, the National Marine Fisheries Service identified the barrier as "the highest priority barrier within the Russian River population for remediation."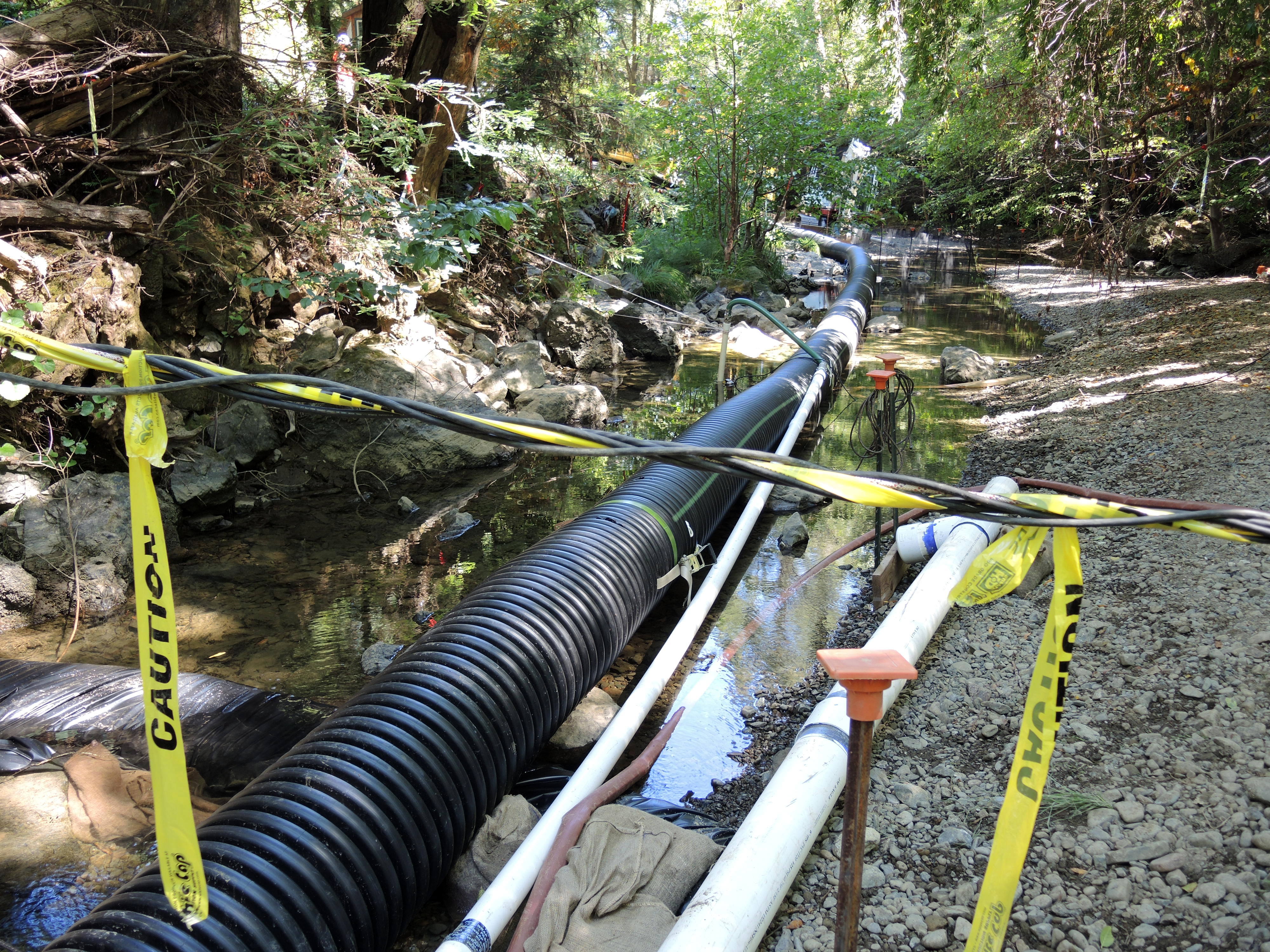 The dam is a complete barrier to upstream passage for juvenile Coho and steelhead and a partial barrier to upstream adult passage, under almost all flow conditions.
The project is especially valuable because the portion of Mill Creek above the project site remains wet year-round. Many tributaries to rivers in this region -including Mill Creek below the dam-become disconnected or dewatered entirely in the summer and fall.
Mill Creek is a critically important watershed for coho salmon. It is a Core Area in the National Marine Fisheries Service's Recovery Plan (2012) and a priority for the Russian River Coho Salmon Captive Broodstock Program. Consistently, a significant percentage of juvenile and adult coho documented in Russian River streams are found in Mill Creek.
NOAA Restoration Center has contracted with Trout Unlimited to implement the Project. Other key project partners include the Sonoma County Water Agency, the California Department of Fish & Wildlife, and Prunuske Chatham, Inc (PCI).
The current project design consists of constructing a roughened channel that provides an adult passage option, and a roughened ramp fishway and side channel to allow juvenile passage.
King and PCI spent months doing outreach to the many private property owners along Mill Creek whose agreement would be necessary for the project to proceed. "People will always have questions and concerns about a major restoration project in their back yard," said King. "But everyone likes the idea of a healthy stream in their neighborhood, with salmon in it. So in the end the residents of Mill Creek made the project possible."
Stay tuned for updates on the Mill Creek Dam Passage Project over the summer, as it progresses toward its completion this October.
Sam Davidson is California Communications Director for Trout Unlimited.