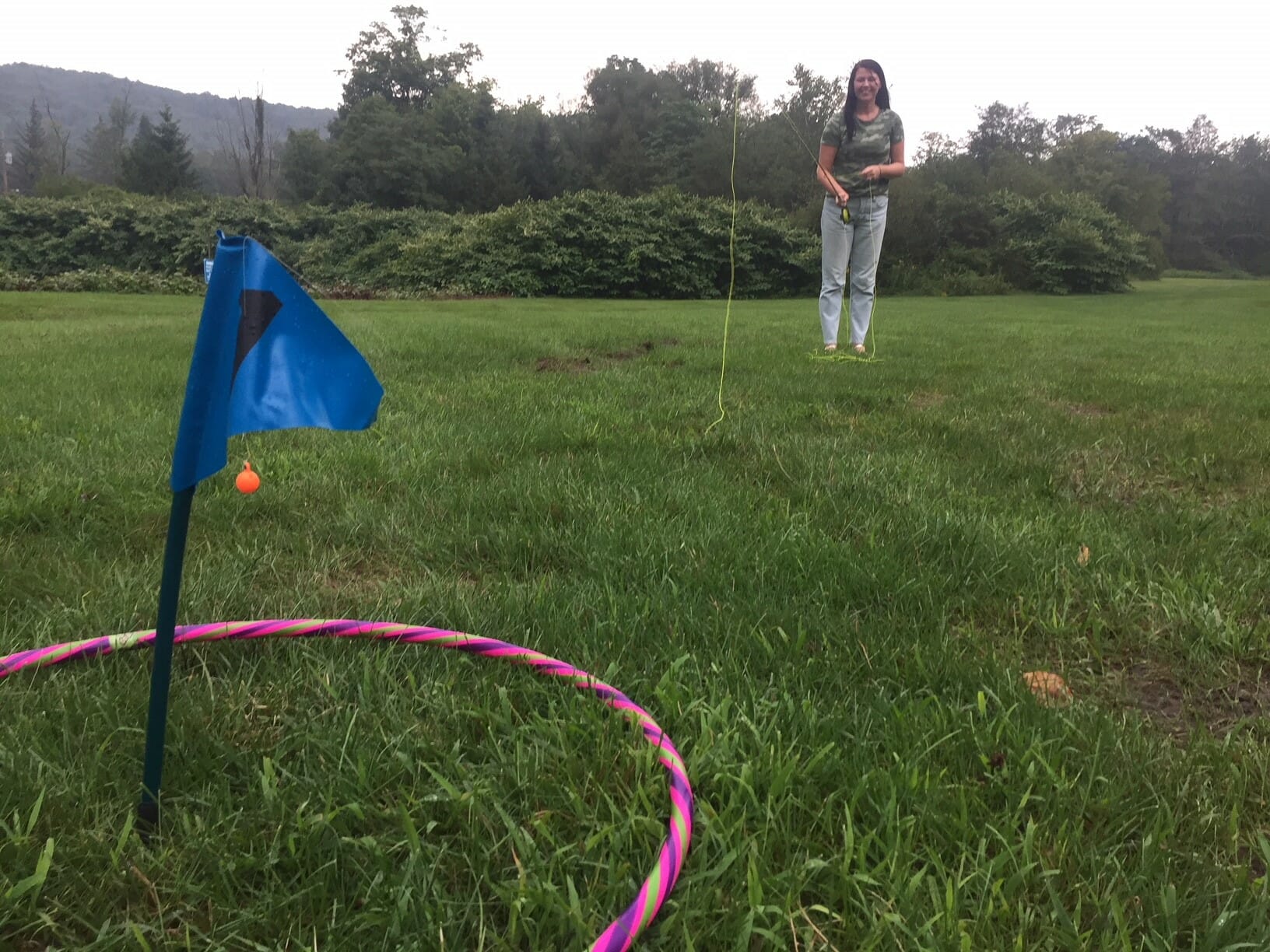 Whether at a local Trout Unlimited chapter event, a backyard barbecue with friends or simply on your own for practice, you can turn any park or backyard into a fly fishing training course – and have a hoot doing it!
At a recent meeting of the 253 – Beamoc Chapterin Roscoe, NY, a historic chapter taking care of storied streams like the Beaverkill and Willowemoc, which has beenrecently re-invigorated with a new, passionate set of board members, I was treated to a greatbarbecuedinner, and an enjoyable conversation that ranged from communications to conservation to fishing tips and tactics.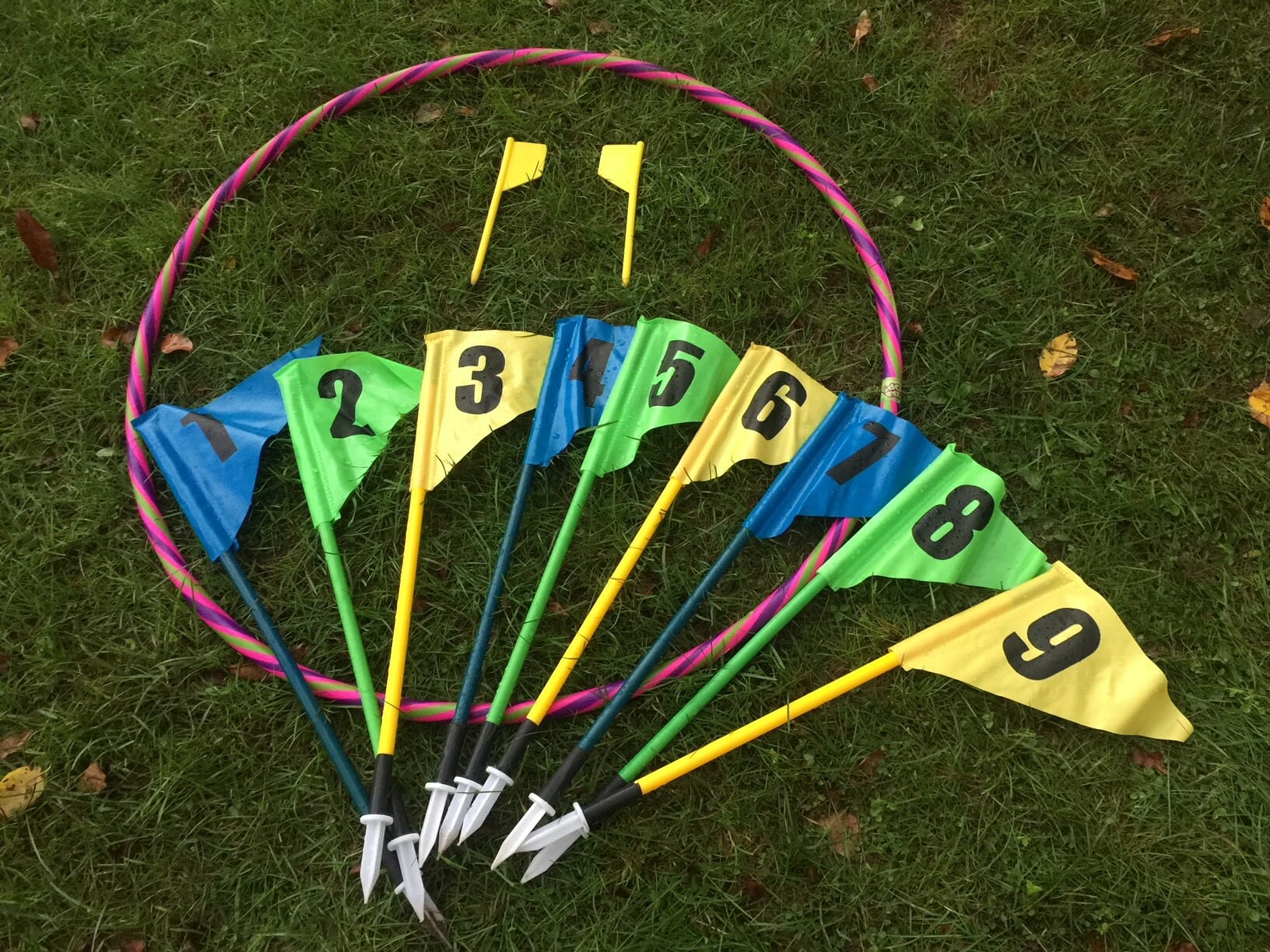 But the centerpiece of the evening wasn't the food, it wasn't the conservation talk and it wasn't the Willowemoc River flowing just past the pavillion at the Catskill Fly Fishing Center & Museum where the chapter meets. It was the silly, ireverant and downtright fun banter, bravadoand laughs that came out when the fly fishing golf game started up!
The setup was simple, thanks to a $20 Disc Golf Jr. set from Walmart, with nine numbered flags, nine hoola hoops the chapter purchased separetely, and three fly rods in 3, 5 and 7 weights.
Spread out over a small lawn near the pavillion, each "hole" on the course is either a par 2, 3, 4 or 5 and the objective is quite simple – land a piece of yarn tied to your leader inside the hoola hoop at each hole in as few casts as possible (unlimited false castsing allowed). The entire nine holes add up to a par 30, and winners typically score in the 23-25 range.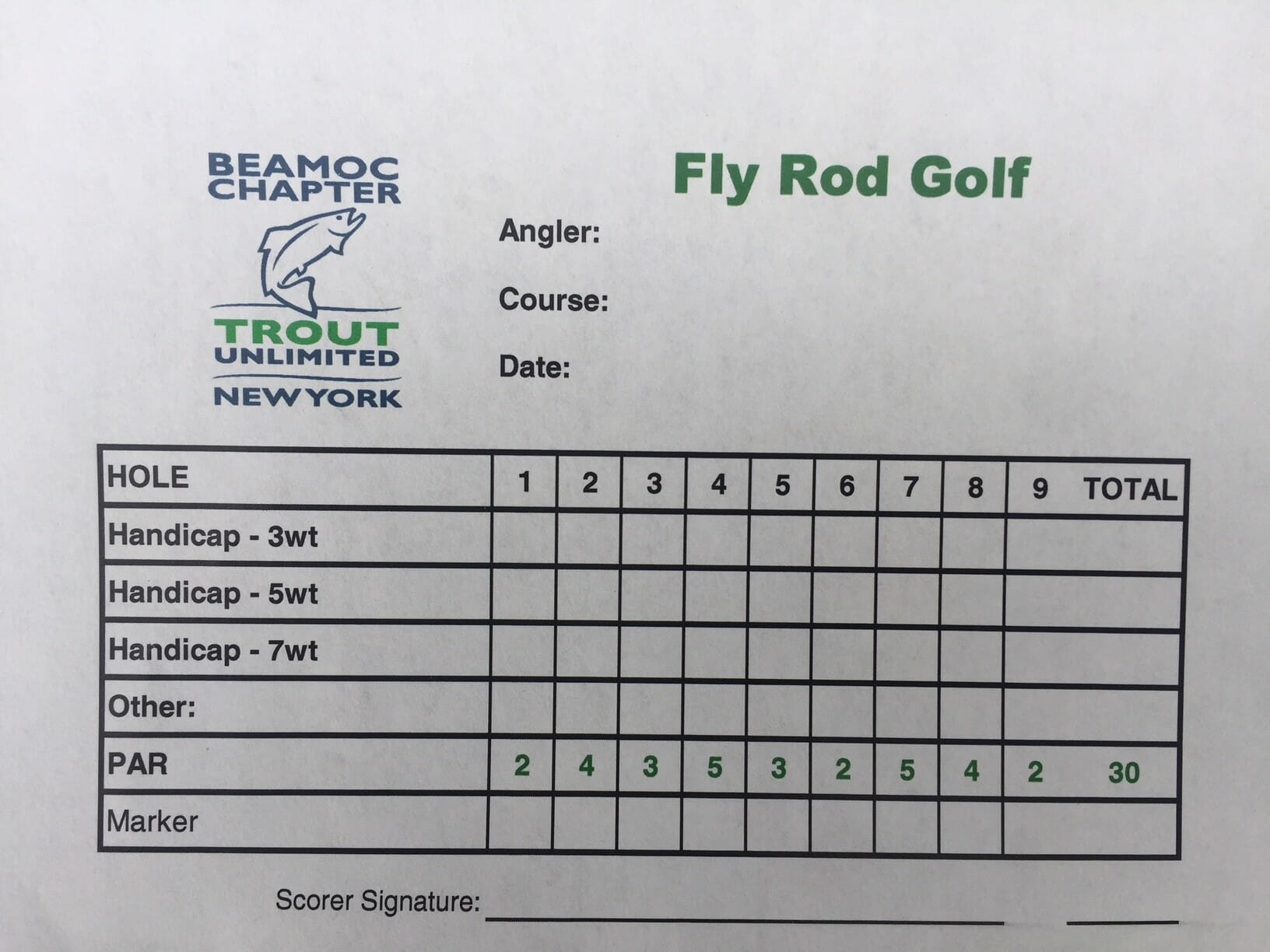 Competitions aren't everyone's cup of tea, but the Beamoc Chapter has made this a fun and inviting activity that's a regular part of their chapter's standard meetings and events. For experienced anglers, they must use a 3-weight fly rod, which provides a handicap of sorts for getting distance. Intermediate anglers can use a 5-weight fly rod and those just starting out can use a 7-weight fly rod to help add distance to their casting.
All along the way, a crowd of onlookers cheers, jeers and shouts helpful tips from the sidelines as competitiors make their way around the course.
From the newest members to someone who has been coming to chapter meetingsfor years, this goofy addition to thenight's lineup has added an element of community building that is clear to see and feel. No longer just a meeting, every event is an occassion to break out the fly rod golf and spend time building relationships with friends and fellow anglers and conservationists.
Thanks to fly rod golf, the Beamoc Chapter has become a community that works and plays together – and shares a passion for their local streams, the fishing they enjoy and the important conservation work ahead.