A section of the Musconetcong River in New Jersey restored by TU. (TU/Brian Cowden)
By David Kinney
For the first time, Congress is setting aside dedicated funds for conservation efforts in the Delaware River Basin.
Consider the $5 million appropriation included in the new budget agreement a down payment for the Delaware River Basin Restoration Program, which was established by Congress in 2016 to coordinate and prioritize conservation efforts in a watershed that provides drinking water for 15 million people, is home to more than 400 miles of national Wild and Scenic rivers and, as anglers in the region know, hosts some of the best wild trout fishing on the East Coast.
Administered by the U.S. Fish and Wildlife Service, the program will provide matching grants to support projects that restore fish and wildlife habitat, improve water quality, enhance stream flows, and increase access for public recreation.
Trout Unlimited volunteers in Pennsylvania, New Jersey, New York, and Delaware joined a broad coalition of watershed partners in advocating for the program over the past eight years. They sent hundreds of letters to lawmakers, penned op-eds for local newspapers, and visited Congress.
We appreciate the bipartisan support this initiative received from our elected officials, among them House Appropriations Committee Reps. Rodney Frelinghuysen, Charlie Dent, and Matt Cartwright, and Senator Chris Coons of Delaware. The Basin's lawmakers recognized that the region's many conservation needs demand a focused effort akin to the Chesapeake Bay Program and the Great Lakes Restoration Initiative.
Dollars from federal conservation programs like the DRBRP can be leveraged with matching funds from state programs, foundations, chapters, and private donors.
This year's appropriation is a good start—but it's only a start. The Delaware would still receive just a fraction of what is set aside for other watersheds. More funding will be needed in years to come to keep pace with the restoration needs in the Delaware River Basin. The programs congressional supporters are pushing for double the investment in next year's budget.
Also this week, Congressman John Faso of New York introduced a House resolution celebrating the ecological and economic importance of the Upper Delaware River. "Upstate New Yorkers understand how important the river is to their social, cultural, and economic identity," he said, "and that's why I'm fighting in Congress to fund the Delaware River Basin Restoration Program."
Trout Unlimited restoration staff and volunteer chapter leaders are already hard at work on projects in the Delaware River Basin.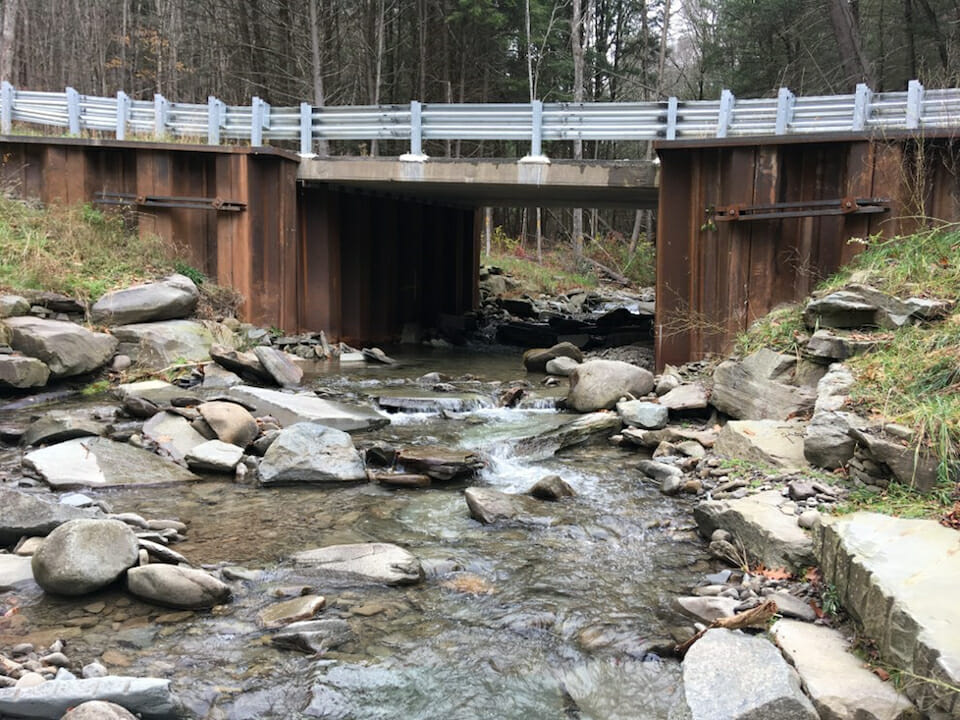 This bridge on Horse Brook in the Catskills replaced an undersized culvert and reconnected miles of prime trout spawning habitat to the Beaverkill River. (TU/Tracy Brown)
We are replacing outdated and undersized culverts to reconnect trout habitat, improve water quality, and help communities address flood risks. Our work on New York's Horse Brook is a prime example. We are also restoring in-stream habitat by installing trout-friendly structures and fencing streams to keep cattle out. In northwest New Jersey, we're plotting the state's first reintroduction of a heritage strain of native brook trout. Across Pennsylvania, we're documenting wild trout populations and protecting them.
We look forward to continuing this important work on the ground to boost our native and wild trout fisheries in the region.
David Kinney is Eastern Policy Director for Trout Unlimited, based in the Delaware River Basin.