Who wants to go fishing? Well, just grab the bag. It has everything we need in it. The rods are tucked safely inside. The reels in their cases. All of the flies in the outside pockets with the nippers, the floatant, the extra leaders are all there for quick and easy access. Don't forget the bug spray and sunscreen. They're in the bag, too.
The new Filson rugged twill compact rod case has room for everything. It will easily carry two fly rod tubes and at least that many reels. It is made of a heavy-duty canvas to keep everything safe. And, when I say heavy-duty, I mean it. That canvas will not wear though quickly. My guess is, it will last a lifetime.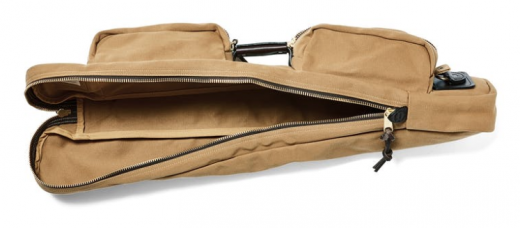 The zippers are hardcore and not going to leave you with a bag that is open and dumping your much-needed supplies all over. The wide leather straps will help you feel secure when they are thrown over your shoulder—no worrying about the straps breaking while you are out hiking to your favorite spot.
One downside is that it doesn't have hard sides so you wouldn't want to check it at the airport. It would, however, be a great carry-on bag. It also won't work if you like to keep your rods in cases that allow for the reel remain attached. It's just not quite long enough.
When I first saw the price tag — it retails for $375 — I cringed. But, considering this might be something you hand down to your kids, I began to look at this product not so much as a rod bag, but a long-term investment that will protect my gear for years to come. Overall, I'd give this bag two thumbs up.
— Rachel Andona, Emmett, Idaho