By Mandy Nix
I've always been a child of water.
A native to the North Carolina Piedmont, I spent the stickiest of summers at Kerr Lake (pronounced "Car"), the 50,000-acre reservoir that stretches across the line between the Old Dominion and my own Tar Heel State.
Some mornings I'd greet the water as a freshwater mermaid, chasing minnows and tadpoles in underwater forests of pondweed and guppy grass. Others I'd spend nose-deep as Kerr Lake's last Loch Ness, watching striders and whirligigs skitter across the water's surface like aquatic ballerinas. And while pressed against the bow of my dad's speedboat, my pigtail braids spread like plane wings in the wind, I became a prehistoric dragonfly soaring over a glittering citadel.
Over a decade later, such moments – my earliest connections with nature – sent me tumbling into the streams of North Carolina's Blue Ridge Mountains. While earning a B.S. in Environmental Studies from UNC-Asheville, I concentrated my degree in Ecology & Environmental Biology and quickly fell head-over-boots in love with cold, clear, fast-flowing water.
I learned how to hold a scientific lens to the same aquatic critters I'd chased and cradled in childhood, and I became fast friends with new species altogether. I learned them intimately by their unique niches and adaptations, and I learned the secrets they held about evolutionary history and ecosystem health. I learned what couldn't be taught indoors: how your heart compresses with the rush of river-water around you in a pair of waders, the way leaf packs make riffles glow like molten iron, and the sense of homecoming only a riverbank can conjure.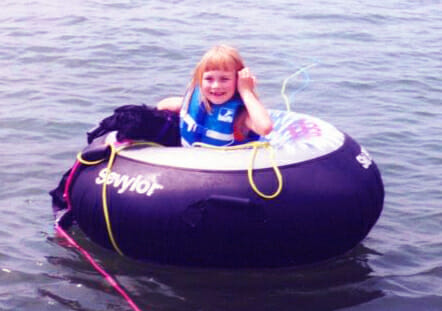 Mandy Nix at 6, enjoying a day of tubing on Kerr Reservoir.
Eager to transfer my experiences to our youngest citizens, I was catapulted into environmental education. The summer after my sophomore year of college, I was teaching 30 miles off Alaska's southwestern coast at Kodiak Science and Salmon Camp.
As I engaged island youth in the tide pools, salmon streams, and spruce forests of Kodiak National Wildlife Refuge, I committed myself to fostering direct connections between children and the natural world. I went on to teach in my home state as an Education Intern at the Duke Lemur Center, an Environmental Education Instructor at the Mountain Trail Outdoor School, and the Nature Explorers Camp Educator at the NC Botanical Garden. Whether I was introducing students to the insects in our backyard streams or helping them sample soil in an Appalachian bog, each day deepened my resolve to work in, with, and for aquatic habitats.
Now, as West Virginia's hills begin to ripple with copper and gold, I'm thrilled to return to Appalachian waters through the Appalachian Forest Heritage Area's AmeriCorps program.
As Trout Unlimited's West Virginia Volunteer Restoration & Monitoring Organizer (I dare you to say that six times fast!), I engage local communities in the projects that keep our streams cold and clean.
For the only native trout in the eastern United States, these extraordinary mountain waters are where wild brook trout live, grow, and spawn. I'm excited to have a guiding hand in enriching those habitats through riparian plantings and aquatic samplings, in addition to meeting the communities who help protect, restore, and sustain them. After all, I know what it feels like to have fresh water in your blood.
At Trout Unlimited, I'm committed to leaving our waters better than we found them – so that our children and our children's children may explore, fish, and love the very waterways that crafted our own outdoor identities. Here's to a brilliant year of getting dirty, getting wet, and getting outside in the waters that make this state Wild and Wonderful!
Mandy Nix is the AmeriCorps W.Va. Volunteer Restoration and Monitoring Organizer for Trout Unlimited's Potomac Headwaters Home River Initiative. She can be reached at mnix@tu.org.