Dead salmon in the lower Klamath River, 2002.
Yesterday, June 12, 2017, the House of Representatives passed H.R. 23, the Gaining Responsibility on Water (Grow) Act. This bill is one of the worst pieces of legislation in recent memory, in terms of its devastating effects on salmon and steelhead and their fisheries.
According to Steve Moyer, TU's vice president for government affairs, "Provisions of this bill would preempt state law on fishery and water management, usurp more than 100 years of western water legal precedent, override science‐based management of river flows and fisheries in California, and threaten sport and commercial fishing jobs along the west coast."
H.R. 23 would overturn core principles in the Central Valley Project Improvement Act, repeal key parts of the court‐approved San Joaquin River settlement, and abolish emergency releases of Trinity River water to prevent massive salmon die-offs downstream on the Klamath River. It would preempt application of state law for water right holders throughout the Central Valley, favor some water users over others, and preempt state authority over harvest limits on recreational fishing.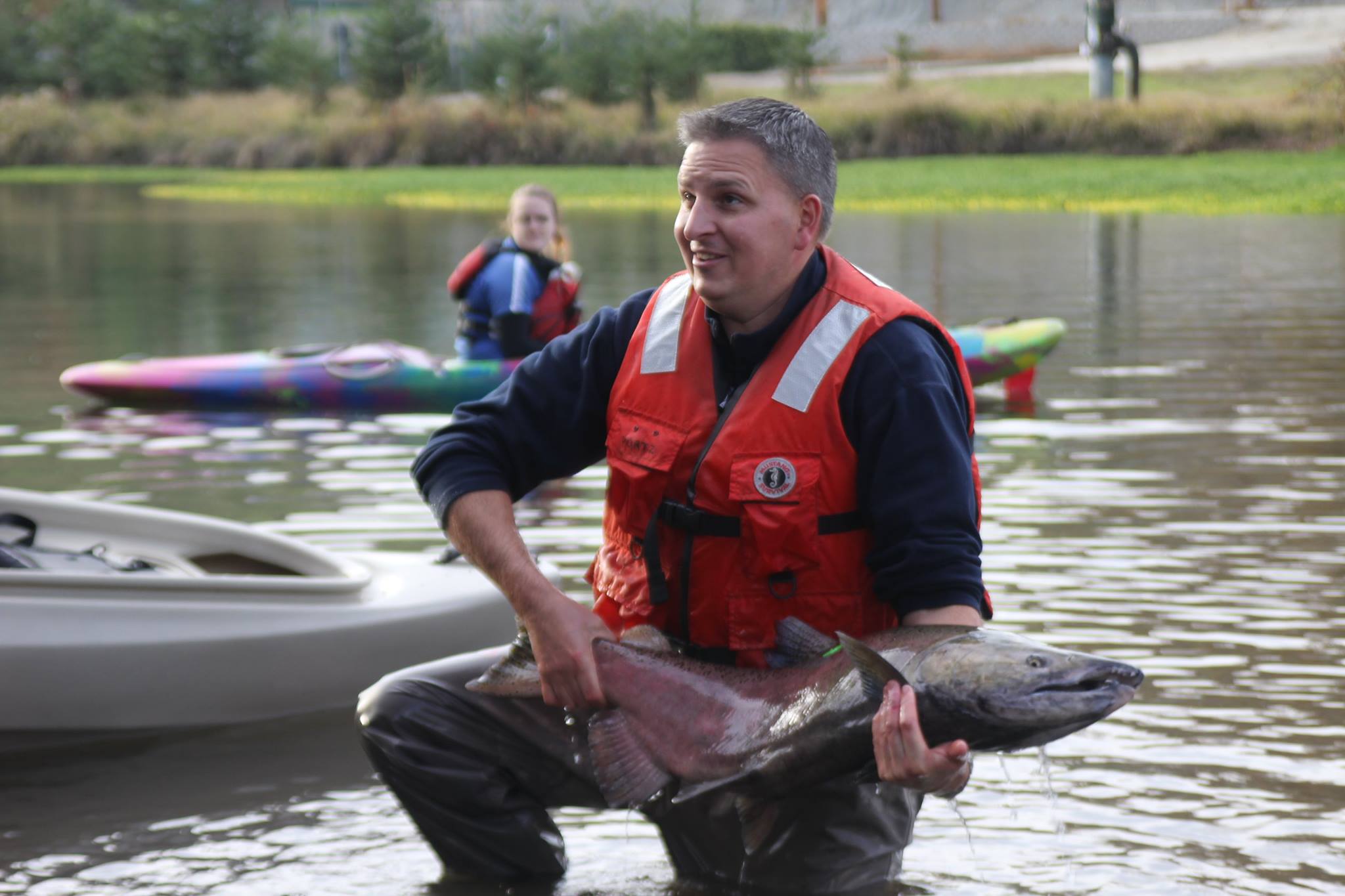 (L) Release of adult salmon into the San Joaquin River, part of a negotiated settlement that is designed to increase water security for agriculture and restore native spring-run Chinook salmon.
The bill passed almost entirely along party lines. Proponents, led by conservative members from California's Central Valley, argued that the bill's provisions are necessary because agricultural interests have been deprived of water by insuffient surface storage capacity (dams) and by regulations and procedural requirements intended to help native salmon and steelhead. Nearly all of the Central Valley's once-prolific runs of steelhead and salmon are now listed under the Endangered Species Act.
Rep. Devin Nunes said in arguing for the bill, "Some on the other side of the aisle, they continue talking about global warming and that the oceans are rising. If you believe the oceans are rising, why would you want more water to flow out into the ocean?"
Variations of this bill have been debated in the House for the past several years, as California withered under an historic drought. Farmers were hard hit by diminished water supplies, but fish were hit much harder. State and federal water managers repeatedly allowed withdrawals for agricultural exceeding those recommended by formal scientific analyses to meet minimum flow standards intended to help imperiled fish in the Sacramento and San Joaquin River systems.
California's two senators have vowed to fight this bill in the Senate. TU urges all sportsmen and advocates for salmon and steelhead to contact theirr House representative and senators and call on them to oppose H.R 23. As an alternative to this fish-killing bill, Congress can
Help improve drought resilience by making resources available to these locally and regionally driven processes, not proscribing or restricting actions through one‐size‐fits‐all legislative approach.
Provide funding and authorizations to support basin‐scale restoration in places like the Klamath
and Yakima Basins.
Invest in upgrades to existing aging water infrastructure, to benefit both people and fish.
Support the engagement and participation of federal agencies in, and make funds available for federal‐state collaboratives that support locally informed solutions to water management challenges.
Support funding for USGS and the National Labs and make the resources and tools of those groups available to support regional and local drought planning efforts.
Here is TU's letter to House members opposing H.R. 23: