Photo by Delaney Hunt
Fly fishers chase their quarry for a variety of reasons. But no matter the logic behind our endeavors, there's nothing quite like catching a trophy and snapping that "hero shot" before turning a big fish loose to be caught again another day.
In honor of those trophies, we're launching a new contest, starting Jan. 3, through Trout Unlimited's Instagram account (@troutunlimited). Every Tuesday—Big Fish Tuesday—TU Creative Director Josh Duplechian, who runs our Instagram account, will pick from trophy fish photos using the #BigFishTuesday identifier, and showcase a winner on Instagram. The winning photo will also be posted on TU's Facebook and Twitter feeds, and each weekly winner will receive a TU-labeled Montana Fly Company travel mug.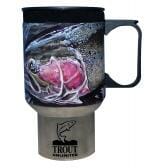 alt="" title="" />
The first winner will be announced on Tuesday, Jan. 3, and winners will be picked every Tuesday thereafter, so start sifting through those trophy shots and pick the best one you've got. When you find the photo you like, upload it to your Instagram account and tag it under #BigFishTuesday.
Finally, a few simple rules. First, we like to adhere to the #keepemwet mantra—fish that are destined to be released need to be visibly wet or near enough to the water to ensure their live and healthy release. Photos of dead fish won't be considered, so make sure your trophy catch is alive and well—and preferably in the water, just pulled from it for photographic purposes or near the water to ensure a safe release.
Second, we want to spread the wealth. Winners of the #BigFishTuesday contest aren't eligible to enter or win once they've won a weekly contest. Every three months, we'll gather up the winning photos and pick the three best #BigFishTuesday trophy photos. These three winners will receive something a bit more significant in the mail—a prize to be named later, if you will.
So get started. Sift through your hero shots. Pick one that shows off a real trophy, and post it on Instagram under #BigFishTuesday. With any luck, you'll be sipping coffee from a TU travel mug in a month or so!
— Chris Hunt