It's cold, damn cold. The kind of frozen ache that penetrates your soul and triggers alarms of self-preservation: go home, wrap yourself in a blanket in front of the fire, and drink a cup of steaming coffee. This is not the kind of weather for recreating outside, but late season mallards aren't recreation. They are a fleeting chance, a brief moment in time, and zero degrees just makes them get south faster – here today, gone tomorrow.
So I stay, hunkered under a snow-covered crabapple tree on the edge of a hidden spring creek on the outskirts of Missoula, Mont. Surprisingly, a few trout are rising, picking off midges, I suppose. Ahead of me, just out of sight around a bend 50 yards away, are a couple dozen happy greenheads. Occasionally one swims closer and tips down, iridescent curls in the air, feeding on aquatic snails that help to fuel these birds on their trip to New Mexico, or Texas, or California or wherever it is that they go to ride out winter.
I was beginning to lose feeling in my toes when this flock circled my small decoy spread an hour ago and landed just out of shotgun range. I figured they would feed my way and right into my lap for an easy bird or two. Now my toes are completely numb, but another mallard is making its way around the bend, slowly working in my direction. And another. Eight ducks in total are at 40 yards, 30, get ready … at 20 yards I can't take it anymore and stand up. The ducks lift with a rush of wings. I hurry my first shot and miss, but the next two times I pull the trigger a drake lands with a splash in the spring creek.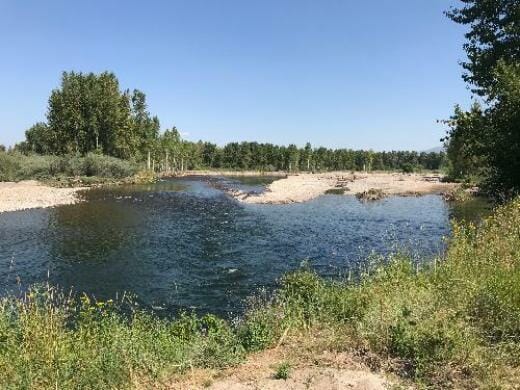 The Kelly Island Fishing Access Site. Courtesy Montana Fish, Wildlife and Parks.
I quickly stuff the two ducks and my imposters with loose anchor lines in my decoy bag. I'll untangle it all later once I thaw out at home, but before leaving I pause to take stock and give thanks. Not only to the life force of the beautiful mallards that will feed my wife and I tonight (pan seared breasts with an au poivre sauce), but also for the public land that made this morning's hunt possible.
This place wasn't always publicly accessible, but with the help of the Land and Water Conservation Fund, Montana Fish, Wildlife and Parks was able to purchase this property in the late 1970s, creating the Kelly Island Fishing Access Site. Ever since, hunters and anglers have waded the Clark Fork River casting for trout and roamed 650 acres of ponderosa pine savannas, wetlands and cottonwood groves in search of waterfowl and whitetail deer.
Kelly Island is a special place and there are many more like it across the country that help to sustain our hunting and fishing traditions, all thanks to the Land and Water Conservation Fund. Since 1965, the program has that funded 40,000 projects through $3.9 billion in matching grants to state and local governments in nearly every county in the country. The program also has a federal side, in which Congress appropriates money for the Park Service, Forest Service, Fish and Wildlife Service and Bureau of Land Management to acquire new public lands. In total, the Land and Water Conservation Fund has invested $9 billion into conserving over 7 million acres of public land. If you have spent time in a state or county park, local greenspace, state game lands, fishing access site or federally-managed public lands, chances are that you've benefited from the Land and Water Conservation Fund.
These dollars don't come from tax payers. Rather, the program is funded by revenues from oil and gas development on the Outer Continental Shelf. The idea is simple: reinvest resource extraction dollars into projects that benefit the health and vitality of all Americans through outdoor recreation. The program cost taxpayers nothing and benefits them entirely. By any measures the 53-year-old program is a uniquely American conservation success story, but it's future is uncertain.
Unless Congress reauthorizes the Land and Water Conservation Fund by September 30th, the program will expire. It's unthinkable that our elected officials would let this happen, especially considering that reauthorizing the program enjoys broad bipartisan support, but the clock is ticking. Contact your members of Congress today and tell them that you are counting on them to renew this vital program.
Learn more about the Land and Water Conservation Fund and how it has benefited sportsmen and women in another western state in Trout Unlimited's report, Colorado's Great Outdoors.
Corey Fisher is senior policy director for Trout Unlimited Sportsman's Conservation Project, focusing on public lands. He is based in Montana.