Childhood days spent wandering and fishing California's South Fork Kings River became the foundation of a man's life as a sportsman-conservationist.
By Bill Templin
You probably have one of those places in the Great Outdoors that you've been visiting since you were very young. For me it's the South Fork Kings River.SFKingsRiver@oldSwimminHole_Templin.jpg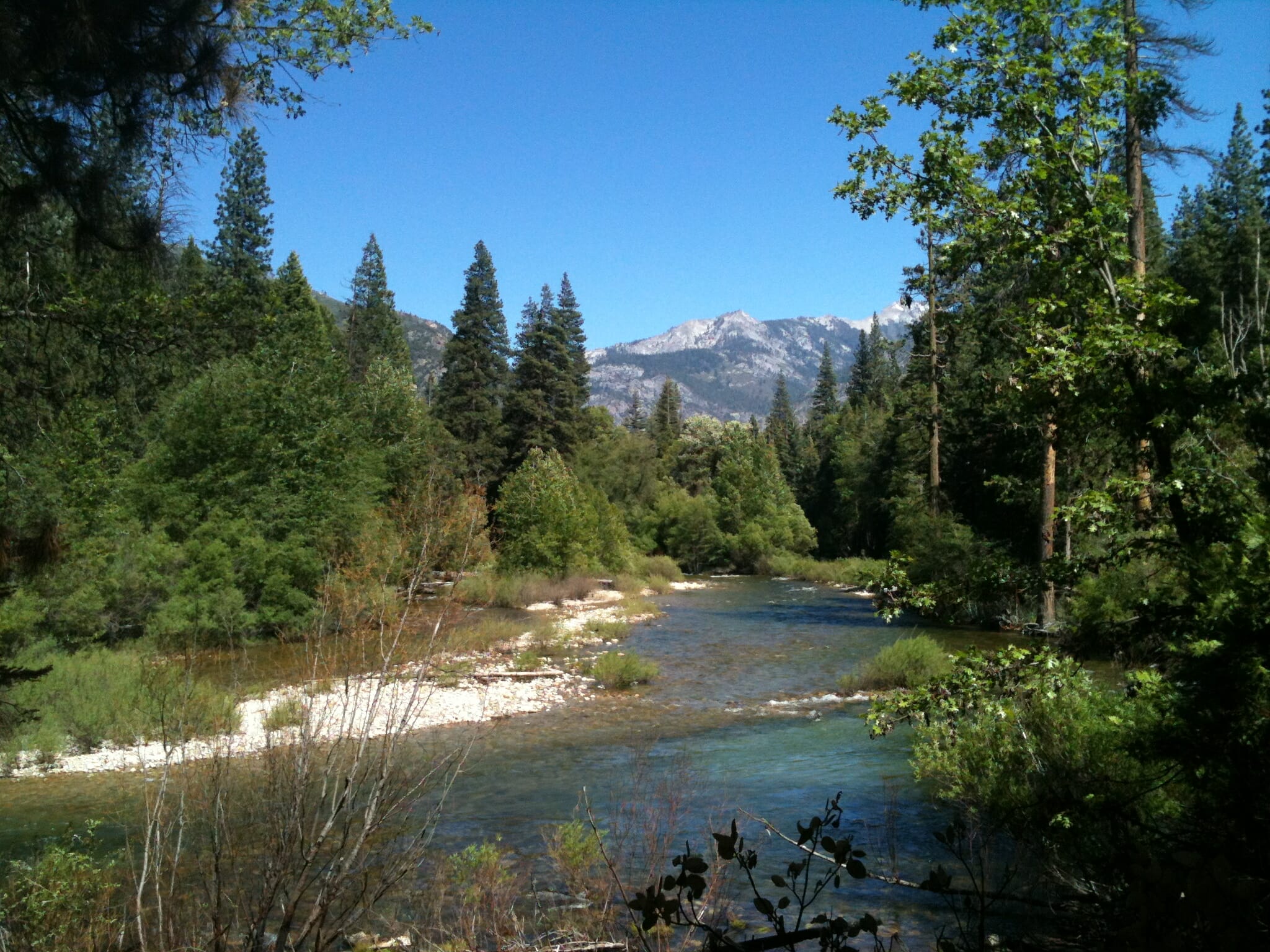 (L) The "old swimming hole" on the SF Kings River.
My memories of visiting the Sequoia and Kings Canyon area date back to my early childhood, going with my parents in our old travel trailer from our home in Tulare, California up to Hume Lake and catching tiny bluegills that overpopulated the lake. This was great fun for a young kid-little did I know this would be the start of a life-long love affair with the Kings River and protecting freshwater fish habitats throughout California!
When my mother finally decided that I was old enough to be trusted around the "raging white waters," I was about 8 or 10 years old. My dad and I began making day trips from Hume Lake down to Ten Mile Creek near Yucca Point and Barton's Flat (more recently known as the Kings Canyon Resort, which burnt to the ground in the Rough Fire in August 2015). We caught some really nice rainbow trout out of Ten Mile Creek and from the lower South Fork Kings River near Boyden Cavern.
One summer, as a teenager, I spent the month of July camping with my sister and her three kids in the Cedar Grove area of Kings Canyon. My brother-in-law would come up on weekends and give me lessons on trout fishing this beautiful, scenic reach of the South Fork Kings.
I took what I had learned fishing the lower reaches of the river with my dad and added all I could about the bugs that are a big part of a trout's diet, 1959 Dad Fishing SFKings_Templin.jpg
especially what my brother-in-law called "trout candy"-stonefly nymphs (or "red salmon eggs" when he didn't want anyone to know what he was really using to catch all of those trout. He would always carry a bottle of Pautzkee's "Balls of Fire" that he would pull out of his vest when people asked "What are they bitin' on?")
(R) Bill Templin's father fishing the SF Kings, 1959.
Over the years I learned more about other "trout candy" that the rainbows and browns of the South Fork Kings River (now managed as a wild trout fishery) found irresistible, and how to present these morsels to them in ways that would catch more and bigger fish.
After years of returning to the Cedar Grove area with family and friends I married and had two boys of my own, both of whom visited the area during their first year of life and have continued to return there with me ever since. They're both around 30 years old now, and they've successfully applied many of the angling techniques that my brother-in-law and I have passed on to them over the years.
My love for this southern Sierra stream and its trout fishery has carried over to my professional life. I have worked for many years on water quality and supply issues as a hydrologist with the U.S. Geological Survey for 30 years, as a watershed coordinator on the North Fork American River, and currently as an environmental scientist for the California's Department of Water Resources. But I've tried to make an impact as a volunteer too, applying what I've learned to help the boards of five active non-profit groups in California.1956 BillMonitoringBenthicInvertebrates_Templin.jpg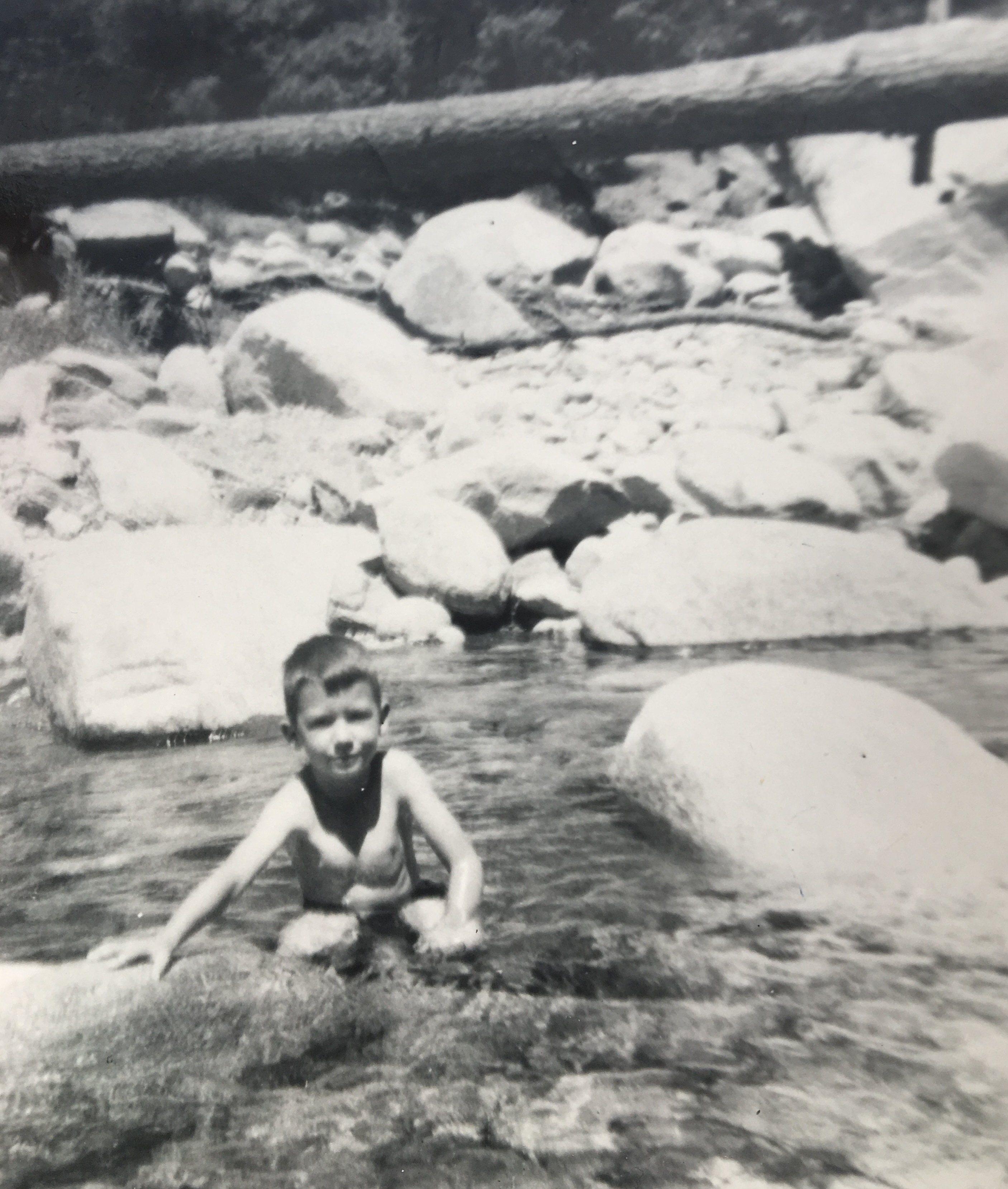 (L) Bill Templin sampling benthic invertebrates on the SF Kings River, 1956.
In 2000, I helped start an organization called the Friends of the South Fork Kings River. Since then my visits to that area have increased dramatically, as the Friends of the South Fork Kings have partnered with the National Park Service, the U.S. Forest Service, the California Department of Fish and Wildlife, the California Department of Transportation, the Sierra Nevada Conservancy, Trout Unlimited, and other groups and individuals on many cleanups and "citizen science" projects. For more information on how you can get involved with these efforts, please visit our website at http://sfkingsriver.org .
The South Fork Kings River is the place where I became an outdoorsman, and I am still trying to say "thank you" to that place and the people who introduced it to me. I don't know if my efforts to do that are "paying back" or "paying it forward," but I would welcome your help in figuring that out on our next Friends of the South Fork Kings River outing. Fair warning, though-this beautiful place could become habit-forming for you too!
In his spare time, in addition to being a driving force behind Friends of the South Fork Kings River, Bill Templin serves as secretary of TU's California Council and on the boards of TU's Sac-Sierra chapter and the North Area Sportsmen's Association. Photos: Bill Templin.