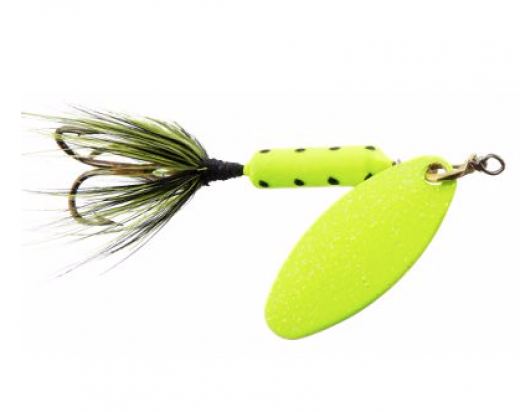 When I was a kid, I loved spin fishing for bass and panfish in East Texas' Lake Tyler. My dad worked for a company that had a park and a boat launch on the lake, as well as a swimming area complete with a floating barge, and a dock outfitted with a host of slips for employees who had boats. The fishing for bream, crappie and the occasional bass was pretty steady all summer long around the boat dock and the boat slips, and a black-and-yellow Beetle Spin lure or a black-and-yellow Roostertail usually brought nice-sized fish to hand.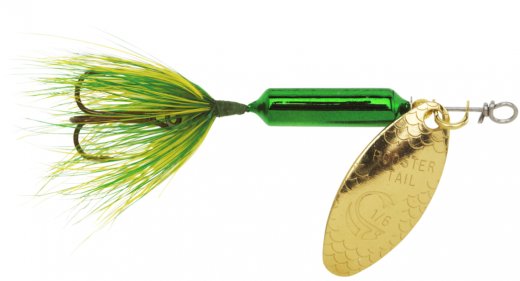 Next spring, I'm paying a visit to some warm-water fisheries in the Deep South, and I got to thinking about those old lures and how well they worked around structure. A quick Google search revealed that both Beetle Spin and Roostertail lures are still "en vogue," and that the black-and-yellow options in both lures are still quite popular.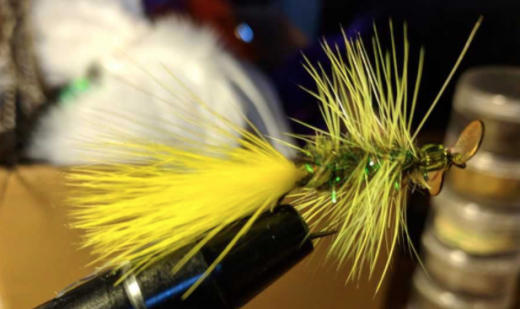 So, during my lunch hour the other day, I sat down at my vise and cranked out a few impressionistic imitations of these fabled spinning lures using fly-tying materials. They are not a perfect matches, obviously, but they're a fairly accurate depiction, and will cast well into structure, just like the old spinning lures did when I was a kid.
I've learned a lot over the years from the "gear guys" about fishing lake structure, and I've tried to replicate their tactics with my fly-fishing equipment, with some success. Generally speaking, fly rodders are at a disadvantage when compared to spin- and baitcasting anglers—traditional gear can cast farther, get down deeper and be retrieved at varying speeds with ease. Fly fishers have to outfit their rods with various line weights, and changing flies quiickly is generally a problem unless we use some gear-angling equipment, like a swivel, for instance. But, on the whole, imitating successful gear fishers can produce good results for just about any fly fishing endeavor, from bass in lakes to trout in rivers.
I get that, in some instances, fly fishing might be more effective—I once had a native Cree fishing guide in Saskatchewan tell me, after a week of watching four guys hammer northern pike with fly rods, that he thought fly rodders might be better equipped to chase pike than gear anglers (totally up for debate, honestly, but the story is true). On the whole, though, gear anglers have the odds in their favor, so it pays to, well, pay attention to what they're doing.
You'll be a better angler because of it.
— Chris Hunt