Editor's note: The TU Costa Five Rivers Native Odyssey team spent the summer traveling across America in search of native trout. This installment: Idaho.
Public Land: Sawtooth National Forest
The Sawtooth National Forest encompasses 2,110,408 acres largely in Idaho, but also partially in Utah. It is comprised of multiple terrain types including sagebrush steppe, spruce-fir forests, and alpine tundra. Throughout these terrains there are 3,500 miles of rivers and streams. The area is currently managed by the U.S. Forest Service. The forest offers visitors multiple recreation options. Over 1,000 miles of hiking trails are available, along with four ski areas, fishing opportunities, and whitewater boating. Eighty-one campgrounds dot the area so it is not hard to find a place to pop up a tent.
— Matt Crockett
Native Trout: Westslope cutthroat trout
These trout were first discovered in 1805, when the Lewis and Clarke expedition took note of their existence. Westslope cutthroat trout used to enjoy the most habitat of all species of cutthroat trout found in the American west, but today they occupy only half of their historical range. Traditional human land uses as well as invasive species have contributed to the decline of the species. However, genetically pure west slopes inhabit a few major watersheds where they still perservere. These include the Flathead River in Montana, as well as portions of the Salmon and Priest Rivers in Idaho. These trout have forever been a symbol of the American West, and hopefully we are able to keep it that way.
Bull Trout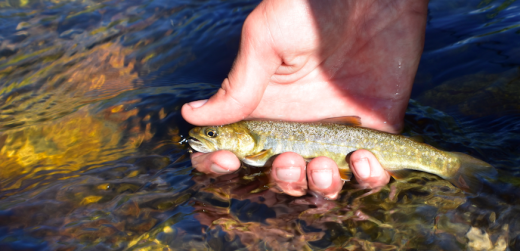 Bull trout, which are actually a species of char, are distributed in the Northern Rockies of the United States. These fish require cold, clean and clear water to thrive, and can be found in many headwater streams, lakes, and larger river systems such as the Boise River in Idaho. Bull trout are inherently a migratory species, and because of this, culverts, dams and roads can inhibit their migratory and spawning abilities. Bull trout face many threats from introduced species such as Lake trout and Northern pike, as well as several climate change related impacts. The population of bull trout in the United States has changed little since 1998, but 60 percent of their current habitat is at risk.
— Jacob Lacy
Our Experience: A look at bull trout.
We have now arrived in Idaho in search of the species we have all been waiting for – the big bad bull trout. Every person we have crossed paths with across our trip that has experienced this trophy species told us tales that we could only dream of. All accounts pointed out that they were big, their appetites were bigger, and they were always eager to eat a fly.
Our initial bull trout encounter was unplanned and very exciting. We were fishing the Blackfoot River in Montana in search of Westslope cutthroat trout. We hiked (I scooted) down a huge slope to the Blackfoot River. We came across this crystal blue pool and managed to catch quite a few westslope cutties. Beautiful 8- to 12- fish, but nothing close to what we saw next. There were 2 foot-plus bull trout swimming through this pool and our jaws dropped. Their yellow bellies gleamed through the water. Due to high levels of bull trout protection on the Blackfoot, we could only watch these monsters from the bank.
The majority of bull trout water is protected. They are fragmented across the country in an assortment of areas but the ability to plop a fly in front of their nose is highly illegal in most areas. The Yankee Fork provided us with the opportunity to knock bull trout off our bucket list. We fished a smaller stretch of water, overgrown with vegetation. The entire team managed to catch a few bull trout on small dry flies.
Bull trout were different than any species of trout I have come across yet. They had a slender body, almost like a mullet and were very easy to distinguish from other trout. Mission accomplished. Smaller than predicted, but still exciting nevertheless.
— Heather Harkavy