Editor's note: The TU Costa Five Rivers Program sent a handful of student-anglers on a road trip across America in search of native trout. On the team's final stop, they visited California.
Sequoia National Forest
Located in south-ce
ntral California, Sequioa National Forest encompasses slightly less than 2,000 square miles. It is named, as is obvious, after the giant sequoia tree that calls California home. Interestingly enough, this forest ranges in elevation from 1,000 feet to 12,000 feet. Sequoia National Forest contains six wilderness area and 850 miles of trails. Because of its proximity to many cities and towns, the forest receives many big-tree seekers. Most notably perhaps, the forest contains the Giant Sequoia National Monument. This monument encompasses 33 groves of the massive trees. Similar to other national forests, Sequoia holds many public campsites for easy access. Hiking and camping are the most popular activities in the forest, but off-roading, fishing and hunting opportunities also abound. Even if camping isn't an option, scenic byways crisscross the forest, giving many beautiful views capes of different areas in the forest.
—Jacob Lacy
Species
Paiute cutthroat trout
Paiute cutthroat trout inhabit a very small range. Their historical habitat is only nine miles long in Silver King Creek. Silver King is a tributary to the Carson River on the east end of the Sierra Nevada Mountains. These rare fish have one of the smallest historic ranges in all of North America.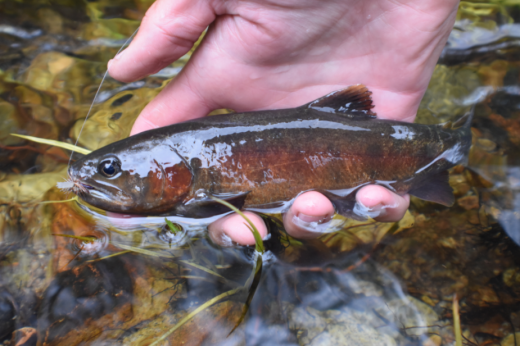 Lahontan cutthroat trout are a distant relative of Paiute cutthroat that have gone their separate ways due to isolation. Sheepherders relocated Paiute cutthroat trout above the waterfalls they were residing beneath. With time, nonnative species were introduced that could have destroyed the Paiute cutthroat populations. The species was very lucky to have been moved at such an opportune time and survive.
Present day, Paiute's are only fishable in one creek (that shall not be named). Due to the creek's remote location and lack of pressure on the fish, the Paiute cutthroat trout are very easy fish to catch. They have no natural predators and therefore are a very naive species.
Paiute cutthroat trout can be distinguished from other cutthroat species by the lack of spots on their body. They have a very slender body and beautiful coloring. They glow as their bodies fade from brown, to red, to gold.
Golden trout
Golden trout are renowned for their beauty. They may not be the biggest species of trout, but they definitely make up for that with their eccentric colors.
Initially, the Kern River basin drained California's southern extent of the Sierra Nevada. Historically, this water system was occupied by rainbow trout. With time, sections of this river were barricaded from each other. The river dried up creating natural barriers, separating the inhabitants into three subspecies. Little Kern golden trout are located in the Little Kern River, the South Fork Kern River and Golden Trout Creek basins hold California golden trout, and the Kern River rainbow trout can be found throughout the Kern River.
A major threat to these populations is hybridizing with invasive species. Rainbow and Brown trout were introduced throughout the 1800s and early 1900s. Piscicide treatments and artificial barriers were created in order to eradicate these non-native fish.
Today, golden trout can be found in U.S. Forest Service wilderness areas or Sequoia National Park and Monument. Challenges to golden trout include warming waters and drought.
Lahontan cutthroat trout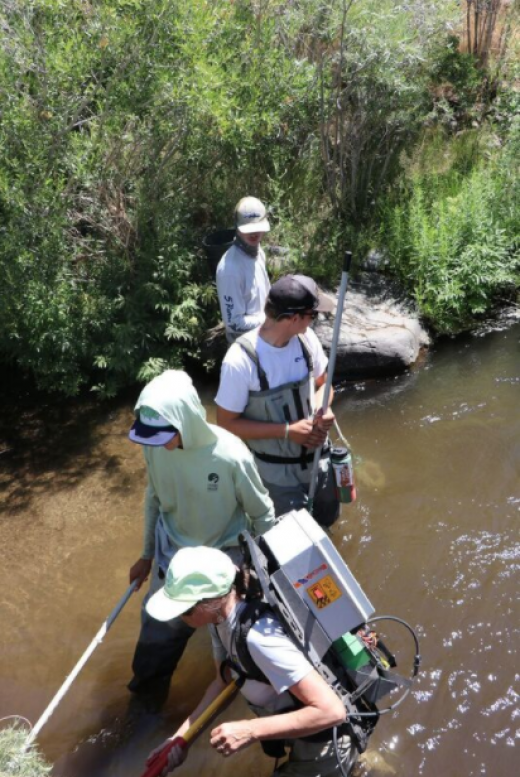 Lahontan cutthroat trout are one of the oldest subspecies of cutthroat trout. Their long history has given the Lahontans ample time to adapt to changing landscape and survive. They have inhabited the Lahontan basin for hundreds of thousands of years. There are two subspecies of Lahontan cutthroats. The western species lived in Lake Lahontan until it subsided and they dispersed to other lakes and rivers.
They continued to grow and reached very large sizes as predator species. Their characteristics lead them to the nickname of salmon trout. Pyramid Lake is historically well known as a Lahontan fishing destination. In fact, the world record was caught in Pyramid Lake weighing in at 41 pounds. Unfortunately, they now inhabit less than 9 percent of their historic range.
Some of the initial threats to this species included overfishing, dams and logging. They ended up becoming one of the first species to be listed under the 1973 Endangered Species Act. Luckily, those that are left have not been threatened with hybridizing. This leaves the species strand pure and able to replicate. Projects are currently taking place in order to restore this species. Hopefully with time and the proper resources, they will be as plentiful as they once were.
—Heather Harkavy
Personal Experience:
Nothing can really prepare you when you pull into northern California. It's a huge state. We spent almost nine hours driving from the top of the state through to the our last destination, where we arrived to meet with California Fish and Wildlife biologist Dawne Emery.
Now, Dawne wasn't the average staffer that we have met along this journey. You name it, she has done it. With her main focus being Lahontan cutthroat trout restoration, she spends her time half in the field doing hands-on work, and the other half in the office organizing projects.
We met up with Dawne at the base of Slinkard Creek where we talked with her about all of the current and past projects she has worked on or completed during her time with CFW.
Afterwards, she described her efforts to try and eradicate brook trout located in the same habitats as the Lahontan cutthroat through electroshocking and removing them out of the system. We wadered up, got the shocking gear ready, and proceeded up the creek to shock the first couple pools, where a handful of brook trout succumbed to the electric current. Dawne emphasized that these 5- and 6-inch brook trout can outcompete the native Lahontan cutthroats that are up into the 8- and 9-inch range. Throughout the time we shocked, we removed approximately 10 or so brook trout.
Shocking up fish is such tight quarters is one thing, but trying to catch Lahontans in a creek that is only a foot wide can be challenging. With grass in some places completely covering the stream, the options for where you could even potentially fish are narrowed down even further. I placed a few small dries through some of these small openings and to my surprise a decent size Lahontan sipped it immediately. Between the challenges associated with the stream and the limited spots to fish only two Lahontans were caught, except for the few specimens that were shocked up.
— Austin Burroughs