Public Land:
Rocky Mountain National Park.
Established Jan. 26, 1915, Rocky Mountain National Park was the 10th recognized national park in the United States. It is the best place in the Lower 48 for visitors to experience alpine landscapes and tundra. Driving in from Denver (just two hours away) allows for visitors to see numerous summits, 78 of which exceed 12,000 ft. elevation. The eastern and western slopes of the Continental Divide cut directly through the park's 265,461 acres. The northwest region boasts the headwaters of the Colorado River, and this provides anglers the perfect location to pursue Colorado River cutthroat trout.
— Matt Crockett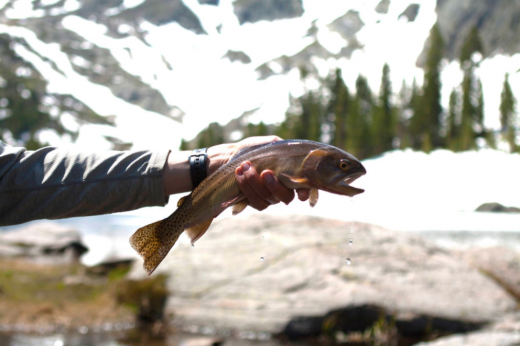 Native Trout:
Colorado River Cutthroat Trout.
Colorado River cutthroat trout are one of Colorado's three native trout subspecies. They are known by the orange or red slash under their chin and their large gradient spots. On the mature fish, bright red flanks are found as well. Colorado River cutthroat trout is a beautiful fish that is historically in the upper Colorado River drainage, from the Escalante River to the west, San Juan to the south, the Continental Divide to the east, and the Green River to the north. Throughout this area, their historical distribution is discontinuous because of warm, large, and sediment rich waters that inhabit the Colorado River basin.
Colorado River cutthroat were originally spread out across the Colorado River basin. An assortment of factors led to the dispersion and lack of connection among this species. The issues breaking up Colorado River cutthroat habitat include isolation management, the intrusion of invasive species and the poor management of land and water. Currently, Colorado River cutthroat trout inhabit small headwater streams and high-elevation lakes.
Colorado River cutthroat were believed to have 361 conservation populations that inhabited a total of 2,115 miles of stream. As a result of a restoration project gone wrong, Colorado River cutthroat inhabit much more water than studies initially showed. Due to strong similarities in appearance and genetics, Colorado River cutthroat were mistaken for Greenback cutthroat trout. This is good news for the Colorado River cutthroat, but a sad realization for their sister species.
— Heather Harkavy
Our Experience
Alpine Angling.
For me, the west side of Rocky Mountain National Park serves as a depressing reminder of a place that was once plentiful and true. I can't help but feel a slight melancholy jab every time I glance upon the headwater meadows of the mighty Colorado River, knowing it will never again complete its journey to the Sea of Cortez. Compounding my melancholy feeling is the fact that whenever I fish in these headwaters I yield nothing but invasive brook trout, as opposed to a once bountiful supply of native Colorado River cutthroat trout.
When I heard that the "Native Odyssey" trip would be trying to conjure a native cutthroat out of the west side of the park I immediately became apprehensive and wary of new challenges. Although I grew up in Colorado, I never ventured to fish the west side of the park more than I had to, for fear of annoyingly hard-to-dodge brook trout in once fruitful native trout waters. I knew it would be a challenge finding a Colorado River cutthroat trout haven in this hell of invasive species and mis-managed cutthroat populations.
With much work to do in order to find these natives, I immediately gave a call to Rocky Mountain National Park. The park staff pointed me toward a few options, and I ultimately settled on Timber Lake and Timber Creek, which serve as a tributary to the headwaters of the Colorado River.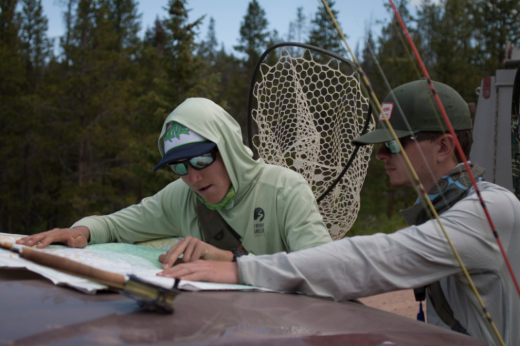 Fishing in high-mountain lakes is a game of cat and mouse, where the mouse most often eludes the cat. A variety of factors contribute to whether an alpine lake will produce worthwhile fishing opportunities. These factors can include ice-off timing, weather, elevation, insect life and lake depth. Basically, multiple things have to come together perfectly in order to have a good day of high-elevation fishing.
Luckily for us, everything decided to come together. After our group's 4.8 mile hike up to an elevation of 11,040 feet, I was a bit depressed to see dirty mounds of snow, swampy shores, and long ice sheets. Usually this signals that the lake is still in thaw mode, and that the fish aren't as active. For a while this held true as we had only netted a couple of small Colorado River cutthroat, and hadn't seen any trout cruising the shore in search of a meal. A bit out of sorts, we decided to have lunch, which consisted of turkey wraps and granola bars. Post lunch time took on a Thanksgiving afternoon vibe, as everyone but Andrew and I decided to take a nap on the warm rocks adjacent to the lake.
As everyone else took a snooze, Andrew and I started working flies along the large ice sheets which still hovered over the lake's surface. Before I knew it, Andrew had hooked into a decent native, which we netted, photographed and released. Suddenly, morale shot up, as we had figured out how to conjure these elusive trout out of the depths. With the rest of the group still happily napping, Andrew and I continued to work our small streamers along the thick ice until we had netted and released six gorgeous Colorado River cutthroat trout. The day had suddenly gone from abysmal to killer.
To me, there is absolutely nothing cooler than sight fishing to ruby red native trout, having them chase down your fly, and then watching them swim back to their ancient home. Unfortunately, once everyone else woke up from their siesta, the fishing was not as great and shortly we were prompted off the mountain by an afternoon thunderstorm. The hike back is always a little bit easier when you've had the satisfaction of bringing a few native trout to hand.
What I once viewed as a depressing and melancholy expedition turned out to be an eye-opening experience. Having the pleasure of catching, photographin and releasing Colorado River cutthroat trout in their ancient ancestral home is truly an awesome experience that makes you feel connected to the land. The fact that these fish have an isolated stronghold high up in the mountains gives me solace, as I know the native trout will keep on chugging away at life with little interference… that is, except for the occasional hook I hope to plant in their jaw.
— Jacob Lacy