Editor's note: Building off the success of last year's Native Odyssey campaign, Trout Unlimited is sending four of our brightest college club leaders in the TU Costa 5 Rivers Program to explore the home of the world's largest runs of wild salmon: Alaska. Starting July 5, these students will explore the Kenai Peninsula, Bristol Bay and the Tongass National Forest in pursuit of the five species of Pacific salmon and other native Salmonids that call Alaska home. In partnership with Costa Sunglasses, Simms Fishing Products, the U.S. Forest Service, Fishpond USA, and Orvis, these students will seek to unearth, document, and share the challenges facing the largest salmon fisheries in the world.
There are truly no words to express the natural beauty that is Alaska. As soon as we stepped out of Anchorage airport, we all took in a deep breath of fresh, clean air. We were humbled by the feeling of finally being in the most remote wilderness America has to offer.
Tall green pines sat still in front of majestic mountain ranges and our thoughts wandered off with them. How many moose and bear will we encounter on this journey? Who will be the first to catch a salmon? Is there going to be enough Mexican food to keep McCarthy happy?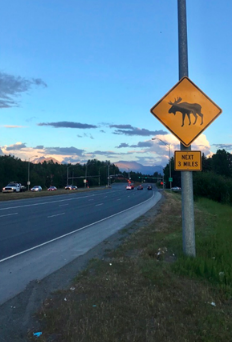 We had some good laughs trying to pack all our bags and gear into our rental truck – which instead turned out to be a 300S Chrysler due to some kinks, yet nothing but smiles were to be had. Driving to our house for the night was almost like being in a Hollywood movie: fancy car, windows down, sun roof open, music jamming, Libby and Anthony completely buried by bags and nets in the backseat… all was good.
We unpacked our gear at the house then went into town for a bite to eat at a popular pizza joint, Moose's Tooth. We watched the sun settle in behind the mountains and made our way back home, realizing it was already almost midnight! We stayed up for another hour watching the sky get slightly darker (but not fully), discussed our expectations for the week, then called it a night.
Waking up, we received confirmation that a truck has finally been approved for us, so we said our final goodbyes to the Chrysler and traded her in for a Nissan Frontier that is much more accommodating for all our gear. Now we're loading up the truck, checking the maps, and heading out to the Russian River campground in Cooper Landing to enjoy the Kenai River and try our luck at some fish!
I'm so stoked about doing some volunteer projects with Stream Watch on the Russian River and to then float the Kenai for a couple of days with some rad TU Alaska staff members. Stay tuned for some gnarly pics and stories about these adventures