Editor's Note: Five students from the TU Costa 5 Rivers Outreach Program have embarked on a once-in a-lifetime journey in pursuit of 16 native trout species, all on public lands. With support from the
U.S. Forest Service, Costa Sunglasses, Simms Fishing Products, Fishpond and Post Fly Box, these students will tell the stories of our native trout, the places they live, and the local economies they fuel.
Public Land:
Ben Lilly Campground, Gila National Forest
Gila National Forest lies in the heart of southwest New Mexico. This wilderness is home base for its only native trout, the Gila. The terrain approaching Ben Lilly Campground is rough, but the views are breathtaking. The forest is filled with an assortment of wildlife, like elk, deer and turkeys. Ben Lilly Campground is a quaint and ideal spot, located directly on Willow Creek. Fishing aside, Gila National Forest has an assortment of other activities including hikes through the wilderness, ancient Cliff Dwellings National Monument, and accessible trails at the Catwalk. Forest fires create a massive threat to the environment in this area, and the majority of the fishing grounds are encompassed in burned, fallen, and dead trees left behind from previous fires.
— Heather Harkavy
Native Trout:
Gila Trout
Native only to the Gila River Basin in western New Mexico and a single drainage in central Arizona (Verde River), the Gila trout is one of the three native trout species that call the Southwest home.
Reports of Gila trout have been recorded as early as the 1800s, but were not described as a unique species until 1950. They can be identified by their golden tones on their sides, darker copper colors on their gill plate, small spots throughout the upper half of their body and a yellow cutthroat slash mark on their lower jaw.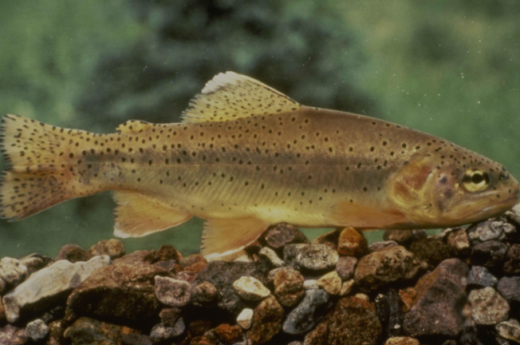 Gila trout have specifically adapted to survive in the extreme climate of the Southwest, where floods, droughts and wildfires are common. However, recent environmental disturbances have turned up the heat on Gila trout. In 2012, the Whitewater-Baldy fire complex tore through the heart of the remaining Gila trout range burning over 300,000 acres of the Gila Wilderness area along the way. High intensity fire paired with significant flooding events nearly decimated the remaining Gila populations in the Gila Wilderness Area.
Toxic ash flows are a serious threat after high-intensity wildfires that often result in fish kills. Evacuation of Gila trout from streams threatened by wildfires likely saved the fish and kept recovery efforts afloat. Gila trout were evacuated from three streams following the devastating Whitewater-Baldy wildfire.
Of the three native trout species to the Southwest, the Gila trout is the most imperiled. Currently, it occupies only 5 percent of its historical range. Low population numbers warranted a listing under the Endangered Species Act in 1966. After four decades listed as "Endangered," the U.S. Fish and Wildlife Service reclassified Gila trout as "threatened," despite their current population numbers. This reclassification was brought on by intense stream restoration efforts. Fish barriers have been utilized in many streams to prevent nonnative rainbow and brown trout from invading the same streams as native Gila trout. With support from the U.S. Forest Service, the U.S. Fish and Wildlife Service, the Western Native Trout Initiative, and New Mexico Department of Game and Fish, a large fish barrier on Willow Creek was completed in 2016 to provide refuge for Gila Trout above the barrier. Stocked rainbow trout threaten the genetic integrity of Gila trout, due to the risk of hybridization with pure strains of Gila trout. Removal of introduced brown trout is another key to the recovery of Gila trout, as they often outcompete native fish in these small mountain streams. Hatchery supported stocking efforts have made a huge impact in helping restore Gilas to some of the streams where they were historically found. The large wildfires do provide some benefit in restoration efforts by clearing out non-native trout from streams and allowing restoration crews to reestablish populations of Gila trout via stocking efforts. For more information on Gila trout, read TU's State of the Trout report.
— Brett Winchel
Our Experience:
The Fishing was on fire
We arrived at our camp long after dark, following a gorgeous drive ascending a few thousand feet in elevation on a forest "road."
During our drive we came across numerous herds of elk, one of which decided to run along with the trucks through a meadow before cutting us off and sprinting across the dirt road. This experience was nothing short of breathtaking.
Afterwards, it was quickly apparent that we were headed towards a forest fire, the orange glow and billowing smoke both visible from a few miles away. Darkness was falling as we came to what we later learned was the first of two forest fires being controlled by the U.S. Forest Service. From a safe distance we were able to snap some photos and record video footage. This was the closest any of us had come to elk, much less a forest fire. To see both in one day at such short distances was both awe-inspiring and humbling.
The next morning was our first day fishing for Gila trout. In a matter of minutes all of us had successfully brought one to hand. The fishing was excellent, as our team leap-frogged up Willow Creek. The trout that inhabited the stream were eager to come up to large hopper patterns, and they took nymphs, as well. We discovered ample amounts of food available, finding hundreds of caddis, mayfly and stonefly nymphs. Willow creek was heavily lined with stinging nettle and other dense underbrush along its banks. Fires had already come through the area, and charred tree trunks surrounded us as we continued up the valley.
The fires continued to burn during our entire three-night stay in the Gila National Forest. Our campsite was nestled in a valley between the flames, an oasis from the smoke and heat. While we played whiffle ball and ate tacos around the fire, U.S. Forest Service workers labored to keep the fires from spreading.
We met with a Trout Unlimited volunteer named Jeff Arterburn, who was very knowledgeable about some of the conservation efforts focused towards the Gila trout that occupied the area. We fished with Jeff and learned a lot from him. He also turned us on to a local lake that supposedly had a large population of common carp. This instantly intrigued Brett and I, as we love to chase carp with fly rods.
We arrived at Snow Lake with smoke drifting across it. The crew strung up the 7-weight rods, and we were off, planning to catch them on large buggy nymphs, like we do back in East Tennessee. I fished for about half an hour, but poor water clarity and rising fish convinced me to switch to a hopper pattern. I found a pod of feeding fish, and with the crew watching me I hooked up on a nice capr that sipped my hopper. This quickly changed everyone's tactics.
Heather was comfortable with this style of fishing, making long casts with heavier tackle. She was able to get two to the net, and Brett got himself one as well. All the carp were caught on hoppers, something I have fantasized about for some time now. We never expected that New Mexico would be filled with such unique experiences.
— Matt Crockett