Editor's note: The TU Costa Five Rivers Program Native Odyssey Team visited Yellowstone National Park recently, where they chased native fish in the waters where they belong.
Public Land: Yellowstone National Park.
Establ
ished March 1, 1872, Yellowstone National Park covers an area of 3,471 square miles through Wyoming, Montan and Idaho. The park rests on top of a volcanic hotspot, and geothermal activity is one of the main attractions for visitors each year. Along with geysers and hot springs, guests also flock to Yellowstone to view bears, bison, wolves, elk and other wildlife. Visitors have many options for hiking, camping, fishing and sight-seeing throughout the parks many rivers, lakes, canyons, and mountain ranges. Fueling the geothermal features of the park is the Yellowstone Caldera, the largest supervolcano on the continent. The park is the flagship of the Greater Yellowstone Ecosystem, the largest nearly-intact ecosystem in the northern temperate zone. Yellowstone National Park boasts nearly 60 species of mammals and 1,700 species of trees and other vascular plants.
— Matt Crockett
Native Trout: Yellowstone cutthroat trout.
Grouped with westslope cutthroat trout until the 1960s, Yellowstone cutthroat trout are found on either side of the Continental Divide. This species originally was isolated to the headwaters of the Snake River above Shoshone Falls. After alpine glaciers moved out of the Yellowstone Plateau, the cutthroats were able to travel from the Snake River to the Yellowstone River, through Two Ocean Pass. After this connection, Yellowstone cutthroats continued to spread to the lower tributaries of the Yellowstone River, as well as Yellowstone Lake. The largest population of this species was historically found in Yellowstone Lake, where they became an integral part of the ecosystem. When the cutthroats push up into tributary streams to spawn they provide hunting opportunities for bears, otters and other animals.
Lake trout were then introduced to Yellowstone Lake illegally and their population thrived, feeding on the native cutthroat trout. Lake trout are able to reproduce easily in the lake, with a rocky substrate suitable for their eggs to develop. Additionally, lake trout are able to feed on Yellowstone cutthroat up to half their body length. When considering that lake trout can easily exceed 20 pounds in some cases, it is clear that the cutthroats don't stand a chance against these predators.
In response to this invasive species introduction, the Yellowstone cutthroat population began to crash. For the last decade, the National Park Service, with the help from organizations like Trout Unlimited, has been gill-netting and managing the lake trout population in Yellowstone Lake. These efforts have shown significant progress in maintaining a healthy population of native Yellowstone cutthroat trout. While it is unlikely that lake trout will ever been completely eradicated from Yellowstone Lake, continued efforts will allow the native trout to thrive in this area, maintaining the ecosystem.
Like most native trout species, Yellowstone cutthroat habitat has declined significantly due to human interaction. Populations at lower elevations have suffered greatly from agriculture and logging practices. On a more positive note, public lands protect 28 percent of waters currently occupied by Yellowstone cutthroats. With the implementation of fish barriers placed in habitats to separate Yellowstone cutthroat from non-native species, migratory populations become significantly impacted by warming climate trends. With efforts from the Forest Service, Trout Unlimited, and other groups, the threat of non-native species can be significantly decreased and the cutthroats' resiliency to environmental change can hopefully be maintained.
— Matt Crockett
Our Experience: Two Nights on Slough Creek.
Yellowstone National Park, in my mind, is one of the last wild places we have left in the lower 48. That is, after you look past the hordes of tourists stopped on the side of the road, running from their cars to encircle a grizzly bear happily feeding on berries, just to snap a few photos. During our travels, we have witnessed some prime examples of natural selection, but I think this situation tops them all. Besides the crowds, this place is truly wild. The elk and buffalo roam free, wolves have returned to occupy some of their historic range, and the native Yellowstone cutthroat trout are plentiful, albeit in a perilous state of being.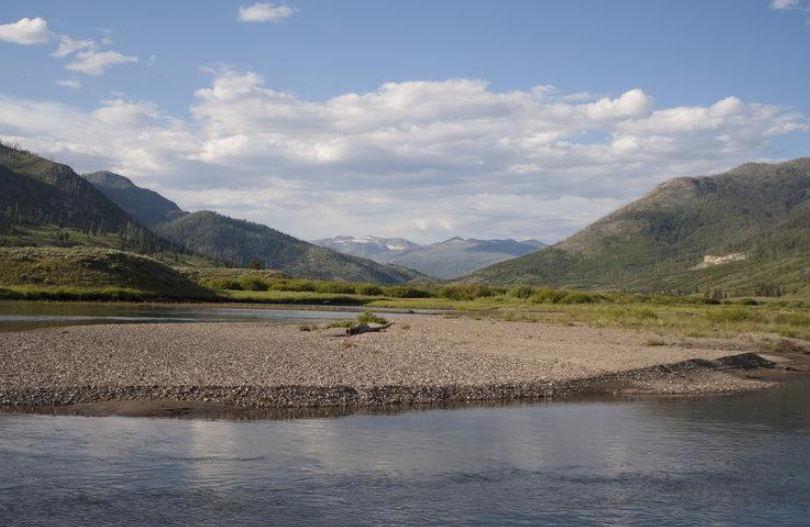 As we traveled through the west entrance of Yellowstone, my mind raced as I considered the possibilities the next couple days could present. I couldn't shake the rumors of large Yellowstone cutthroat slowly rising to absurdly large terrestrial patterns. My expectations were as high as they have been throughout this entire journey. A scenic drive through the national park put us at our trailhead where we loaded up our packs with all the backcountry necessities for two nights in the wild.
Despite numerous murmurs of poor fishing from disappointed fishermen hiking out, I held my expectations. Five miles later, we arrived at our first backcountry campsite located right between the first and second meadow of the famed Slough Creek. Fatigue only struck me momentarily as I quickly realized where I was. This was no time to sit and rest. As others reached for granola bars to refuel, I reached for my rod tube and began rigging.
At first sight, the "creek" was bigger than I expected, not in a bad sense, just not as I imagined it. Matt and myself carefully waded across the fine gravel substrate to reach the far bank. It didn't take long before we peered through the slightly dingy water and saw the silhouette of a nice Yellowstone cutthroat. Matt took the first shot with a firm cast and a solid plop, he placed his gaudy chubby Chernobyl just upstream of the suspended cutty. The eager cutthroat immediately tipped up and began its ascent to the fly. Although, this wasn't one swift act as we've seen with cutthroat prior, it was calm, cool and calculated. It was also a mistake. As the Chernobyl disappeared, Matt set the hook and came tight on his first Yellowstone cutthroat.
We continued up the cutbank until we came to a straight stretch with steady current and numerous eddies created by the nooks and crannies of the irregular meadow bank. We began working this stretch with large attractor dry flies and quickly grabbed the attention of numerous cutthroats. As Matt whacked one after the other, I struggled to get one to fully commit to my fly. Finally, after zeroing in on a steady-rising cutty, I placed my hopper right on his dinner plate. With no hesitation, he crushed it and shortly after we safely landed him in the net. Meanwhile, Matt continued his hot streak and landed a nice buck. With two fine cutties in the net, we were ecstatic. We released the trout, sipped on some celebratory whiskey, and I allowed myself to let the moment sink in. We were in one of the fishiest places in the country and we were absolutely killing it.
The evening continued to produce as the caddis began to become more active in the water column. At times, I could look up and see multiple pods of fish rising to adult and emerging caddis. This is my favorite type of fly fishing. Singling out that one fish, watching its feeding pattern, and working them until I make the connection. I hooked and landed a few nice cutthroats on a caddis dry fly as they continued to rise as the light faded. My expectations had been blown away, and this was just the first night. I fell asleep that night replaying the day over and over in my head.
"How could this possibly get any better?"
The next morning, we packed up camp and made quick work of the next three miles of trail we had to cover to get to our second campsite. Backpacks and hiking boots were quickly exchanged for sling packs and waders. We hit the water in similar fashion as the first afternoon. We proceeded to fish the third meadow into the late afternoon, picking up many fine cutties throughout the day. But the best was yet to come.
The air cooled as the sun dipped over the far ridge and I returned to a pristine straightaway with a large gravel bar at the top of the uniform run. I had seen multiple large trout in this prime stretch earlier in the afternoon. I don't often fish streamers when I know I can catch trout on dries or nymphs, but I figured I would give it a shot before we went back to camp. I plucked a sparkle minnow from my sling pack and secured the fly with a loop knot. The first swing yielded a short strike from a colored-up cutty. I bombed the fly a touch further than the first cast and began my retrieve. The fly swung through the run fluttering and flashing with every strip. The same cutthroat charged the fly and didn't miss this time. A quick strip-set drove the hook home. As this was happening, the rest of the crew was walking my way to head back towards camp.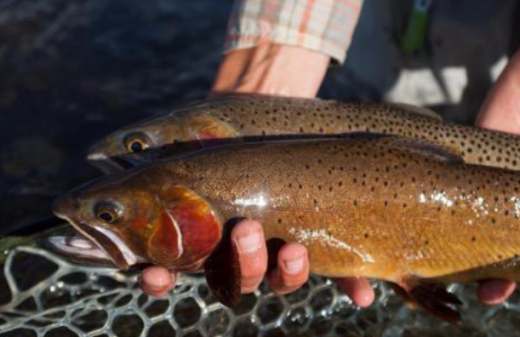 Smartly, Matt drifted a large terrestrial down the run as he made his way towards me. A large head broke the surface of the water and inhaled the fly. Once again, we were doubled up. The feeling was nothing short of surreal. This was as much fun as I've had fly fishing in quite some time and I can't imagine a better ending to an epic two days of fishing. This place was as insane as the rumors I had heard before coming out here. Now I have some great stories of my own to pass on to the next group of fly fishermen lucky enough to make a trip to this special place.
— Brett Winchel