Above: Native brook trout from the northwest Ontario interior. Photo courtesty of Paul Smith. Below: The author holds a brook trout from Argentina's Corcovado River.
When those of us here in the lower 48 think of brook trout, we might think of boulder-hopping in a secret Appalachian canyon that has managed for more than two centuries to avoid the eye of fisheries managers and their brown and rainbow trout, casting attractor dry flies to skittish native char that might top out at six inches in length. Or mabye a high-country Rocky Mountain stream where, a century ago, well-meaning hatchery managers planted these non-native fish atop native cutthroats, not realizing that, within a generation or two, these voracious invasives would out-compete the native fish and then literally eat themselves out of house and home. Again, a six-inch brookie might be all we'd expect.
Perhaps others have been to Labrador, where rumors of eight-pound brook trout spur the imagination of anglers for whom the idea of a brook trout that big is simply unbelievable. John Gierach, the renowned fly-fishing author, writes about these fish with reverence, perhaps because, in his Colorado home, brook trout are dimminutive and plentiful … yet measured in single-digit inches, not single-digit pounds.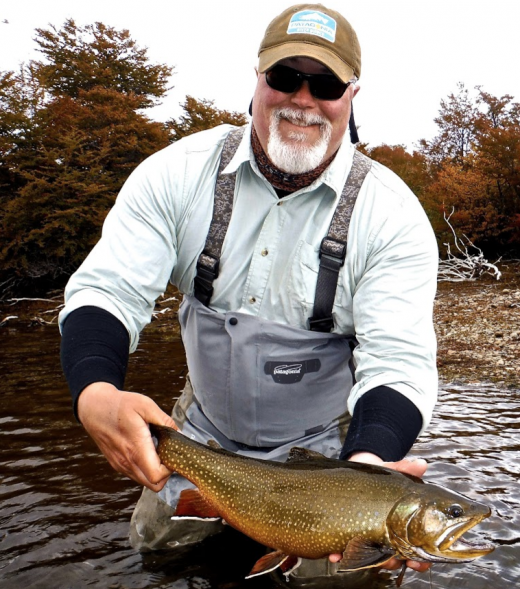 A couple of years back, I had the good fortune to travel to Argentina, where I caught an 18-inch and a 22-inch brook trout on the fabled Rio Corcovado. It was … life-changing, holding a massive brook trout that took two hands and every ounce of boyhood imagination I could muster.
"This," I remember thinking, "is a brook trout?"
But that fish, much like me, didn't belong in Argentina. It was a transplant, an alien in foreign waters.
Last week, though, I caught the biggest brookie of my life in waters where it belonged. The native Ojibwe guides who work for Wilderness North estimated the fish to weigh six pounds. It stretched the tape to 23 inches. I caught it on a skated Chernobyl in a river system in northwest Ontario where brookies are all but forgotten in the land of lakes bursting with toothy pike and voracious walleye.
This river system—reachable only by float plane—flows from a provincial park in the Canadian interior and empties into the southern end of the Hudson Bay. But in its headwaters, where the river runs between lakes and sloughs, brookies grow big and fat, moving between the lakes in the winter and into the heavy-water sections of rivers after ice-out, where they gorge on giant stoneflies, mayflies and caddis—and likely baby pike and walleye, too. They're fat and round, like footballs painted by Jackson Pollack. This is where they live, and where they have lived for eons. This is where they are native.
This is where my imagination runs wild. This is but one river in a land of rivers that flow between lakes. This is but one stretch of that single river. There must be brook trout all over Ontario, and the vast majority of them have never seen a fly.
As I cradled the giant brookie, I thought, "This … is a real brook trout."
— Chris Hunt