By Don Haynes
When people think of the Gunpowder River in Maryland they invariably think of the 14-mile tailwater section flowing from Prettyboy Reservoir to Loch Raven Reservoir in Baltimore County.
But above Prettyboy, from Hoffmanville to Southern York County in Pennsylvania, there are some 60 miles of the Gunpowder mainstem and tributaries that comprise the Upper Gunpowder watershed. Eighteen streams cover 38 square miles in the watershed. Only a handful have recognized names and almost all flow through private lands.
The upper Gunpowder watershed is, by Maryland Department of Natural Resources estimates, home to about 25 percent of the extant brook yrout population in Maryland. This is second in size only to the Savage River watershed in Western Maryland
Data on the extent of brook trout and reliable information on stream ecology is scant. Only a few of the streams have been surveyed to determine the existence of brook trout.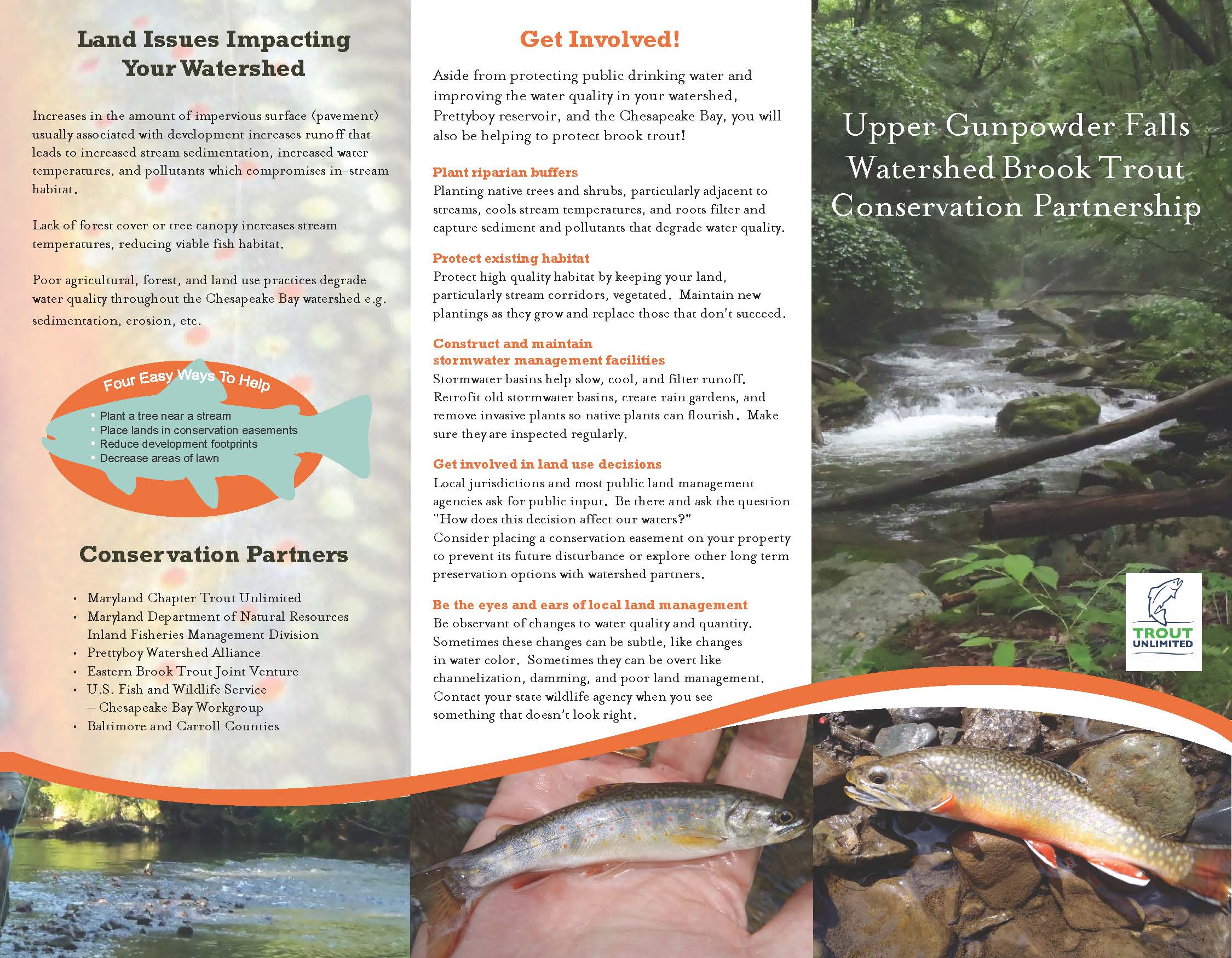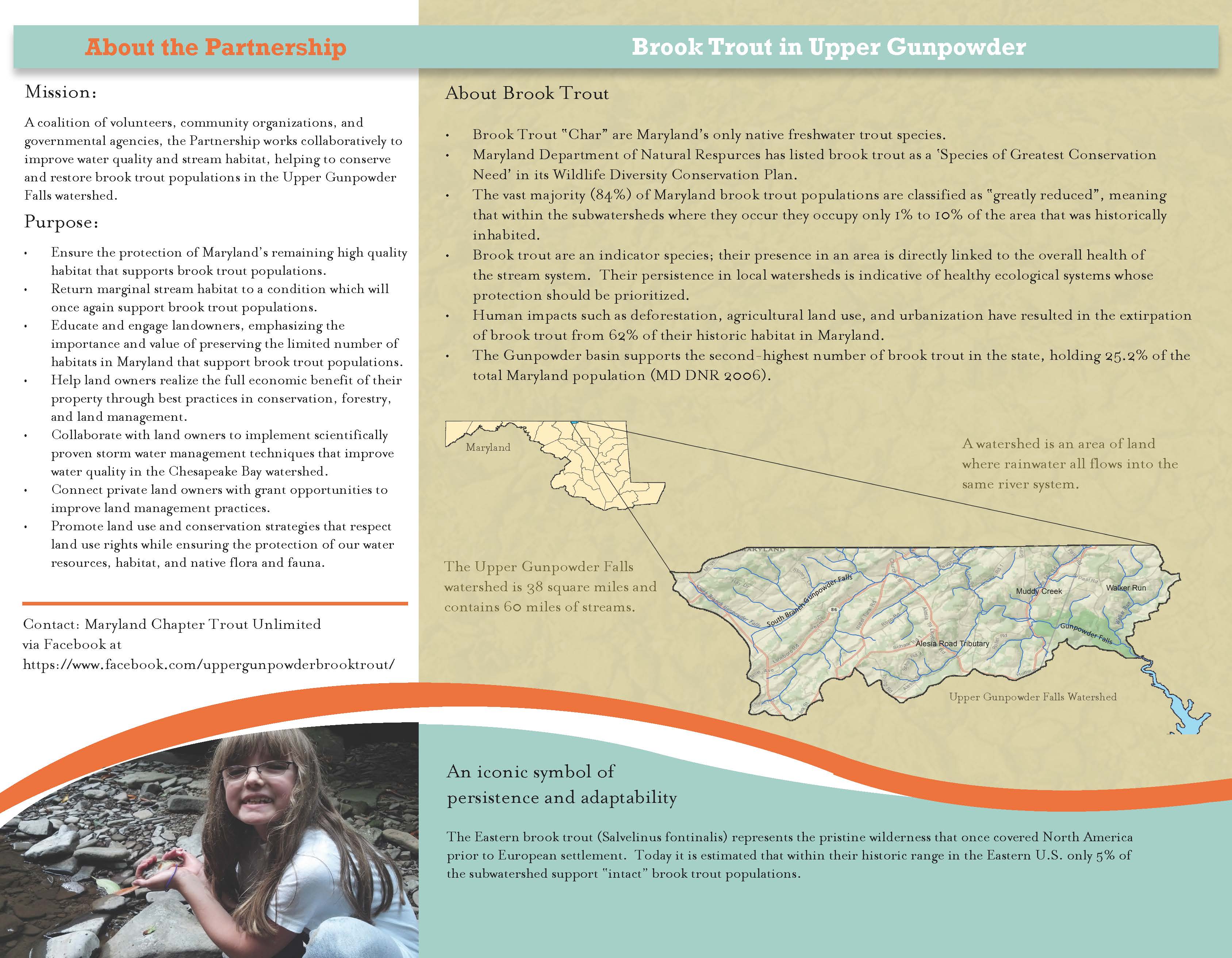 Alan Heft, Maryland DNR, argues that this area is a prime location for preservation and restoration. He points out that the Upper Gunpowder watershed has the least amount of developed land, most heavy existing tree cover, most known and intact brook trout populations, and the least amount of streams dominated by brown trout or in a location that has the potential to be taken over by brown trout.
Scott Scarfone, Maryland Trout Unlimited and an avid small stream fisher for brookies, began looking into a couple of the small tribs above Prettyboy in 2013.
He first approached Maryland DNR inland fisheries to get data only to learn that DNR focused most of its brook trout efforts in Western Maryland's larger and better-documented populations. Next he contacted the Environmental Departments of Baltimore and Carroll Counties to see what they have been doing in the watershed.
While all were making an effort, action was disjointed and uncoordinated. As the circle of contacts grew, Scott began assembling a team of group and agencies interested in brook trout preservation. Eventually the team grew to include:
• Maryland Trout Unlimited
• Maryland Department of Natural Resources, Inland Fisheries Management Division
• Baltimore County
• Carroll County
• Prettyboy Watershed Association
• Gunpowder Valley Conservancy
• National Aquarium
• Eastern Brook Trout Joint Venture
• National Fish and Wildlife Service – Chesapeake Bay Workgroup
What the workgroup learned was that everyone had plans to do something about brook trout, but no one was talking to anyone else. What emerged from their discussions was a watershed-level action plan of coordinated efforts to protect and restore the brook trout population. Specific goals of the plan were:
• Ensure the protection and conservation of Maryland's remaining high-quality habitat that supports brook trout populations.
• Return marginal stream habitat to a condition that will support the conservation and, where feasible, restoration of healthy historic brook trout ranges.
• Educate and engage landowners, emphasizing the importance and value of preserving the limited number of habitats in Maryland that support brook trout populations.
• Help landowners realize the full economic benefit of their property through best practices in conservation, forestry and land management.
• Collaborate with private and public landowners to implement scientifically proven stormwater management techniques that improve water quality in the Chesapeake Bay watershed.
• Connect private landowners with grant opportunities to improve land management practices.
• Promote land use and conservation strategies that respect land use rights while ensuring the protection of our water resources, habitat, and native flora and fauna.
To date, the work group's accomplishments are considerable. In addition to connecting with allied partner organizations or agencies that have overlapping interests such Maryland Biological Stream Survey, US Fish and Wildlife, Baltimore and Carroll Counties, the group has:
Developed a preliminary 20-year work plan outline.
Secured commitment of Director of Maryland Fisheries for the project
Compiled existing data sets from various agencies in one location. 

Obtained TU Embrace-a-Stream grant for temp loggers and brochure.
Designed informational brochure and distributed to all landowners in the watershed.
Purchased and deployed 35 temperature loggers in Spring 2016 and again in 2017
Electroshocked several tributaries for brook trout population counts and tagged 15 brook trout for 1-year movement monitoring.
The group has reached out to the North Atlantic Aquatic Community Collaborative, which has assessed 50 culverts in the watershed in 2016 under a USFWS Culvert Assessment grant. The group identified a number of culverts and stream crossings that needed swift attention. Other team members will be certified to follow USFWS assessment protocols for future work.
This will be a long road. Immediate work objectives are to complete analysis (via Maryland Fisheries) of existing data set to identify data gaps, to recruit technicians and/or specialists who have an interest in brook trout or conservation in general, and to continue to discover and connect with potential partner organizations or agencies. All of this needs to be done before a full-blown conservation/restoration plan can be created. Another need, of course, is to identify possible grant sources to staff project.
Heft maintains that this project is unique. Previous efforts have targeted specific streams or stream segments while the Upper Gunpowder Project offers a comprehensive watershed-wide model. It's an ambitious project. Scarfone suggests it may take 30 years before significant results can manifest.
"There's a lot of work to be done before we can even think about operational plans," he noted.
Click here for a detailed presentation on the project: MDTU Brook Trout Conservation_SE TU_Short_5_16_2.pdf
The Upper Gunpowder Project provides a roadmap for future brook trout projects elsewhere. The watershed-wide focus is unique, but what may be the most significant element is the team-building approach that brings together interested parties and identifies existing data that others may not know about. The team approach allows developing coordinated plans that will avoid duplicated efforts, which often leaves gaps in conservation coverage.
A coalition of volunteers, community organizations, and governmental agencies, the partnership works collaboratively to improve water quality and stream habitat, helping to conserve and restore brook trout populations in the Upper Gunpowder Watershed.
Don Haynes is Chair of the Mid-Atlantic Council and Vice-President of the Maryland Chapter of Trout Unlimited.