By David Kinney
None of us had laid eyes on the stream before, and as it turned out, we were just a bit over-equipped for the task at hand.
We had four- and five-weight rods, chest waders, and a thousand flies, among them the blue-winged olives and Isonychia we'd been told to expect. One of us brought his full-sized landing net. We lugged it all down a pretty trail through thick groves of rhododendron and blooming mountain laurel, part of the Natural Lands Trust's 3,500-acre Bear Creek Preserve south of Wilkes-Barre, Pa.
Five minutes later, Chad was the first to arrive alongside the stream. He peered through the foliage.
"Looks tight," he reported.
To say the least.
Shades Creek, part of Pennsylvania's 14,000-mile-and-counting network of officially designated wild trout streams, was a wisp of a stream shrouded in thick cover. But a quick investigation revealed plenty of runs and seams and plunge pools that would hold wild brookies and browns. I had the weird sense that Bear Creek's proprietors had taken a perfectly fine stretch of normal-sized trout water and cruelly miniaturized it.
We gathered around an opening by a footbridge and looked for openings to drift a fly. They were there, and so were the fish. Before long Tyler and Chad had raised a trio of healthy brookies.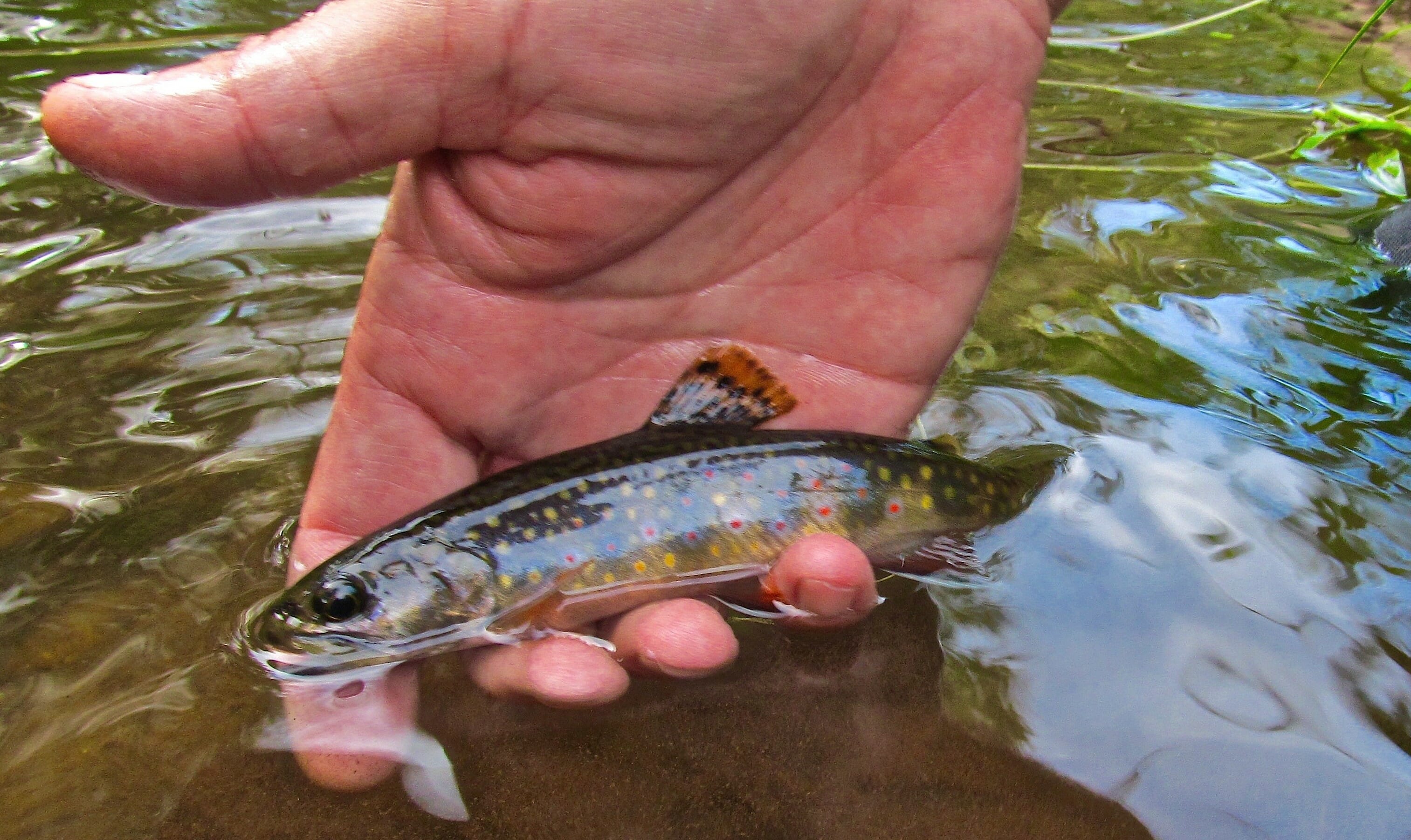 Tyler Franz photo.
We had come to sample one of the many wild trout streams and tribs in the Delaware River Basin that would be crossed by a proposed 120-mile natural gas pipeline, PennEast. Three, including Shades Creek, are Class A streams, with the largest populations of naturally reproducing trout. Many of them are small headwaters that provide spawning habitat, nursery grounds, and thermal refuge for wild trout.
For several years now, the natural gas industry has been planning projects like PennEast to increase transmission capacity so it can move booming Marcellus shale supplies to markets in the east.
This year, they're breaking ground.
Earlier that day, we had been in Wayne and Pike counties in northeastern Pennsylvania, where Kinder Morgan had just begun work on a 12-mile pipeline crossing wild trout streams and the Lackawaxen River, a popular fishery that runs through Hawley, Pa. Later this summer, work is expected to begin on Atlantic Sunrise, a 200-mile pipeline crossing wild trout water in Columbia and Schuylkill counties.
PennEast is in the permitting stage, so those who care about wild trout still have an opportunity to make their voices heard.
TU is responding to the pipeline buildout in a number of ways.
We have relayed to regulators our concern about the impact that PennEast will have on trout populations if pipeline installation and stream reconstruction is done improperly. We have trained volunteers to monitor their local streams for water-quality impacts, and shown them how to keep an eye out for the sorts of erosion and sedimentation issues that are common in pipeline construction.
And we've worked proactively with the Pennsylvania Fish & Boat Commission (PFBC) to fill gaps in our knowledge about the state's wild trout streams. TU has discovered more than 200 new populations of naturally reproducing trout in the past six years, setting those waters up for the protections that they deserve.
Just this week, the PFBC voted to re-designate 135 new streams sections as wild trout waters. Twenty-nine of these joined Shades Creek on the list of Class A streams, which have the largest populations of naturally reproducing trout. Among this new crop of wild trout streams are a number of waters in the vicinity of the proposed PennEast pipeline corridor: Little Bear Creek, two unnamed tributaries to Shades Creek, and Porter Run. These will warrant special protection under Pennsylvania code.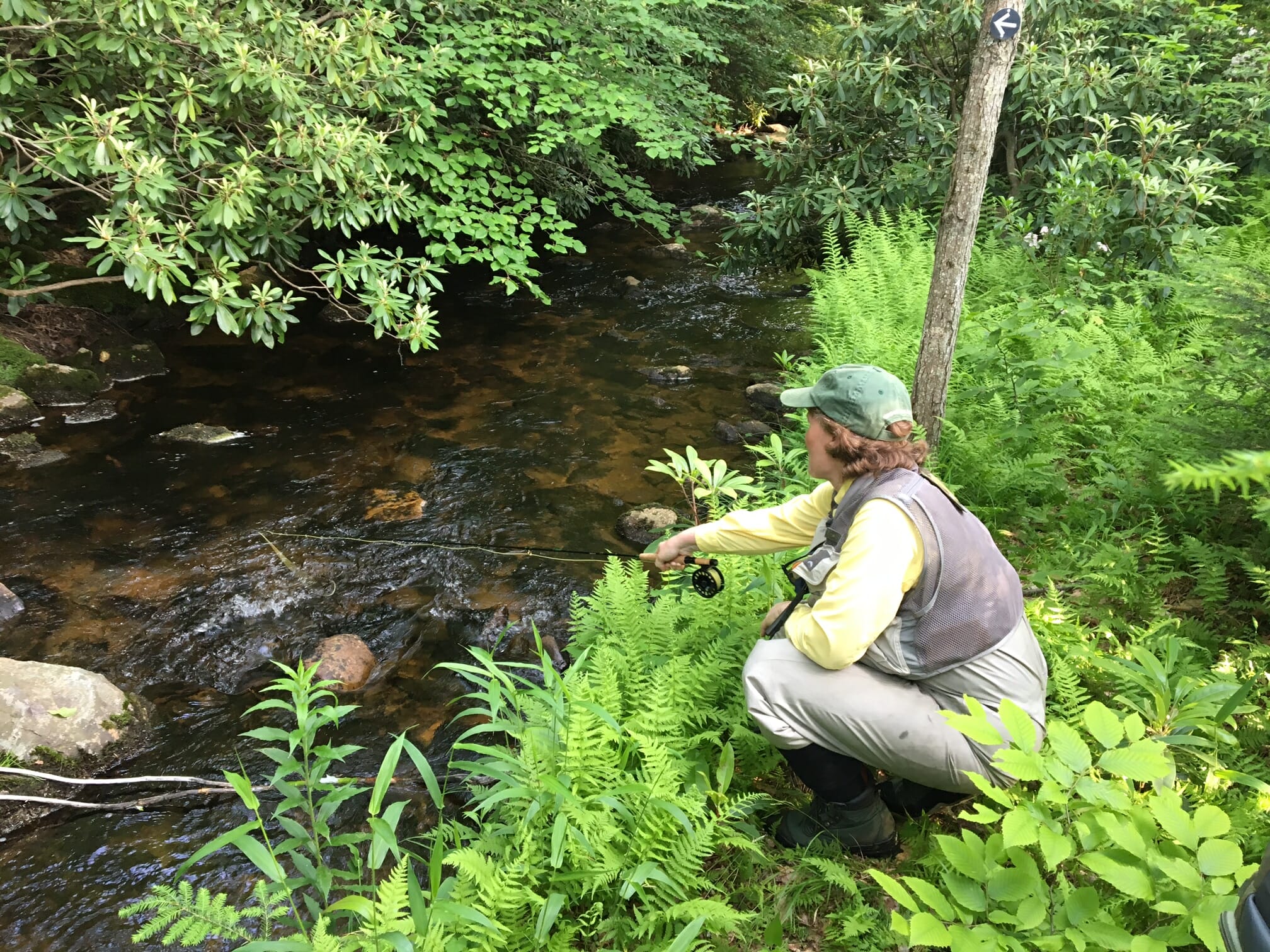 Over the past year, the Commission has re-designated 516 new wild trout stream sections totaling more than 1,000 miles. This included 100 Class A stream stretches spanning 236 miles.
We left Shades Creek with a couple of impressions. The first is that this is a healthy trout stream filled with brookies and browns and abundant macroinvertebrates. The second is that it's fragile: It does not take a lot for a stream this tiny to be damaged by poorly executed development.
If special places like Shades Creek are to be protected amid major pipeline construction across the state, vigilance will have to be the order of the day.
David Kinney is Trout Unlimited's mid-Atlantic policy director. An avid angler, he is a former newspaper reporter who was part of a Pulitzer Prize-winning team at the Newark Star-Ledger, and is the author The Big One, a book about an annual fishing derby in Martha's Vineyard.