Like a lot of fly fishers, I'm enamored by the idea of a boat, but I'm not ready to be a serious boat owner—a drift boat, for instance, feels like it traps me into fishing just a couple of stretches of water close to home (and, for the record, I have nothing against drift boats).
Years ago, I bought a one-man pontoon boat. It's served me faithfully, but it's also a bit bulky, hard to travel with and is often left in the garage.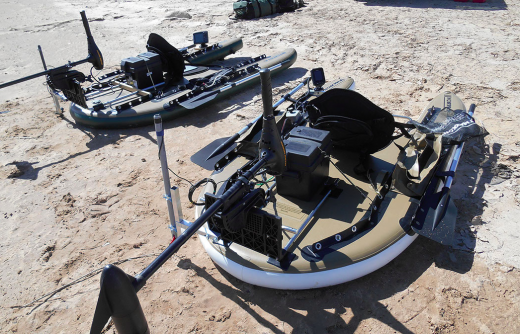 Today's inflatable watercraft, though, are starting to change my mind, and mostly because of their portability. Consider the new Maxxon XPW 240, a nifty little drop-stitched inflatable that can hold up to 400 pounds, but, when it's not inflated, weighs a handy 46 pounds. This is the kind of boat you can take almost anywhere. You could even conceivably check it as luggage.
It comes with oars and can also be guided by kicked flippers, but it really shines when you attach a small electric motor to it. It drafts only 3 inches of water and itself is only 6 inches thick, making it great for skinny water flats fishing.
Justin Cameron of Maxxon loves the boat's multiple uses—he notes that it's sturdy enough for anglers to actually stand on, but he prefers to remove the chair attachment and instead put a cooler on the boat and use that for a seat, which will give the angler piloting the craft some elevation.
We poked around the XPW 240 for a good half hour, and we were impressed with how rugged it felt and how it would be pretty tough to do some damage to it. And, at about $1,200 retail, it's not a massive expense, especially considering that it can be taken almost anywhere.
— Chris Hunt