Fly rod construction could very well be compared to the Olympic motto: Citius, Altius, Fortius. Faster. Higher. Stronger.
It just seems that this is where the industry headed. Faster rods. Stronger blanks. And higher prices, of course. As I'm reminded, frequently, by my industry friends, research doesn't come cheap, and in fly rods, you really do get what you pay for. So, no, I wasn't suprised when I came across Sage's new Igniter fly rod at this year's IFTD show in Orlando—a precision tool for throwing lots of line and wet, heavy streamers at fish with shoulders—and saw that the price tag tickled $900. This, after all, isn't out of what has become the reasonable norm for high-end sticks that incorporate the latest technology in pursuit of the above-mentioned motto.
But when I took the Igniter to a remote lake in northern Saskatchewan to chase trophy pike, I honestly was surprised. And that almost never happens.
I probably fish 100 days a year. Sometimes more, sometimes less. And I'm all over the map when it comes to what I chase, and the rods I use. Years ago, while chasing pike in Athabasca Lake, a buddy of mine put a a high-end rod in my hands that he was testing. I had spent the week fishing with a perfectly serviceable but modestly priced 8-weight that I actually grew to enjoy. But when I cast the "rocket launcher," as my buddy put it, I immediately began to understand more about rod technology and performance—when I dialed in the faster speed and stronger blank, I realized that I had been fishing with an inferior product. I was shocked at how much better if felt to cast a really good fly rod.
So, when our guide piloted our little skiff over a weedbed in remote Russell Lake a couple weeks ago, and I stepped to the front of the boat to throw a heavey, sink-tip line equipped with a six-inch Dragontail fly toward the bank, I honestly wasn't sure what to expect. Was this going to be the equivalent of that nice little 8-weight I'd grown accustomed to casting all those years ago, or was this going to be one of those, "Oh, yeah" moments, when fly line slipped through the guides like it was fired from a cannon?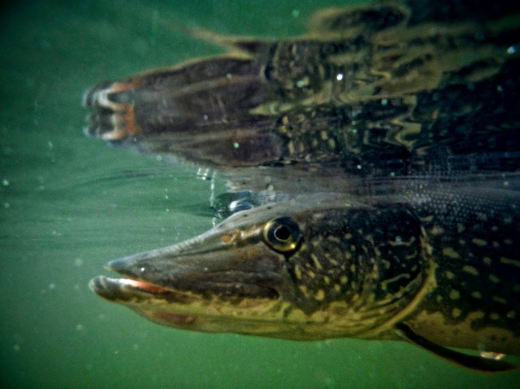 I threw a straight shot at the bank and just watched as the fly line I'd draped in the bow of the boat pulsed through the rod's chromed snake guides and snapped tight against the backs of my fingers. I looked back at the guide, and simply said, "This is why $900 isn't too much for a fly rod."
The Igniter is among the new generation of Sage rods incorporating the company's KonneticHD techonology that uses a denser, lighter blank with a taper meant to help generate line speed. Indeed, it is fast. And it's surprisingly light—the 7-weight I cast comes in at just 3 7/16 ounces. And, not long after that first cast, as I battled a 40.5-inch pike to the boat, I could quickly attest to its strength. The big Esox lucius took a deep dive under the boat into the weeds, and I had to stab the rod's tip into the water to regain some leverage and eventually pull the fish to the top.
Over the course of four more days, the rod threw that sink tip line equipped with a fly that resembled a wet diaper with aplomb. Billed as a rod that's "not for the everyday angler," I can certainly see how it's targeted at anglers who plan to use it under truly demanding circumstances. Cold. Rain. Long casts. Heavy flies. Big fish in both fresh and saltwater. This rod is Sage's "off road" fly rod made for more extreme angling. It's a beast worthy of 40-inch pike, line-burning bonefish, fall browns pulled from rootwads and the like.
The Igniter comes in freshwater models, line weights 4 through 6; saltwater models, line weights 6 through 10; and a spey model, line weights 6 through 10.
And, yes. It's pricey. But, as I was reminded after that first butter-smooth cast, you get what you pay for.
— Chris Hunt