By Mark Taylor
Who isn't drawn to beer featuring really great trout artwork on cans and packaging?
And how great is it when that beer is not only super tasty, but also benefits wild trout?
SweetWater Brewery's new fall seasonal, Mosaic Hazy IPA, checks all the boxes.
It's a juicy, fruity, moderately hoppy (65 IBUs) single hop brew that comes in cans decorated with beautiful brook trout art. Three stacked can "complete" a full fish.
The beer, which is now available in SweetWater's distribution area in the East, is also part of SweetWater's popular #fishforafish social media campaign.
Customers take pictures of their stacked cans and post them to social media with the #fishforafish hashtag. Each hashtag translates to a donation from SweetWater into a fund that will help Trout Unlimited with efforts to re-establish native brook trout in suitable waters, many of them restored by TU and its partners.
In the East and Southeast, TU staff and volunteers are working on a number of native brook trout repatriation projects.
Examples include restoration of wild brookies into Passage Creek in Virginia and Aquetong Creek in Pennsylvania.
In the Upper Delaware River watershed, TU's Cole Baldino is heading up an effort to Bring Back the Natives into restored coldwater streams in the Paulins Kill, Mosconetcong and Pequest subwatersheds.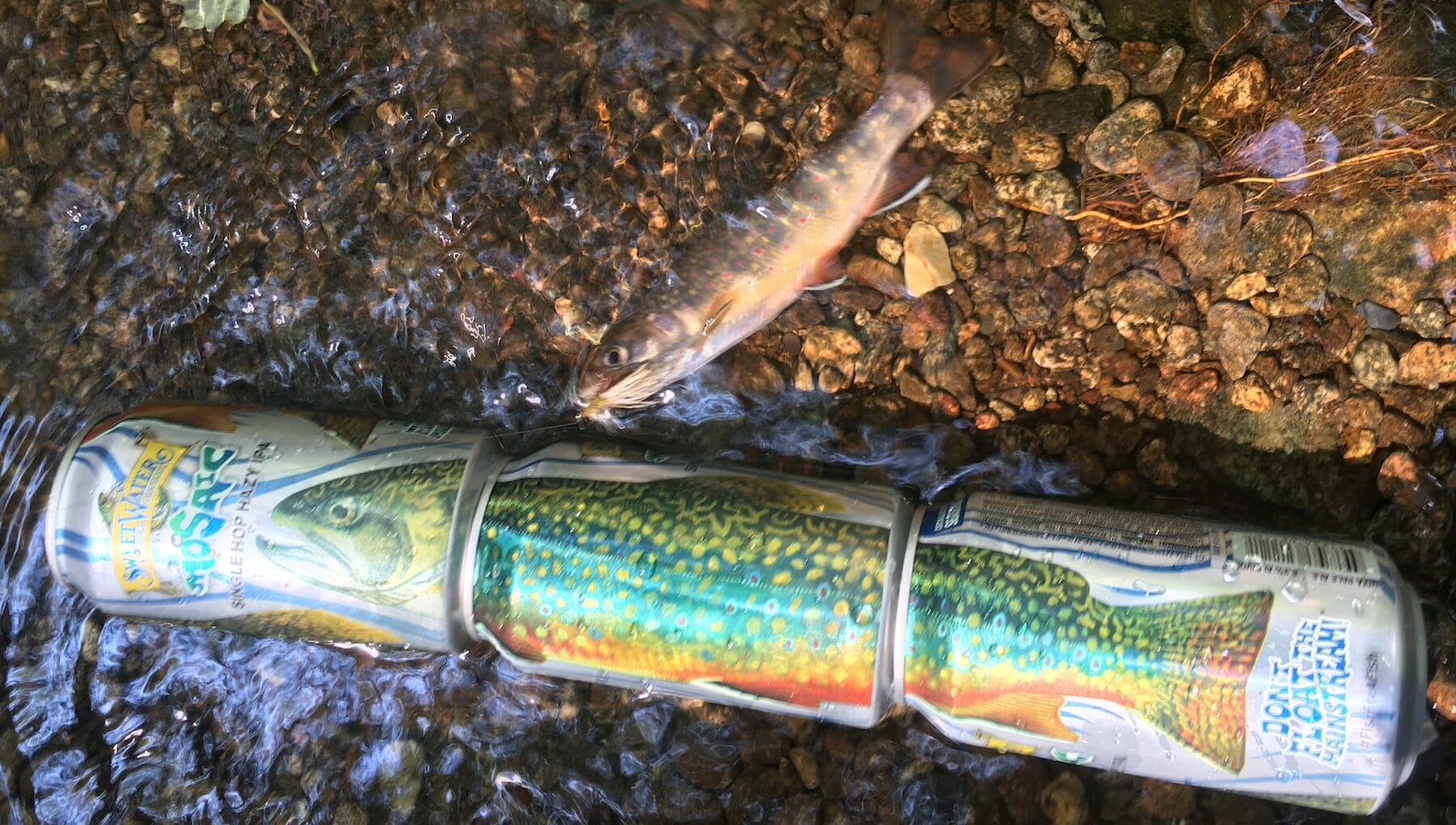 A SweetWater Mosaic brook trout is 10.5 inches long, significantly larger than this wild Virginia brookie. Mark Taylor photo.
SweetWater has used the #fishforafish program in the past to help with stocking hatchery-reared trout in popular fisheries in the Southeast, and is doing that again this year with special cans of the brewery's flagship 420 Extra Pale Ale featuring rainbow trout. This is the first time SweetWater has added native trout restoration element.
Trout Unlimited has been working closely with SweetWater for several years, most prominently in the brewery's annual Save Our Water initiative, which provides matching donations up to $20,000 for participating nonprofits. Thanks to the generosity of TU donors and SweetWater, the Save Our Waters campaign has raised more than $60,000 for TU's Embrace a Stream grants program.
SweetWater also has partnered with TU to provide beverages at TU events, including the 2017 annual meeting and the 2018 Southeast Regional Rendezvous in Davis, W.Va., where SweetWater sponsored a post-fishing-day happy hour.
Chapters that are currently engaged in or planning native brook trout repatriation programs are invited to reach out to Jeff Yates, director of volunteer operations, to learn how to apply for financial support through the SweetWater #fishforafish campaign.
Meanwhile, next time you're in the beer aisle, pick up a six-pack or two of SweetWater's Mosaic, enjoy, stack the empties, take a tag the picture and support native trout.
Mark Taylor is Trout Unlimited's eastern communications director. He is an unapologetic beer snob and wouldn't proclaim that SweetWater's Mosaic Hazy IPA is a tasty brew if it weren't true.