By April Brown
Perspective—it is everything. Last week I gained some of it, by joining other members of TU's Shasta Trinity Cascades Chapter in helping to rescue fish stranded when the lower Sacramento River dropped rapidly after weeks of unusually high releases out of Keswick Dam.
Action News Channel 24 covered this story.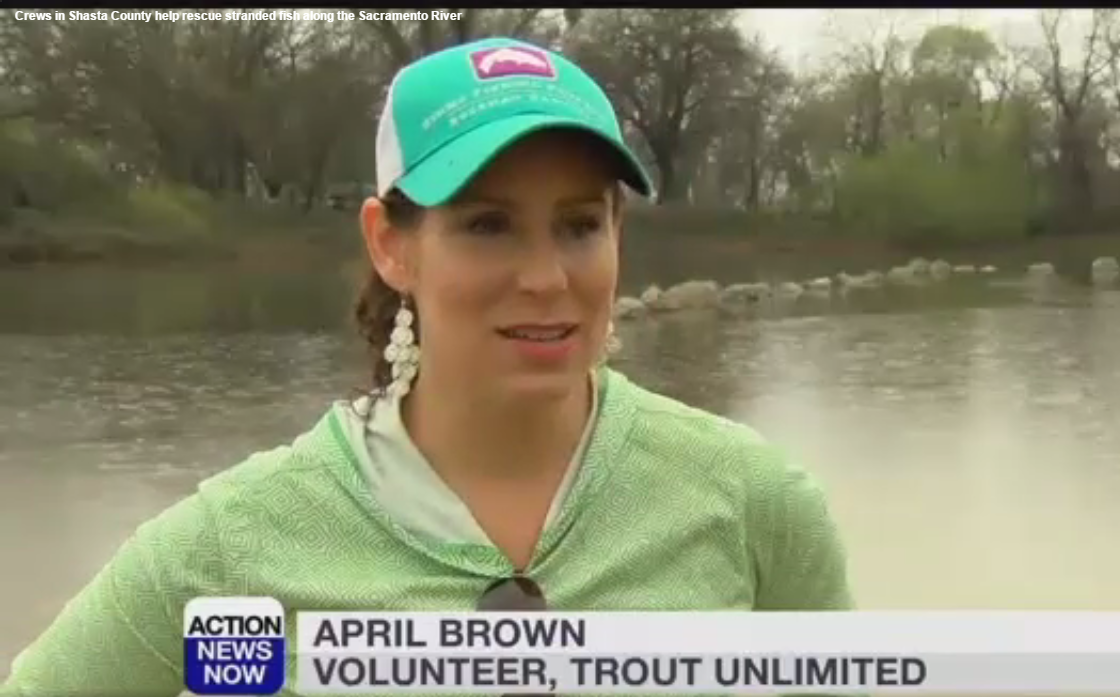 alt="" title="" />(R) April Brown of TU's Shasta Trinity Cascades Chapter is interviewed on Channel 24 Action News.
Staff from the Pacific States Marine Fisheries Commission led these rescue efforts, in conjunction with California Department of Fish and Wildlife staff from this area (Redding to Red Bluff). These folks love what they do, and live and breathe this stuff every day. Here is what it was like to help these professionals, as a newer angler and as a member of the recently established Shasta Trinity Cascades Chapter.
My first day, I jumped in the boat with Zach and Josh at the Bonnyview boat ramp. After making our way to an island, we started searching for cut-off pools of water. Although I found a small one, it wasn't feasible for us to search for fish there given the dense brush that hung over much of it.
Josh found another pool with fish visible in it. If he hadn't, I think a good portion of those fish would have died that day. It was so small it didn't even qualify as a pond. The ground was rocky with only an inch or so of water in some spots. Right away he found the first live salmon for our team, followed by 30 or so sticklebacks.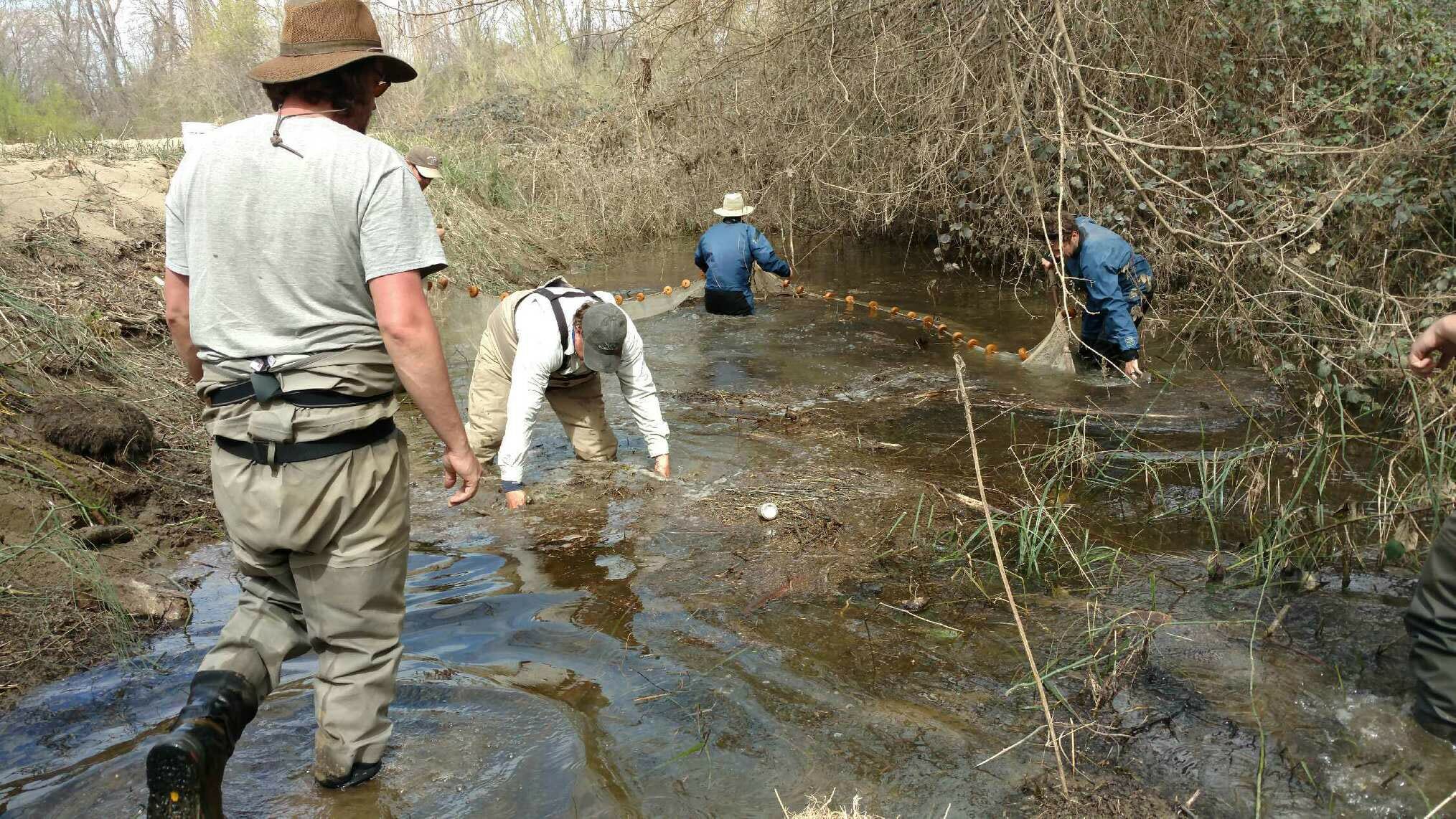 alt="" title="" />I was amazed to keep finding more fish after I thought I was done. When I began picking up rocks not in standing water and looking underneath them, I had no idea I would fish after fish, underneath somehow, on their sides, alive despite not being fully submersed in water. It was impressive.
After giving a few encouraging words to each fish, it was pure joy to put them in an orange bucket full of fresh river water. After a while I found my first salmon. He hadn't made it and I was pretty sad about that. He had more water around him than some of the other fish which did survive, but he was gone. That was just how it was.
Our team, along with others, continued to search. We found places that had recently dried up with nothing left to rescue and ponds too deep yet to bring the net through—these were marked for a future visit. During the two days I participated, we spent a chunk of time in the Anderson River Park area. Another team working there rescued large numbers of Chinook, and even some 18 inch trout.
For my team, in that location it was all about the partially submerged parking lot. We ran the seine in and out of there multiple times, happily returning 62 salmon back into the river. If you follow the Sacramento River and its Chinook populations, you know that our fall run Chinook are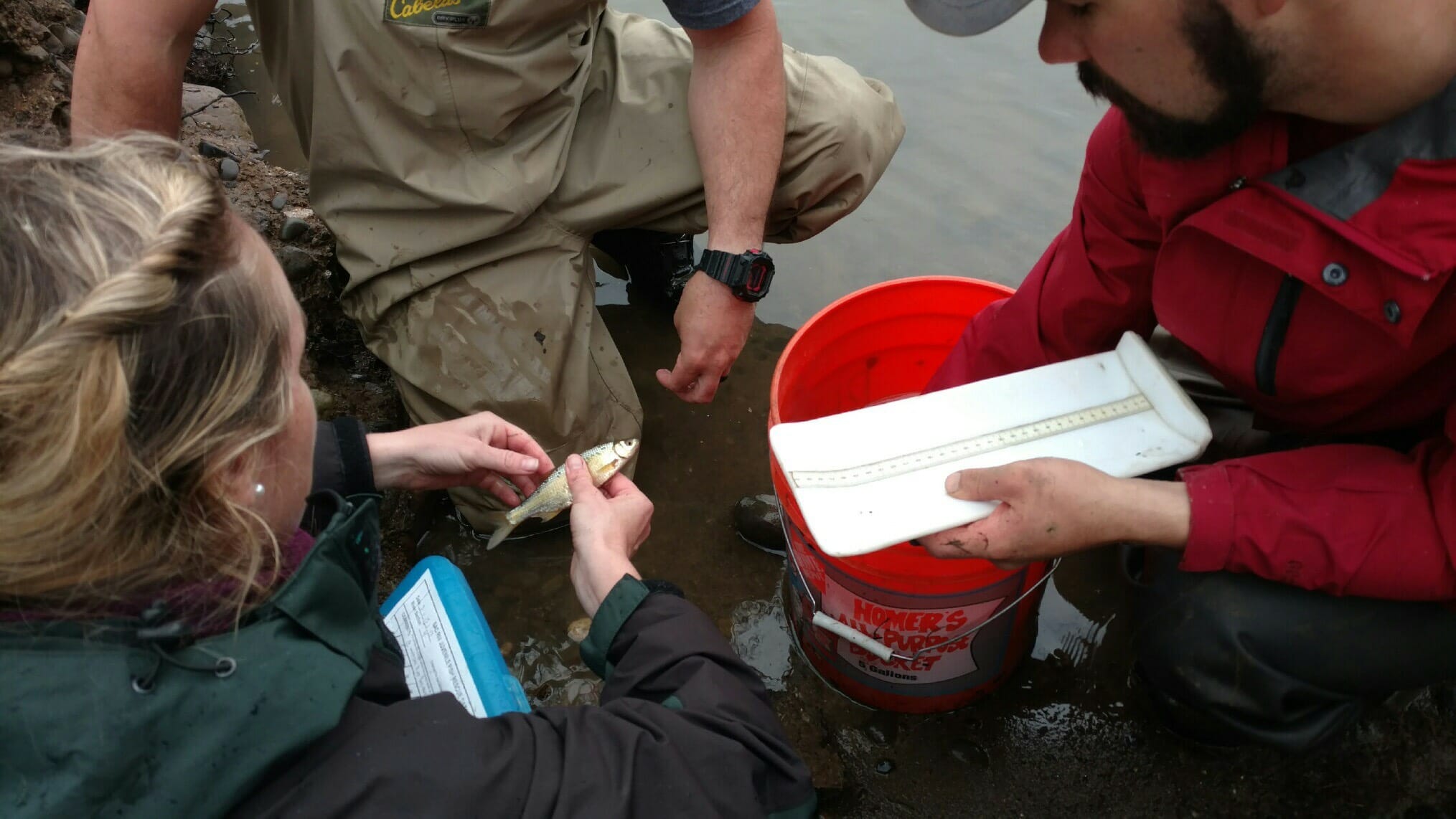 alt="" title="" />threatened while our winter run Chinook are critically endangered. Our time spent dragging nets through the flooded parking lot really drove home the urgency of doing everything possible to recover the winter run.
Here's why: of the 62 chinook recovered in that parking area, only two were winter run, and only one of those was wild. Those numbers scare me, but to be able to put that one winter run Chinook back into the Sacramento made my day.
I'm happy to report that between March 13-17, the rescue teams saved 101 winter run Chinook, 5,888 fall run Chinook, 90 adult and juvenile trout, and may other species of lesser concern.
I'm grateful to PSMFC and CDFW for allowing us to volunteer for this action, and for all the volunteers who responded to TU-STC's request for help. Teamwork stretches dollars across organizations and can really make a difference for the future of our salmon and trout. There is so much more to be done, but every fish retrieved has a chance to contribute to the recovery of that population.