By Jamie Vaughan
Rockford – Parkside Elementary students are changing the way their school is impacting their neighboring trout stream.
The past two years, Parkside fifth graders have been analyzing the health of Rum Creek, an important coldwater tributary to the Rogue River, and decided they wanted to improve the footprint of the school on the creek.
The students enlisted the help of community partners to help design a rain garden at the school to capture stormwater runoff from impervious areas like roofs, sidewalks, and parking lots that carry pollutants into the creek.
A rain garden is a depressed area planted with native vegetation that collects storm water runoff and lets it soak into the ground naturally while cleaning and cooling it. That allows the water to enter the creek slowly as groundwater rather than entering the creek at large volumes after being warmed and polluted from hard surfaces.
With help from Trout Unlimited, Plaster Creek Stewards, Miller Pipeline, the City of Rockford, and fifth grade teacher Tara Dzirbowicz, 150 Parkside Elementary 2nd, 3rd, 4th, and 5th graders recently planted 2,000 native plants that will not only improve water quality, but will provide opportunities for outdoor learning in a natural space for all future Parkside students.
The students have taken great pride seeing their project come to fruition this year with the hard work of their own hands and express a strong sense of stewardship for their community and environment.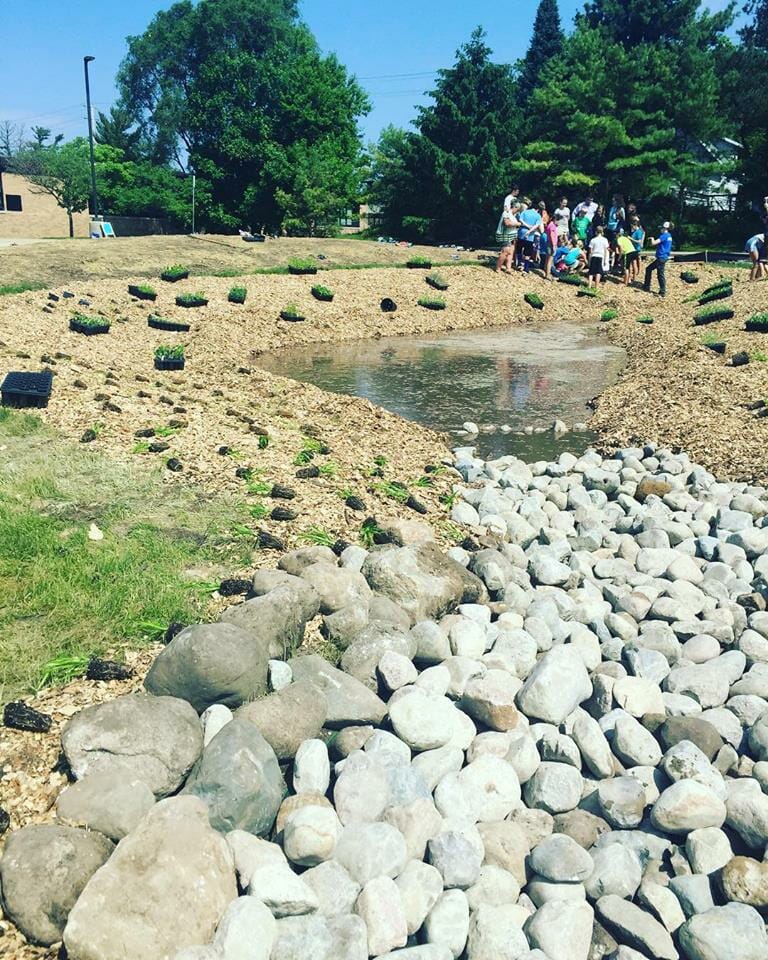 This project was funded by the Great Lakes Restoration Initiative, which was launched in 2010 to accelerate efforts to protect and restore our Great Lakes, the largest system of fresh surface water in the world.
Trout Unlimited, the Lower Grand River Organization of Watersheds and partners were awarded funding to implement green infrastructure to reduce the impacts of stormwater runoff and increase community awareness of water quality issues within the urban areas of the Lower Grand River Watershed.
The Rogue River Home Rivers Initiative Project is funded by the Frey Foundation, the Grand Rapids Community Foundation, the Wege Foundation, the Wolverine World Wide Foundation, and the Schrems West Michigan Trout Unlimited chapter.