By Rob Shane
As an angler, discovering a new stream with healthy populations of wild trout is a reward that does not come without hours of exploration and research. Truth be told, this exploration can be quite difficult with a rod and reel. Thanks to the Kittatinny Ridge Coalition, Audubon Pennsylvania, and a few electro-shocking backpacks, the list of new haunts in the Kittatinny Ridge is getting longer.
In the summer of 2017, field crews from Trout Unlimited surveyed 34 streams along the Kittatinny Ridge and found wild populations of brook and brown trout in 19 of these streams — a 56% success rate. These explorations were part of a statewide effort by the Pennsylvania Fish and Boat Commission known as the Unassessed Waters Initiative.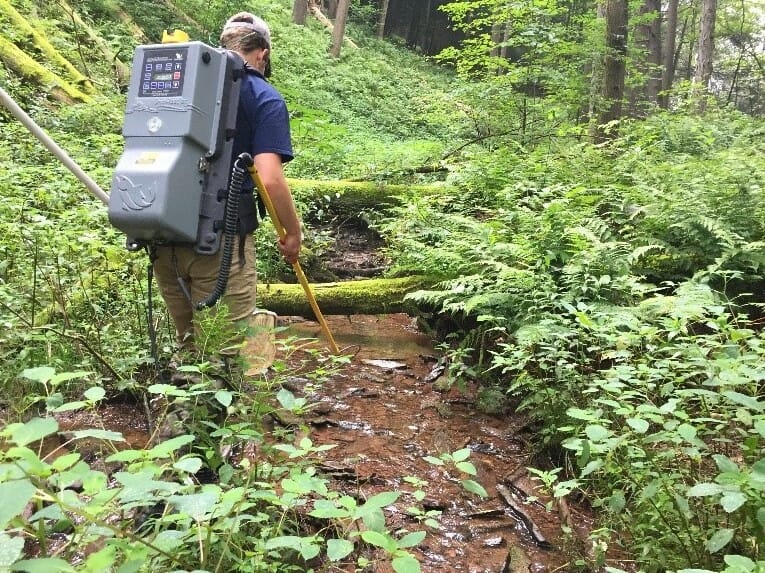 Thanks to the newfound wild trout populations, Pine Run, a tributary to Beltzville Lake that flows through Carbon County, and many unnamed headwaters streams in the region are now eligible to be added to PFBC's list of Class A and Wild Trout Streams—a classification that will offer these streams much-needed protections from residential, commercial, and natural resource development. These protections don't just ensure clean water for trout, but also for human needs such as drinking water and agriculture.
Last year, we surveyed 41 streams on the Kittatinny, 10 of which qualify for official listing as wild trout streams. Two of them—Mill Creek in Northampton County and an unnamed tributary to Mahoning Creek in Carbon County—were added to the list this week when the PFBC met in Harrisburg, Pa., to approve more than 100 new wild trout stream classifications.
86,000 Miles of Streams from Trout Unlimited on Vimeo.
In addition to our work on the Ridge, TU conducts surveys in the Delaware River Basin and across the state, thanks to support from our partners, including the William Penn Foundation and the National Fish and Wildlife Foundation. This effort was featured in the film "86,000 Miles of Streams," (above) released this past summer. Eight other wild trout streams discovered by TU in recent years were added to the list at this week's meeting, including one, Little Chest Creek in Cambria County, that is a new Class A water.
Launched in 2011, the Unassessed Waters Initiative has led to the discovery of more than 5,600 miles of wild trout water in the Keystone State. Pennsylvania boasts more than 86,000 miles of running water, second most in the US only to Alaska. There are still thousands of miles of streams that have yet to be assessed given this vast landscape but the success rate of the UWI has shown how resilient trout can be in even some of the most pressured watersheds. Trout require the cleanest and coldest waters to survive and are often referred to as the canary in the coal mine—in such that the health of a stream can quickly be assumed based on the presence of trout.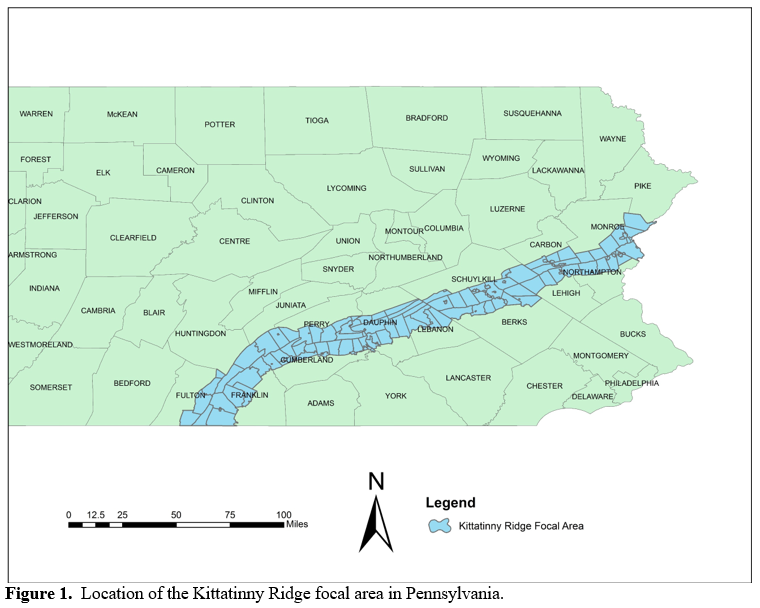 The Kittatinny Ridge encompasses 360,000 acres in New Jersey, Pennsylvania, and a small chunk of Maryland. It boasts more than an 80% intact forest and shrub habitat and is one of the most renowned birding destinations in the East. Given its undeveloped status, the Kittatinny Ridge is also a perfect place to focus protection efforts for wild trout. However, it sits atop both the Utica and Marcellus Shale, and in the coming years will be affected by the construction of multiple pipelines, including Atlantic Sunrise, which is under construction, and PennEast, which is under review by state regulators. These development pressures threaten the wild nature of the corridor and offer potential threats to trout, birds, and humans alike.
Although the winter weather is giving no sign of spring showing up any time soon, TU's field team is gearing up for another successful summer searching for wild trout in Pennsylvania. Thanks to the Kittatinny Ridge Coalition and all our partners, we can do our part in protecting this valuable habitat for not just trout, but birds, amphibians, and human recreation alike.
For more information on this project, please email Rob Shane (rshane@tu.org) or David Kinney (dkinney@tu.org).
Rob Shane is Trout Unlimited's Mid-Atlantic Organizer, and is based in Eastern Pennsylvania.