Today, the U.S. House of Representatives will take up a bill, H.R. 3144, which would undercut the prospects for salmon and steelhead recovery in the Columbia River basin in the Pacific Northwest. HR 3144 offers a regressive response to the challenge of keeping the Columbia's legendary salmon and steelhead runs viable while ensuring reliable and affordable power for residents and business in the Pacific Northwest. Communities along the river who hope to enjoy the benefits of bountiful, restored fisheries someday deserve better. And there is a better path forward.
First some history.
The Columbia River Basin is one of the largest watersheds in the country, the mainstem river a nearly 1,500-mile artery crossing international borders and pumping water through tens of thousands of miles of tributaries to support municipal, agricultural, commercial and recreational use in seven Western states.
Management conflict in the Columbia Basin is generations old.
From the first pour of concrete in the early 1900s, development of the Columbia River has steadily grown. By the end of the 1970s, the federal power system along the Columbia (FCRPS) included 31 federally owned dams, along with numerous non-federal dams and impoundments.
As the dams rose, so did the fortunes of the region.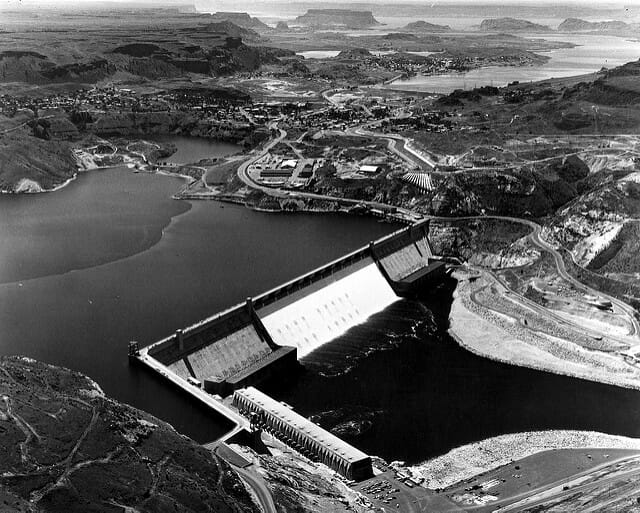 (Left: Grand Coulee Project Office, Washington. Aerial view looking south west with Grand Coulee Dam in the foreground and Steam Boat rock in the background. c. 1980)
Construction of Bonneville and Grand Coulee provided jobs during the depths of the Great Depression. Availability of subsidized electricity from the BPA system fueled the aluminum plants that built war-time products during WWII and spurred the growth of manufacturing in the region. Inland ports opened trade access to farmers and growers as far as 450 miles inland from the coast.
But these gains came at a cost.
With each new dam in the FCRPS system, we lost more and more of the natural system.
We opened shipping channels, but we flooded Celilo falls and drowned antiquities and communities with impoundments.
We gained electricity to power the growth and advancement of an entire region, but it crippled our wild salmon and steelhead populations that supported tribal, recreational and commercial fisheries from Alaska to California and inland to Idaho and eastern Washington and Oregon.
Once home to the world's largest populations of salmon and steelhead, this hard-working river began to show signs of being worked to death. Dams, overfishing, and habitat degradation throughout the system put native salmon and steelhead runs into a precipitous decline. Snake River sockeye was the first population of salmon protected under the Endangered Species Act, in 1991. Nearly 30 years and billions of dollars later, we are still struggling to recover these runs — a pillar of the region's economic and cultural heritage.
Solutions are out there. We need to work together to seize them.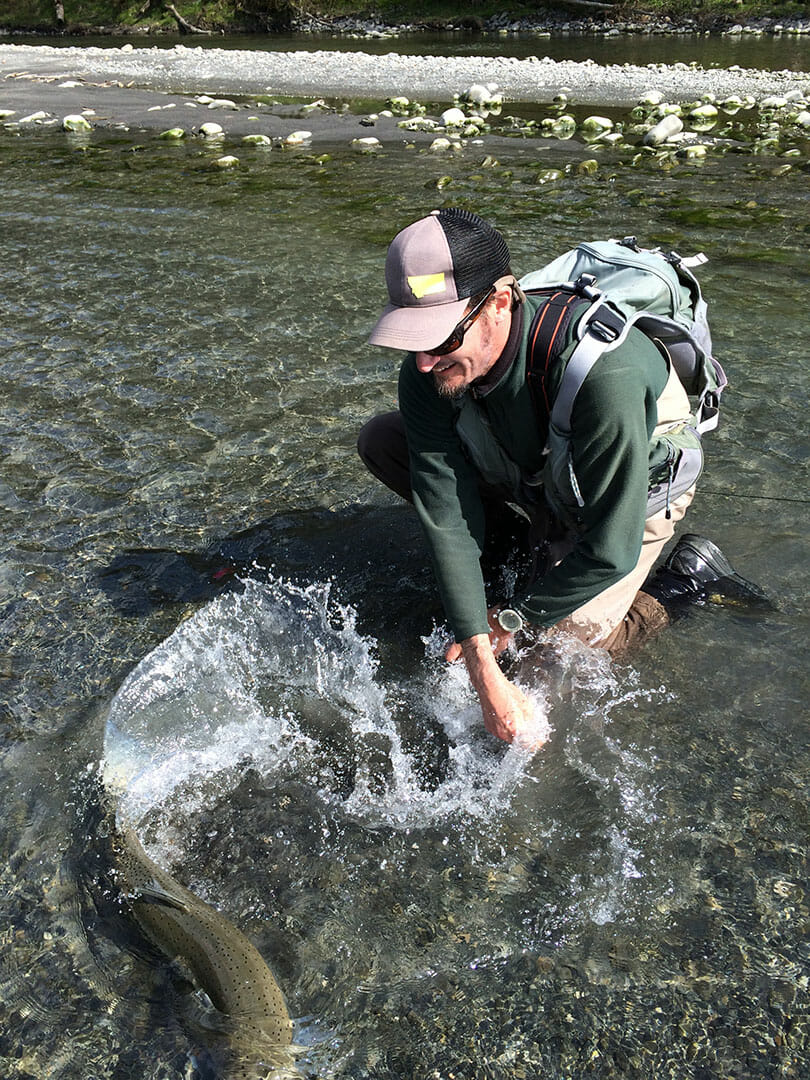 Just as this basin has a deep history of conflict, so too it has a history of grit and ingenuity. The same region that created this system of dams to harness power and irrigation infrastructure to bring water to fields hundreds of miles inland can apply that same ingenuity to solve today's problems. The basin needs modern solutions that build on the investments of the past but are not limited by them.
Such ingenuity is not without precedent. It is happening in watersheds across the west, with perhaps the best example here in the Columbia system – upstream in the Yakima river basin.
The Yakima plan demonstrates what can be accomplished when folks think big – outside the boundaries of what is or what has been to what could be. It was the product of a group of stakeholders –former adversaries—who came together to overcome differences, develop a plan, give a little to get a lot in terms of water for farmers and flows for salmon and steelhead.
We built this system. And we can fix it. But not with litigation, and not with arbitrary congressional management restrictions. We need a stakeholder solutions table, similar to the Yakima concept, to work with federal and state agencies to devise a plan that will save fish AND the communities along the river.
Regrettably, HR 3144 would take us in the wrong direction, and prevent the timely, collaborative problem-solving that is needed on the Columbia. The bill would lock in place the current, seriously flawed federal plan that has allowed threatened and endangered salmon and steelhead populations to plummet. If the bill passes, no improvements to the plan would be allowed to save fisheries already on the road to extinction.
This bill represents frustration and fear about winners and losers in the system. We are frustrated too. Currently, Columbia/Snake River basin stakeholders, including farmers, utilities, fishers, salmon and steelhead advocates and tribes, are enduring a reality of rising costs, escalating uncertainty and an inability to achieve outcomes that are important to their current and future success. Those interested in reliable, affordable power generation are facing seemingly unending litigation, significant transaction costs and increasing uncertainty. Those interested in an adequate and reliable water supply are faced with increasing competition for water, rising costs and uncertainty similar to that faced by power producers and consumers. Tribes, recreational and commercial fishers, and conservationists are not seeing improvements in wild salmon and steelhead populations and actual recovery seems a long way off. We understand this bill, but we do not support it.
Certainty and predictability is desired by all. HR 3144 would not provide this, it would just kick the can down the road for a few years without resolving the underlying problems.
Times have changed. The Columbia Basin economy has changed. Technology has advanced. Values have evolved. In short, Columbia Basin residents live in a different place today and we need to take a fresh look at the Federal Columbia River Power System.
Trout Unlimited and our members across the country – including more than 15,000 members in the Columbia Basin states – oppose this bill and we urge members of Congress to vote against it when it comes for a vote today.