By Colin Lawson
Trout Unlimited and partners recently completed a project bypassing an old earth dam on Robinson Brook in New Hampshire, expanding habitat for brook trout on the Ashuelot River tributary.
TU's project team designed a step, pool riffle configuration to allow full passage of all fish species in all flow conditions (above).
The new channel, completed this past summer, included the decommissioning of a failed vertical to horizontal drain pipe (below), creation of a new stream channel in the previous high flow spillway, and installation a 12-foot bridge over the stream allowing vehicle access to the rest of the property.
The restoration project is situated within a 12,000-acre piece of conserved land known as Andorra Forest, home to Pitcher Mountain, in Stoddard, N.H. The Faulkner family owns the property, which is protected by a conservation easement held by the Society for the Protection of New Hampshire Forests.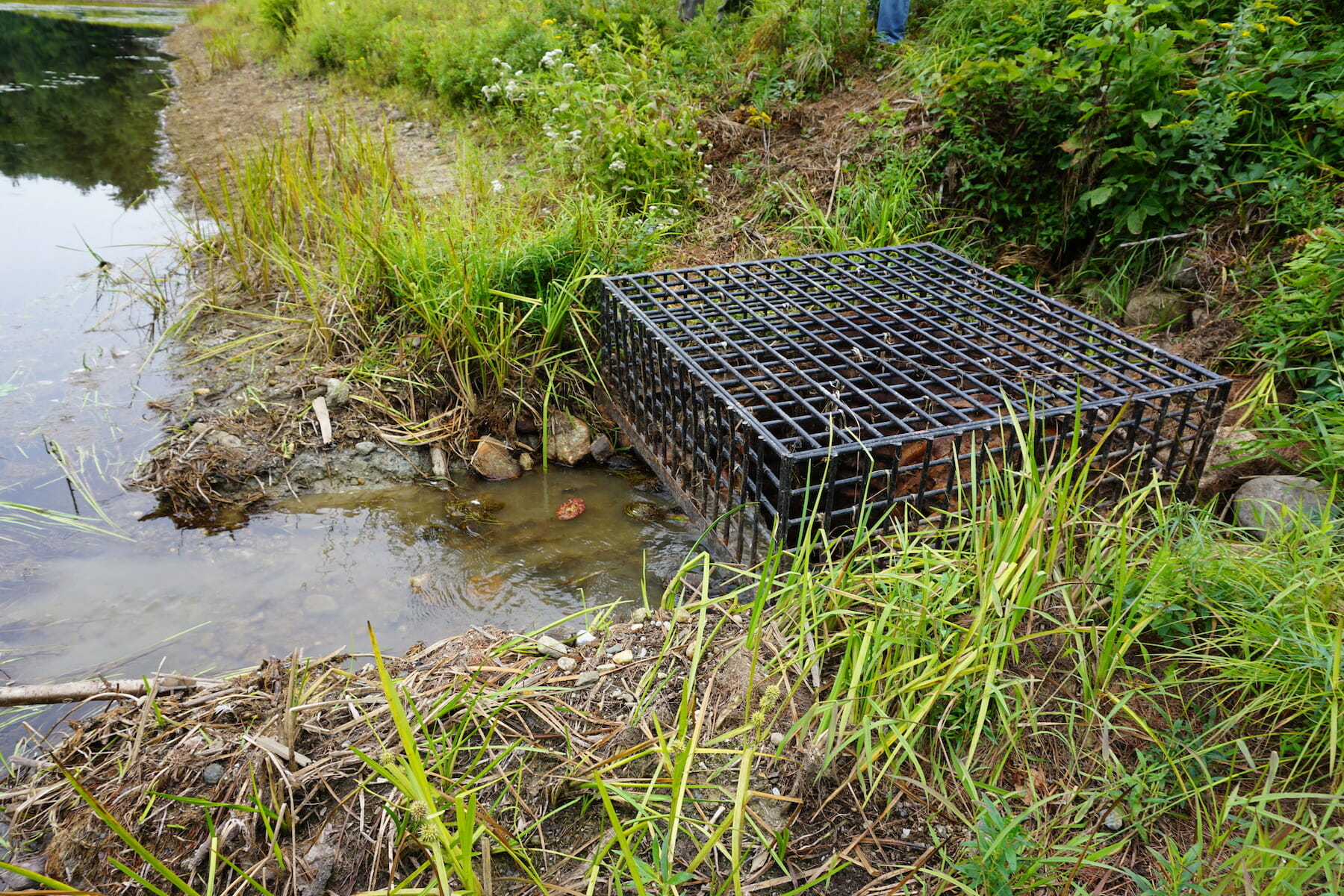 Although the dam was considered a "non-menace" dam in the eyes of the New Hampshire Dam Bureau, the agency recommended the drainage system for this earthen dam be repaired to protect the pond's long-term integrity. TU, along with The New Hampshire Fish and Game Department, completed a site visit in September 2013 and conducted a fish and habitat survey.
During the visit, an electrofishing survey was completed and found that the upper section of Robinson Brook contained a healthy wild brook trout population. In particular, brook trout are the sole fish species upstream of the pond, indicating that this is a particularly healthy and important habitat for them.
Of note was a 12-inch wild trout, an extremely large fish for a small stream in New Hampshire, collected at the upstream end of the pond. During the visit, surveyors were impressed with the instream and riparian habitat, including a healthy level of naturally occurring instream wood.
The Robinson Brook reconnection effort removed the barrier between 4 miles of upstream habitat and 6 miles of downstream habitat.
Restoring Robinson Brook's instream connectivity, as well as its hydrology, will be beneficial to the entire stream network and to the pond itself. Aquatic connectivity offers both terrestrial and aquatic species access to critical habitat and cold water refugia during different seasons and times of the year.
Once re-established, the new stream bypass channel will support a greater diversity of macroinvertebrates, improving the diverse food web necessary for supporting migrating brook trout and other aquatic and terrestrial species. TU, the USDA's Natural Resource Conservation Service and the Faulkner family raised the funds to complete this exciting project.
NHFGD, a partner from the start, supported the effort with technical contributions as well as support for a long-term monitoring project to document the development of this system.
TU is currently working with the family to allow public access to the site for fishing and educational programs.
Colin Lawson in Trout Unlimited's New England Culvert Project Coordinator.