By Jamie Vaughan
This past week, Grand Rapids, Mich., hosted River Rally, a national conference hosted by the River Network that brings together hundreds of water champions and river enthusiasts to cultivate new partnerships and inspire the sharing of knowledge and ideas within the river and water community. NGO staff and volunteers, academics, agency and foundation representatives, industry innovators, and community leaders join together for a week of stimulating discussion, hands on learning, and field trips around the Grand Rapids area to learn more about the work being done by local partners.
As part of the conference, Trout Unlimited's Rogue River Home Rivers Initiative hosted "Trout, Bugs, and Brews" to highlight some of the projects done in the Rockford area with community partners. The 25 conference participants got to practice fly casting, tied fishing flies, visited the Rum Creek Dam Removal, and enjoyed some local beer at Rockford Brewing Company while learning about their business practices that respect and embrace the coldwater fishery nearby.
After visiting the brewery, the participants walked along the White Pine Trail to see the native bioswale installation projects installed the past two years with Trout Unlimited and East Rockford Middle School to manage stormwater runoff. sixth-grade teacher Linda Spencer was joined by three former students who worked on the green infrastructure projects.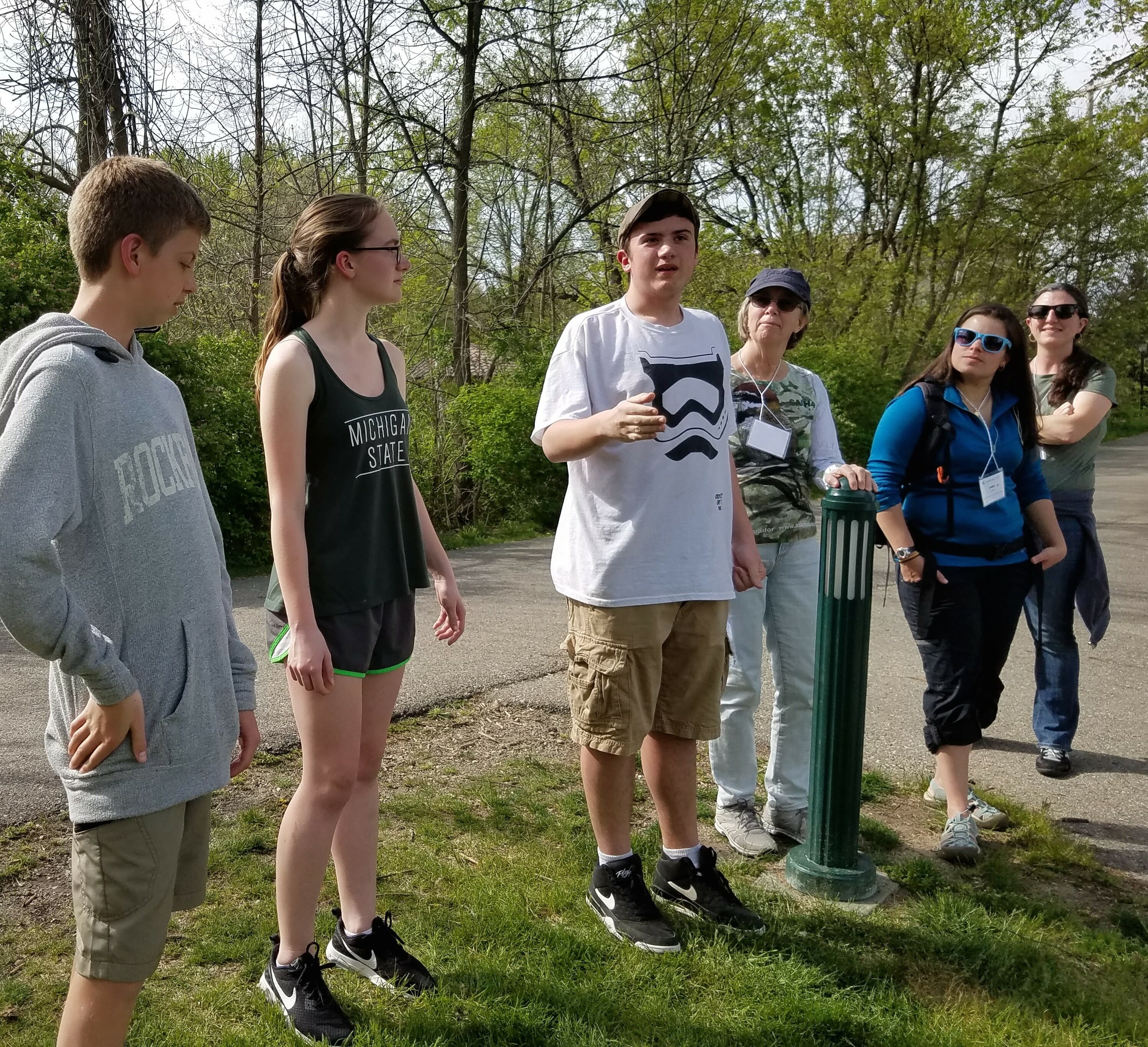 alt="" title="" />
Alex Matusik, Abby Tichelaar, and Trevor Reimer (above) presented the bioswale projects and answered the questions of the visitors, who were visiting from DC all the way to Alaska.
"I was so proud to be an East Rockford Middle School teacher when the conference participants started asking questions of our students," teacher Linda Spencer said about her experience. "They were all well-spoken and able to convey not only what they have learned during their time with us, but also the lasting impact their work will have on our community. To listen to a 7th grader talk about hoping to one day bring his children to this garden and show them the positive impact it has had on the community was truly amazing.
"And when people from all over our country were saying how impressed they were that our school has taken it to the next level with our students by putting them in real world situations and allowing them to have such a huge impact on our community, it was truly humbling. I am so thankful to have the opportunities that we have to work with our Trout Unlimited partners. They have helped provide funding and support to be able to do service learning projects right here in our community."
Trout Unlimited is proud to work in the Rockford community and appreciative of the incredible community support we receive in all that we do. We are proud to bring people to the Rogue River and hope to continue to inspire community members, students, and visitors alike to protect and cherish this incredible coldwater resource.
The Rogue River Home Rivers Initiative Project is funded by the Frey Foundation, the Grand Rapids Community Foundation, the Wege Foundation, the Wolverine World Wide Foundation, and the Schrems West Michigan Trout Unlimited.
Jamie Vaughan is Trout Unlimited's Rogue River Home Rivers Initiative coordinator.